It's a wedding season! As more and more couples are opting to be married outdoors, invitations are rolling in and your calendar begins to get booked up with seaside getaways, swanky rooftop affairs, or whimsical garden parties. This may leave you wondering about the appropriate outdoor wedding attire especially if you're petite, which we all know that finding the best petite dresses for wedding guest is not easy. Where should we find beautiful dress for outdoor wedding? Here are a few ideas from Anthropologie.
Known for its beautiful, classic and bohemian-inspired clothing, the new petite collection of Anthropologie Wedding is everything you need to transform your entire outlook into a free-spirited, romantic woman. Full of light and airy pieces with floral prints and elegant details, the offerings are right on-track with the "colorful floral bouquet" trend that's been popping up absolutely everywhere this season. So, be one of the best-dressed guests with one of these beautiful petite dresses from Anthropologie Wedding. Browse the gallery below to check out the selections.
Formal Dress Code – Outdoor Petite Anthropologie Wedding Dress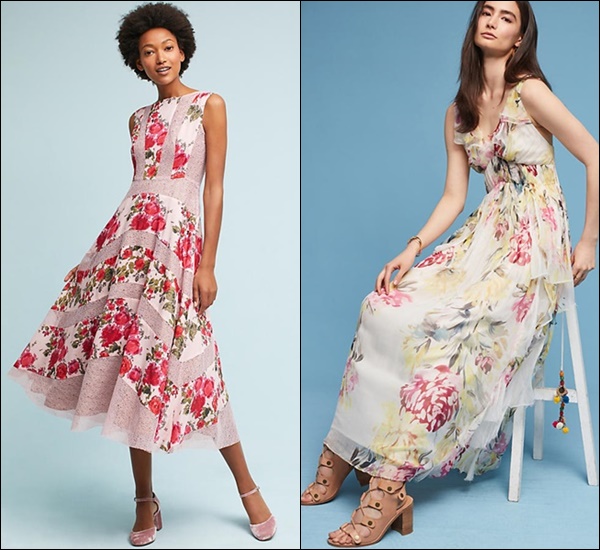 Elegant and feminine in its aesthetic, these two adorable floral dresses are offered with a flattering silhouette and intricate details. Featuring Tracy Reese's lace dress that is fitted at the waist and finished with a full statement skirt, along with Maris floral maxi that comes with romantic tiered ruffles in a vibrant floral print, both dresses complement its wearer's natural beauty, showcasing her inherent uniqueness and charm.
Crafted with feminine and exquisite attention to detail, these floral printed sun-soaked dresses are proposed to embrace cheerfully fun, energetic, and confident spirit in the blooming days, perfect for adding more beauty and joy at any outdoor parties. These dresses come with statement-making silhouette and colorful prints that's simultaneously fashion-forward and vintage-inspired.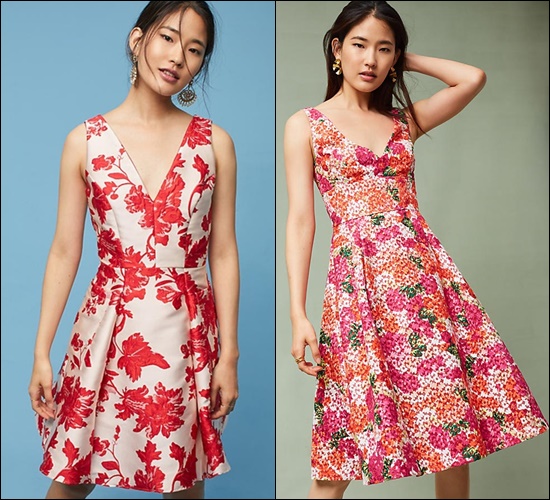 Looking beautiful and elegant, these sophisticated dresses feature fitted silhouette, timeless design, and a flattering deep v-neck, boasting such classic femininity with contemporary trends that is unparalleled in the fashion world. They are perfect for dressy-casual dress code at any special occasions, or formal for outdoor parties.
Dressy Casual Dress Code – Outdoor Wedding Dress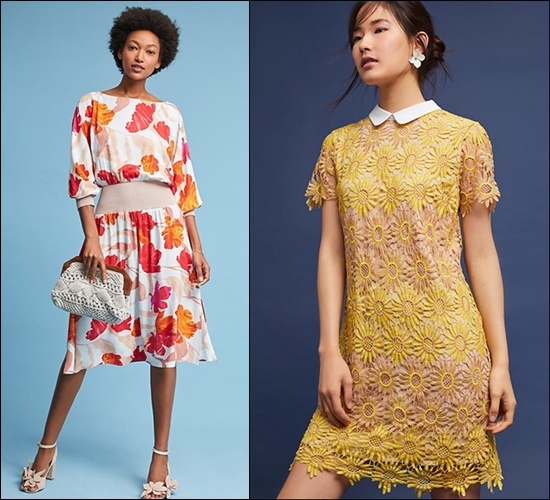 Standing out in more casual side, yet still looking dressy and festive for semi-formal occasions, these two dresses feature such flattering summer silhouette representing beauty and style at once. While the left dress comes with Maeve flower as a symbol of a Greek goddess and a famously beautiful Irish warrior queen, the right one feature intricate lace and a Peter Pan collar for a timeless look.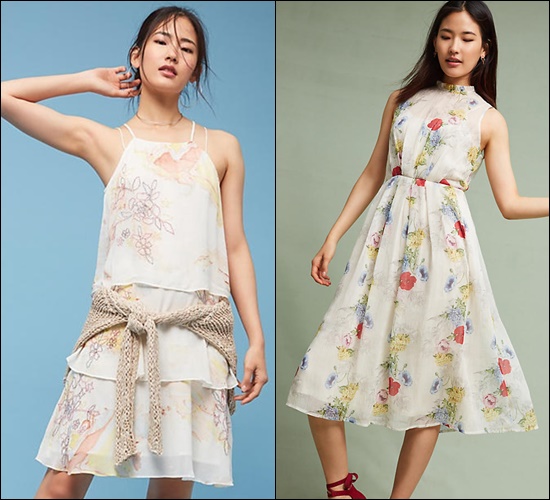 With the appearance of lovely prints, gracefully light silhouette and intricate detailing like beadwork and pleat, these adorable dresses are ready to any event. Add layer or a wrap as well as chic dainty jewelries and simple makeup to make the entire look elegant and classic.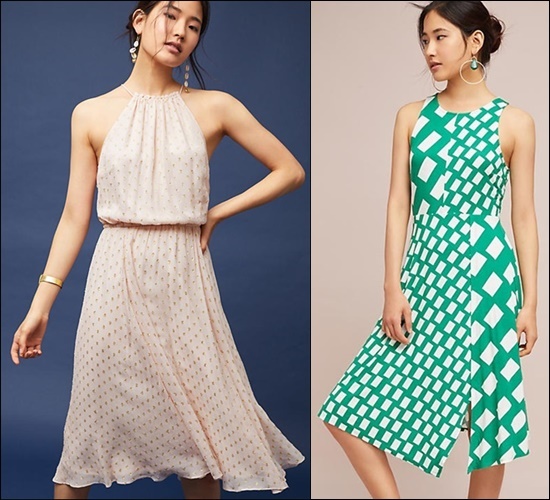 Whether you wanna go lovely with soft pastel hues and floating silhouette, or opt for brighter color in interesting cut, these simple yet adorable dresses feature flattering and feminine design, making you feel beautiful in uniqueness and charm. Pair them with classic heels or wedges along with chic clutch for a more sophisticated, polished look.
Casual Dress Code – Outdoor Wedding Dress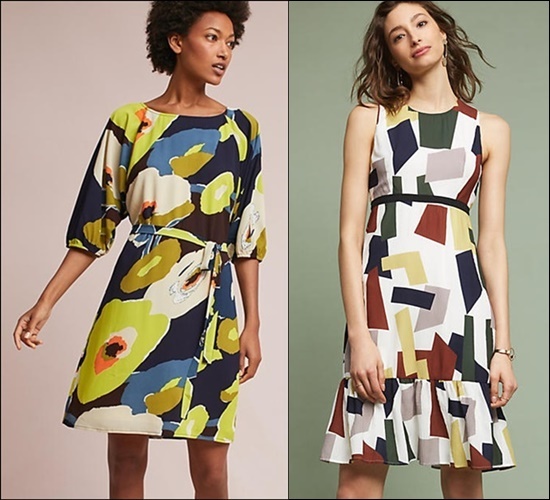 For a casual outdoor wedding, such as low-key affairs at home in the backyard, you can always don a classic summer dress that is festive enough for an event like wedding, yet still look casual for a small, warm setting. Printed dresses in bold colors and simple silhouette are always a perfect choice for such outdoor wedding, and it particularly gives warm and fun spirit among the guests. Dress your outfit up with a bit of jewelry and some pretty accessories to make it more party-appropriate.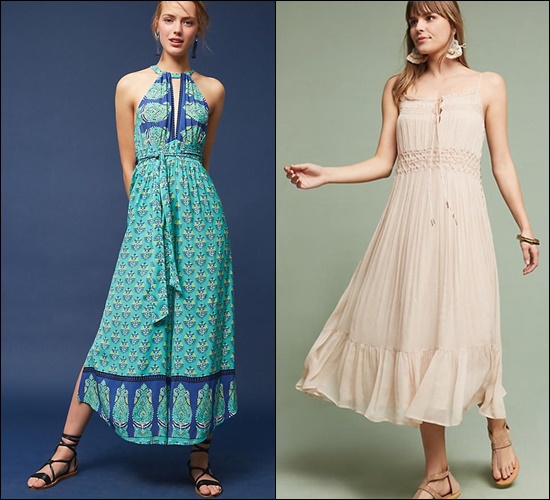 Other than summer dresses from knee-length to maxi, casual outdoor wedding attire could also include a stylish jumpsuit, or separates like a skirt or smart pants with blouse. Bright colored summer jumpsuit with flattering style, or silky dress in simple silhouette, yet looks effortless and romantic are some of the best options for any outdoor event-ready style.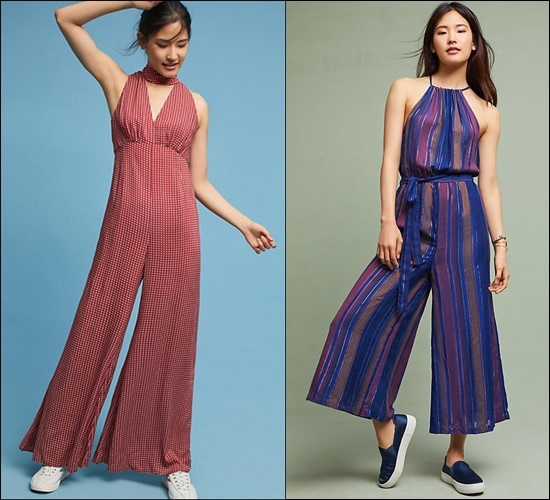 Coming up with another jumpsuit, these two pieces showcase structured yet delicate outlook with lovely prints and stylish neckline – including mock-neck and halter-neck, both are refined, flattering and modern in its aesthetic, perfectly fit in with any casual occasions, including the outdoor nuptials. Add a classic clutch or handbag and some sophisticated heels to ground your outfit. If the weddings take place on the grass and not a patio, then heels may be better, or even a wedge heel.