Taking a little inspiration from the Elizabethan era, Oscar de la Renta Spring Summer 2014 collection at New York Fashion Week were an exuberant expression of springtime femininity, floral prints, polka dots and full skirts galore that embraced ladylike elegance with a procession of embellished garments. Everything just got more colorful from there. Out came an army of colorful cocktail dresses, just as bright and sunny as the show's soundtrack, The Beatles.
The look was everything fresh, flirty, romantic, and feminine, which is a look that's been popular among fashionistas in the '50s – think the swingy 1950s-esque full skirts with white button-down menswear-style shirts tucked in –. Among the fabulous selections, there was a stunning lime-green dress with a swooping hem shown with sundial earrings, an orange scoop-neck shift dress rimmed with pink gemstones – styled for a cocktail party with a pink bracelet and matching kitten heels – and a rose-colored strapless minidress that bloomed like a flower.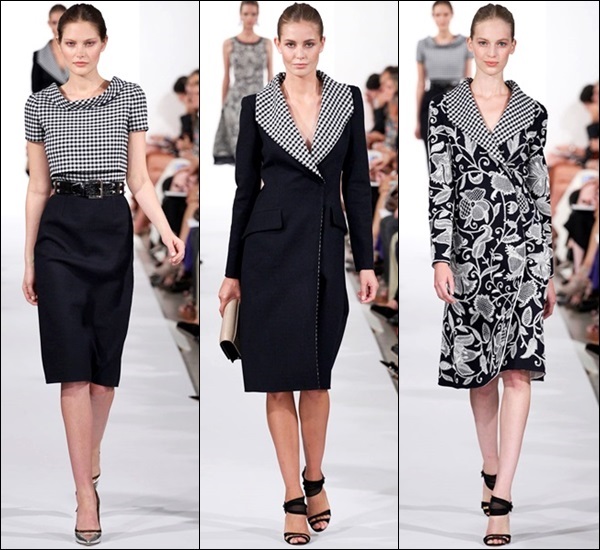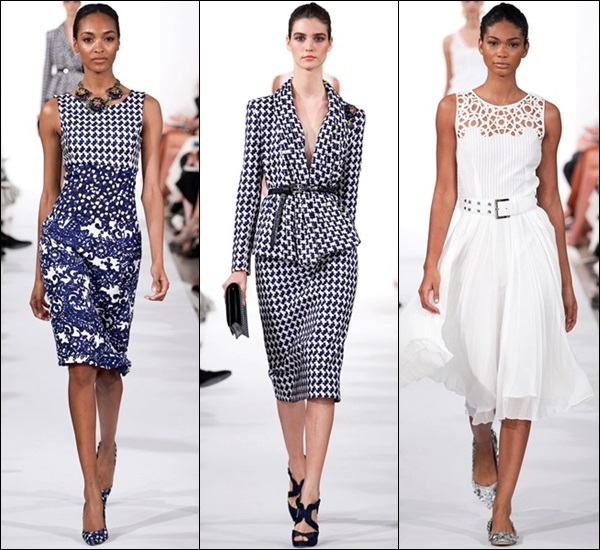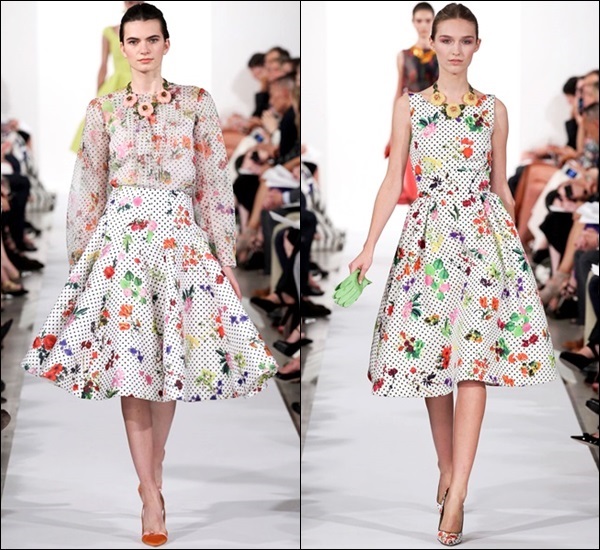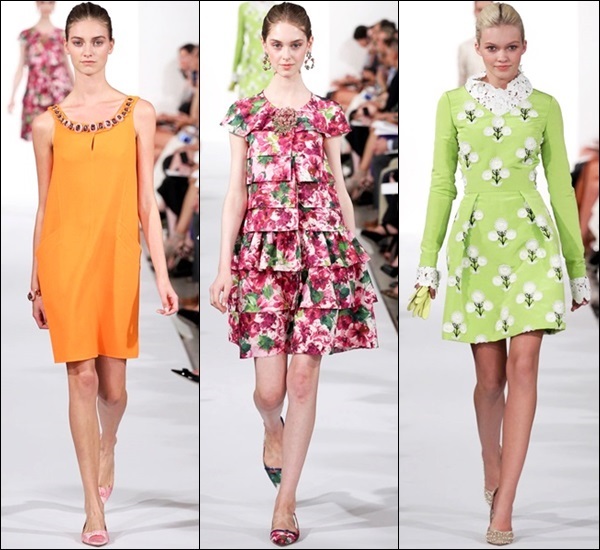 Other than number of gorgeous proposals such as check coat dresses, suits knee-length skirts, and cardigans, there were also feminine pieces representing the romantic season, including lapis and white abstract printed fit-and-flare dress, ivory and gold damask tunic dress, as well as a coral crushed silk taffeta, blush silk faille gown with silver bullion embroidery, sculptural resin flower jewelry, and tulle petals cocktail dress that looked like a flower in motion coming down the runway. While the most obvious starting point for a collection featured floral, multicolor polka-dotted A-line dresses and more circle skirts that you could shake a stick at.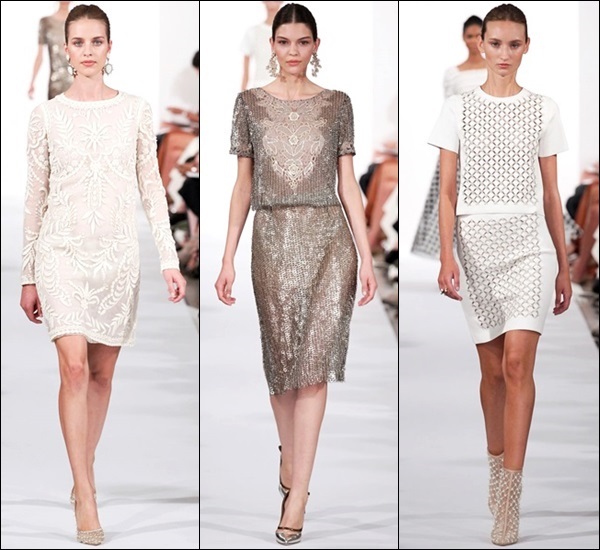 Most importantly you also would get from the runway, is the feeling that a Queen Elizabeth I wouldn't have said no to the lace collars and ruffs, elaborate embroideries, and the copious strands of pearls that came down the runway. While the real drama was in the evening wear, featuring a tiered baby blue column dress, a sweeping blue evening gown with an uneven hem, a green strapless number in a shimmering fabric, and even a polka dot-and-floral dress with a veil. The show-stoppers, however, came at the very end of the show, when the model Karlie Kloss donned a liquid-gold column dress, followed by Joan Smalls in an extraordinary yellow pouf dress and swathed in dramatic black lace. Full of drama and femininity, surely the de la Renta woman is alive and thriving in this collection.