Through the effortlessly chic, edgy collection, along with fresh romanticism of the 1960's summer brightness, the luxury fashion designer Oscar de la Renta delivered a stunning Spring Summer 2013 collection, proposing nipped-in waists, bateau necklines, three-quarter-length sleeves on jackets, sweaters, and cardigans, as well as selections of cigarettes pants and pencil skirts with alternating rounds.
Opening the show with punk-rock princess look, Oscar set the tone for his show by presenting models with neon-streaked beehive hairdos that were very "Breakfast at Tiffany's" meets Daphne Guinness. Started from an ivory pencil skirt slit high to the upper thigh, paired with a navy blue blazer and red leather top, to a sweet pink tweed skirt was paired with a lacy top belted at the waist, to the sparkly strapless evening gown in dove grey with silver sequin embellishments and a hi-lo hemline, all selections of Oscar de la Renta were made impressively pretty, deserving of a standing ovation.
Among the cigarettes pants, pencil skirts, and A-line skirts there were also shorts in this array of beautifully tailored pieces, including that pairing with a high waisted brushed silk short in orange sherbet paired with a pink and sherbet colored rose appliqué top, while the sophisticated yet chic compilation features hot pink party dresses, taffeta, tiered ruffles, sequins, and lace galore.
The surprise was on account of latex and leather fabrics, besides tweeds to represent typical of the 60s and laces that always present in the creations of the designer. Bold statements were marked by strong shades of bright pinks, blues, yellows, reds and oranges, along with feminine touch of floral appliqué that leave the collection more cheerful and youthful, a mixture that brings new candidates to Jackie Kennedy and Audrey Hepburn straight to 2012.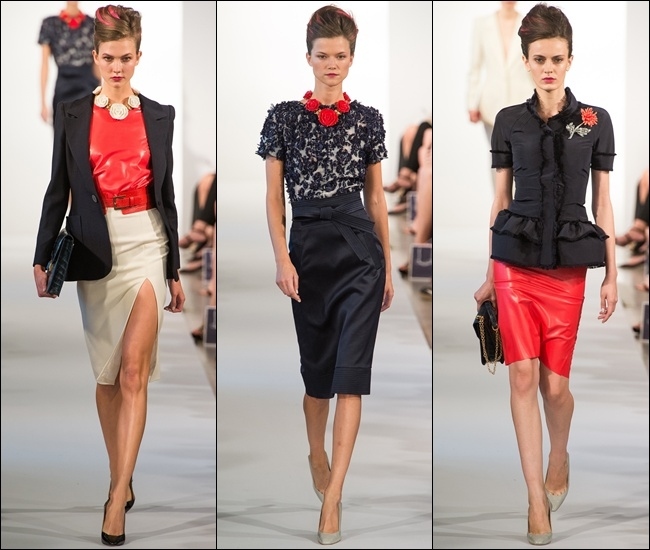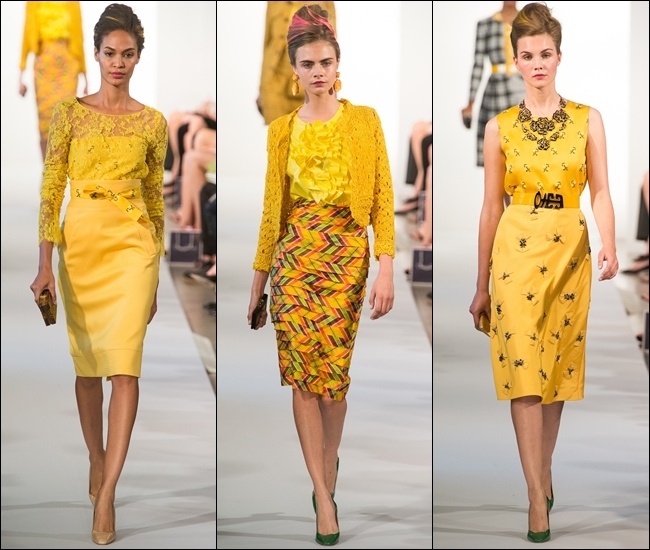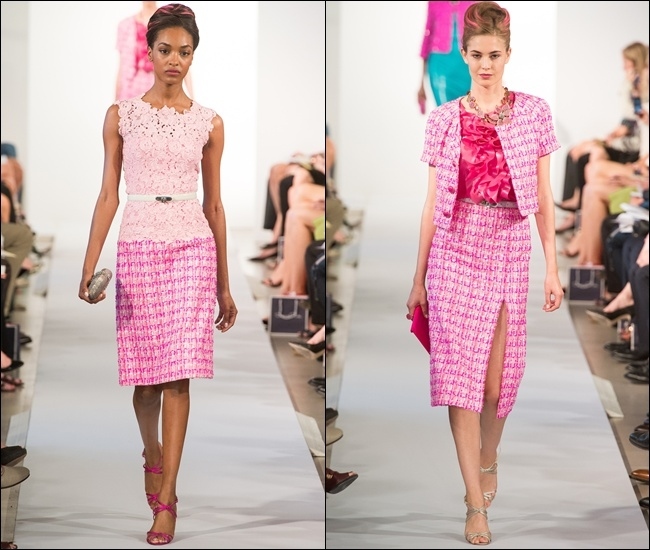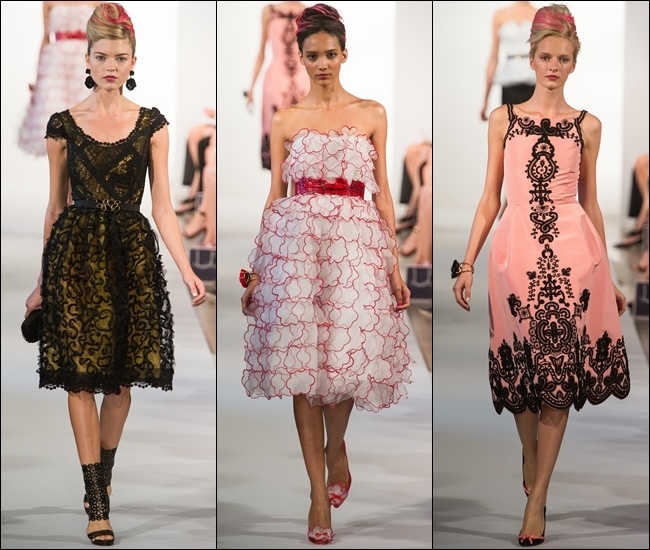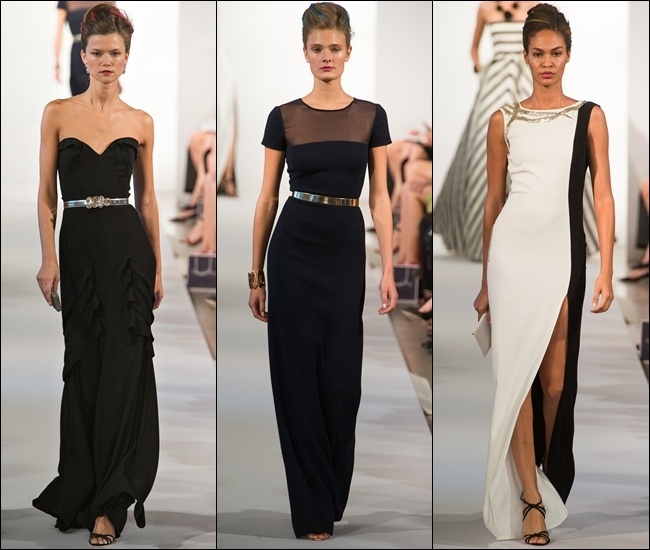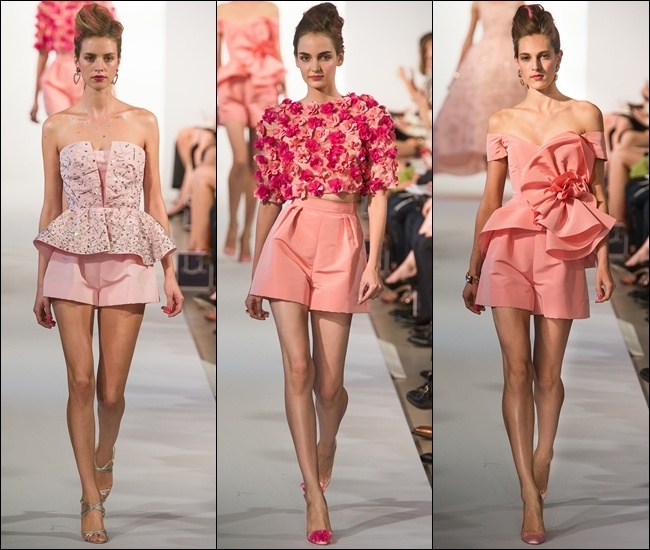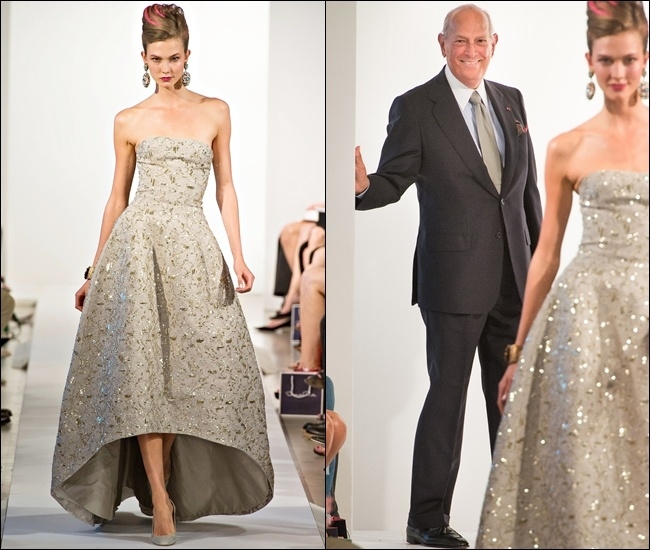 At the end, standout evening gowns were presented featuring sparkly elegant number in timeless shades of blacks, whites, midnight blues, and greys, along with pieces in pastels and striking hues of fuchsia and turquoise. All in all, through this runway, de la Renta has successfully presented a parade of such mesmerizing attires that will undoubtedly speak to women of all ages. Can we say effortlessly chic?