As the leading fashion brand for curvy women, the US based women's clothing store, Lane Bryant, continually strives not only to be first in fashion and fit, but to be everywhere including in plus size swimwear selections. And by the time it gets warmer, the label has really showed out this year, as they released bathing suit after bathing suit and each of them have something very different from the last. Let's take a look at the new arrival Lane Bryant plus size swim collection for June 2014.
Featuring a few proposals of tankini-set and one-piece body suit, the new chic selections have great hold, and classy, comfortable with a little bit of bright. While one piece flatters the vibrancy of juicy bonfire orange, another speaks for classic of shimmery chocolate tones. For more alternatives, some come out simple in basic black, and others go strikingly in animal prints, florals, tie-dye, as well as paisley.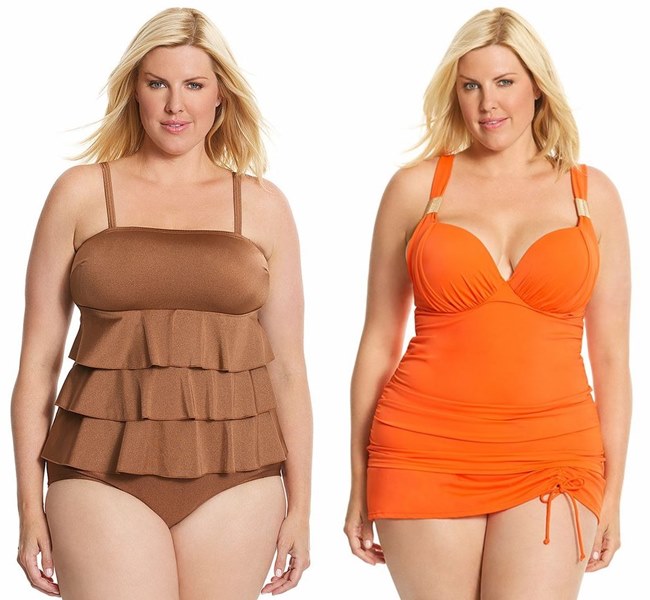 Among the stunning selections, some most favorites are displayed including two lines of tankini-suit pictured above. Looking luxurious in shimmering bronze, this gorgeous swim tank shows off your feminine side with tiered ruffles. However, for those with busty shape, this tankini top offers built-in no wire cups and fixed straps giving light support in or out of the water. It's available in sizes 14 – 28. A similar line is also featured in fashion-forward, foiled zebra print
As for another offering, the flattering suit is offered in juicy vibrant orange, featuring versatile solid swim tank with a built-in plunge bra. It offers amazing support with molded underwire cups to give you a sexy boost, along with adjustable straps and hidden bra-back closure. For more cute details, the suit features pleated cups and hardware detailing on the straps. It's available in sizes 38D – 44DD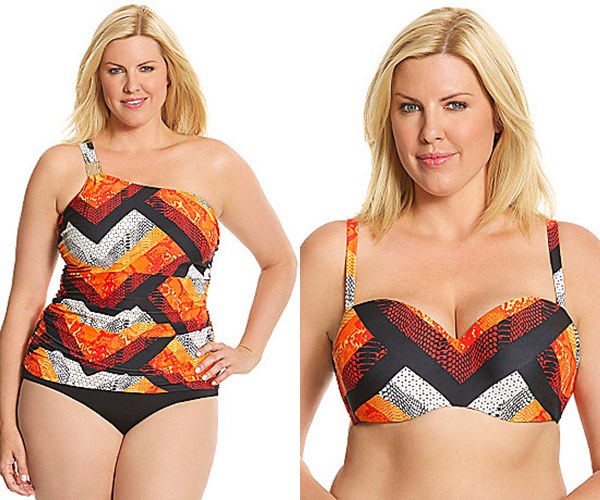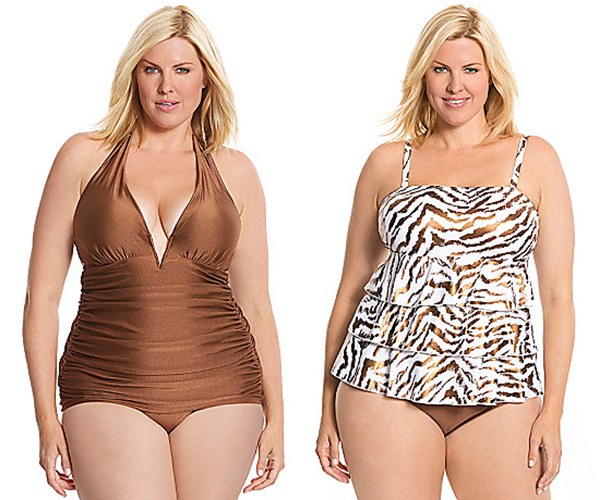 Screaming for the boldness of the season, a sexy one-shoulder swim tank with hardware detailing, as well as a balconette bikini top look amazing in geo animal print. The flattering asymmetric style shows off curves to their best advantage, with ruched sides to flatter, and a built-in no wire bra for extra support (available in sizes 24 – 28). While the fitted bikini top features molded, underwire cups for excellent lift and shaping as well as convertible straps (sizes available 40DD – 44DDD)
Furthermore, there are also some stylish one-piece swimsuits which include one sexy swimsuit in shimmering bronze (sizes 14 – 28) offered with a daring V-wire neckline, fitted with molded, underwire cups for essential support, and flattered in all the right places with ruched sides and adjustable, convertible straps.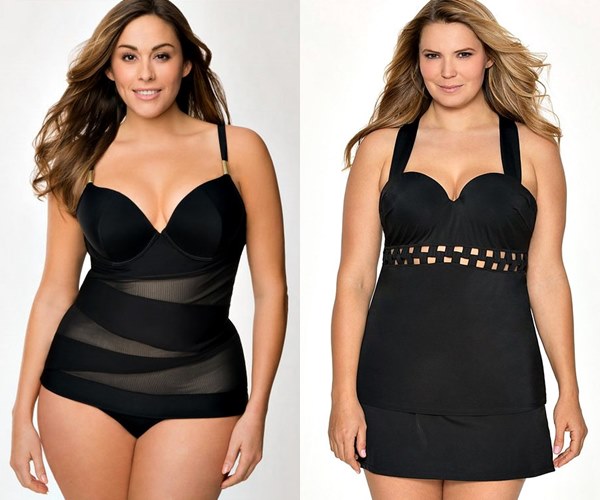 For more classic blacks, an Illusion swim tank with built-in plunge bra, and a lattice swim tank with built-in balconette bra are presented to make a sultry match with all your favorite swim bottoms. With sexy front illusion "cut-outs" this swim tank fits our silhouette perfectly with molded underwire cups, adjustable straps and hidden bra-back closure. It's also detailed with hardware accents and backed with nude mesh so it looks like you're letting a little skin show through. It's available in sizes 38D – 44DDD.
Check out more fabulous selections through Lane Bryant and make a splash in or out of the water during this summer.