Mulberry is just full of fairy tales and magical moments. This time the hint about a whimsical surprise has been introduced with Cara Delevingne staring Mulberry Fall Winter 2013 campaign that sees her posing with very lively woodland owl friends and the latest range of Mulberry's iconic handbags. The campaign was shot by renowned photographer Tim Walker and directed by Ronnie Cooke Newhouse, which the British luxury brand aims to celebrate the beauty and mystery of the English countryside.
Filled with a bunch of owls – as Cara shows off the brand's most recent collection – the campaign was shot on location at Shotover House in Oxfordshire where a wild and romantic woodland was created inside the manor house setting. Tim Walker, who is known for his fantastical imagery, masterminded the campaign by completing the fairytale scene with flower-tipped branches, dark wooden flooring and opulent antique furniture.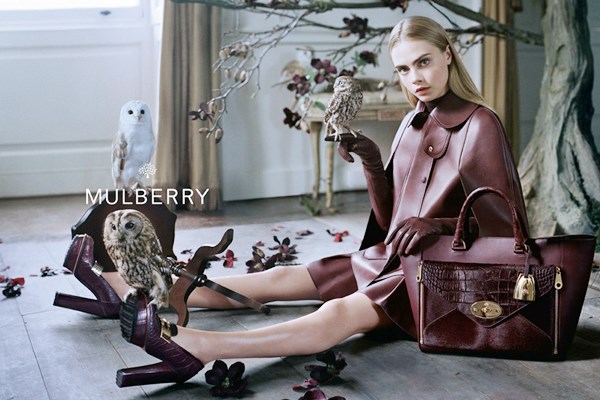 Now that the rich snapshots have been brought to life with a 36-second video campaign showcasing Mulberry's accessories, with the owls perched on Delevingne's arms and shoulders, we can see there is an era of mystery and sophistication that the classic British brand is putting forth for its new season. The new collection is the epitome of class and elegance, with an oxblood, taupe, navy, black and emerald color palette. The monochrome looks are the perfect way to showcase the brand's iconic bags like the Willow, Del Rey, and Bayswater, as well as the latest Double Zip Tote version and new Primrose bag.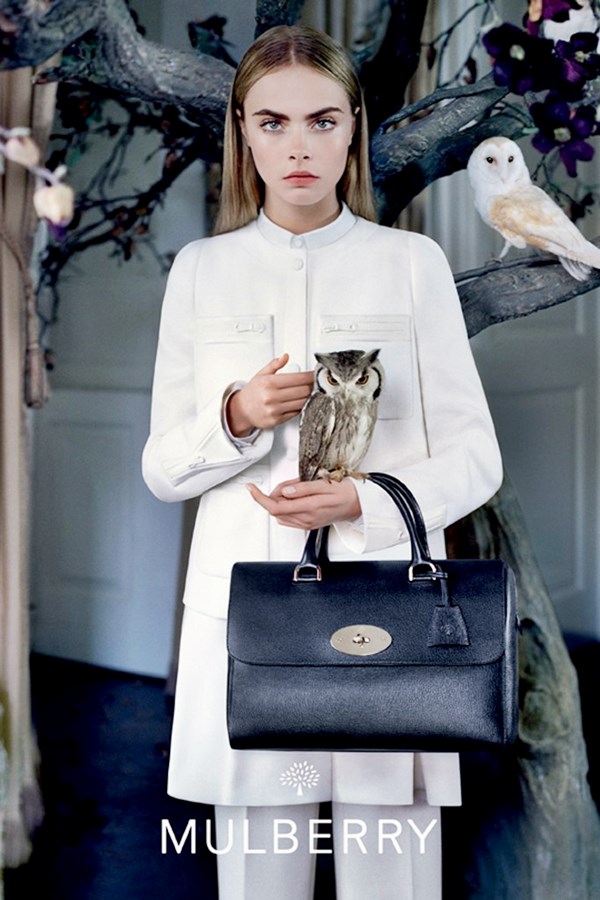 Not to mention, the must-have bags share the screen with Cara, who remains the most static we've ever seen her, as well as the birds. In a fairy tale-esque scene, Cara poses in a tree with flower-tipped branches and holds real owls as she showcases the label's latest arm candy offerings. Or, with slicked back hair, rouge lips and rosy cheeks, the stunning model even balances the birds on her chunky block heels. I think it's great to see how the owls interacted with the model during the shoot, as it is difficult to gauge from a photograph.