For Spring Summer 2013 collection, to the sensual sounds of Neneh Cherry singing "I've Got You Under My Skin", Miuccia Prada set aside her youthful identity as she portrayed a mature woman in aristocratic vibe and made 'femme fatales' out of her Miu Miu girls. Among the pieces, the designer played with volumes and proportions featuring oversized coats that nearly cover the bra tops and pencil skirts.
Luxuriously sleek and sophisticated woman surely draped in those plasticized coats, some are paired with fur stoles and long leather gloves, and some came out with the prominence of dark denim, that was sexy and contemporary, counter balancing the slightly 1950s feel of the show. As a bridge between bra tops and coats, pencil skirts came with body silhouette and length below the knees, throwing on such retro looking, while washed jeans stood out in two different tones to complete the looks.
The color was very similar to that seen in the Prada fashion show in Milan Fashion Week, including black, shades of gray and touches of red and pink, while the psychedelic splats and floral prints had also their place in this modern-retro parade. Evoking a feeling of a hot summer night, exotic furs were tie-dyed and casually slung over shoulders, or they were also presented in the evening coats that were oversize, creased, and crumpled, along with the presence of bracelets in glossy effect.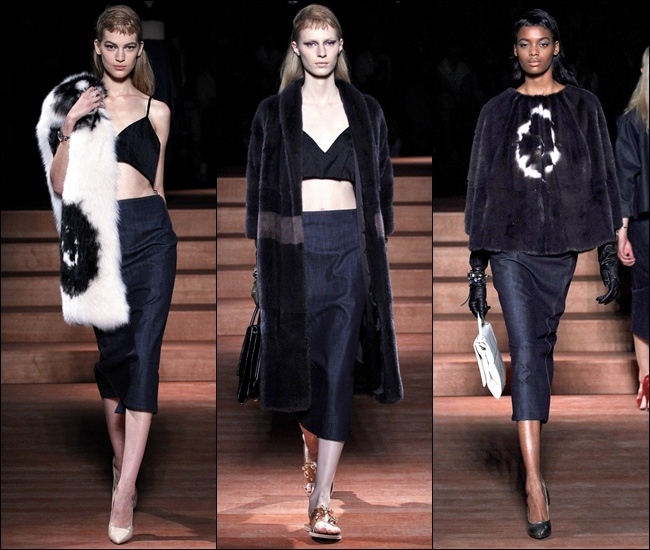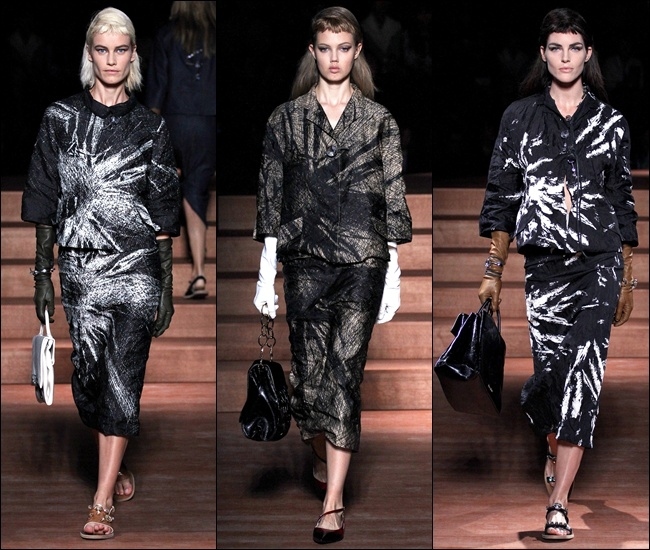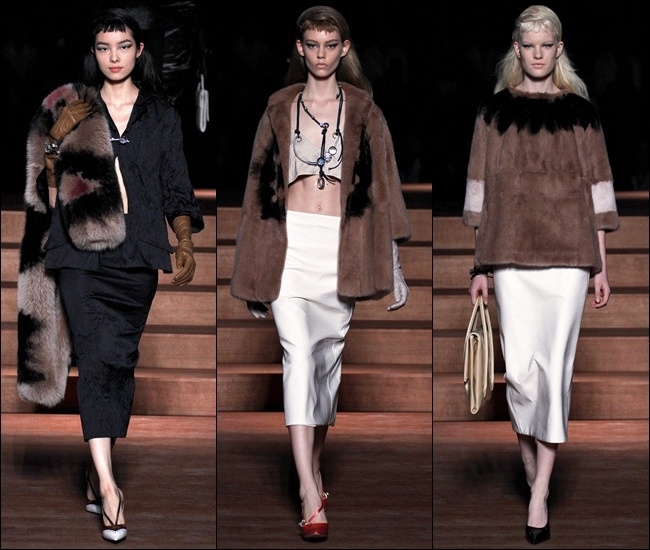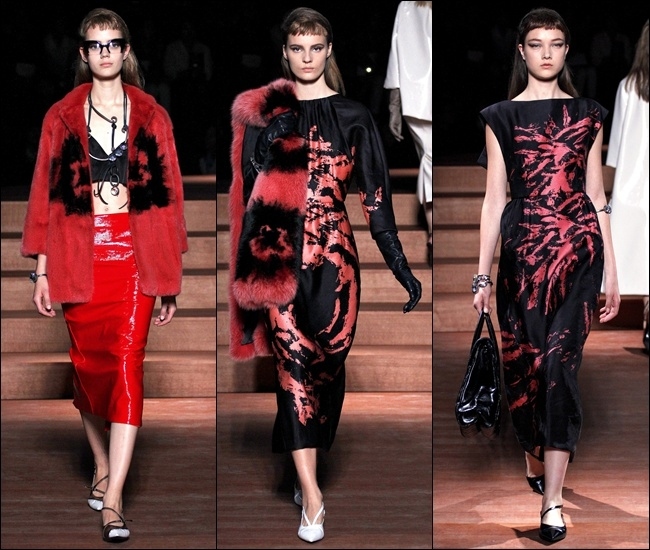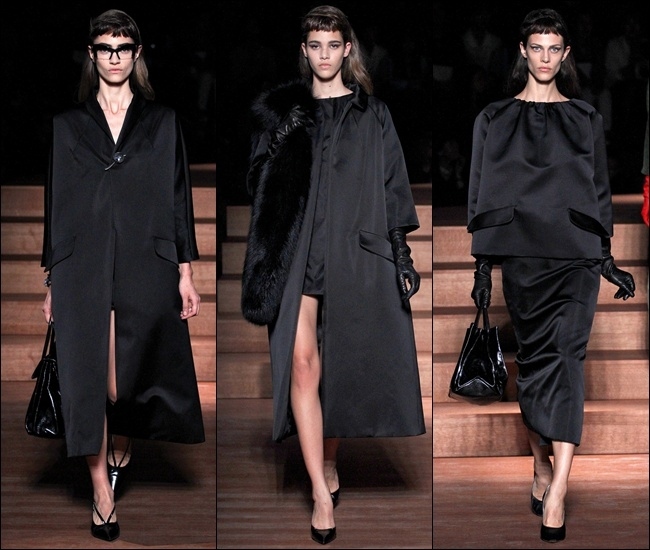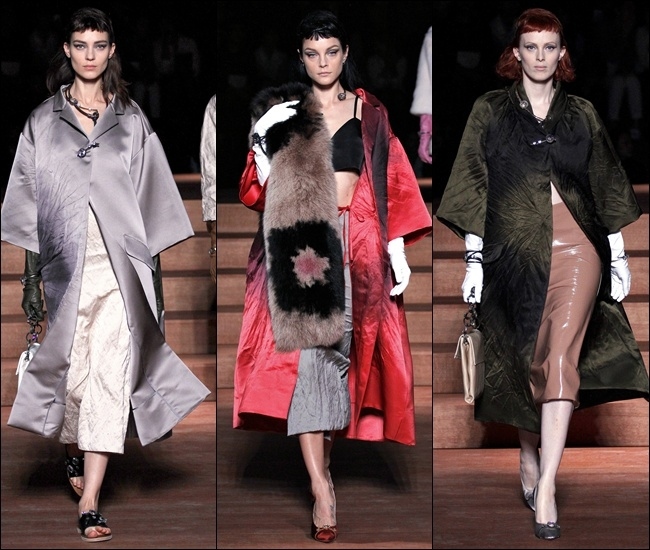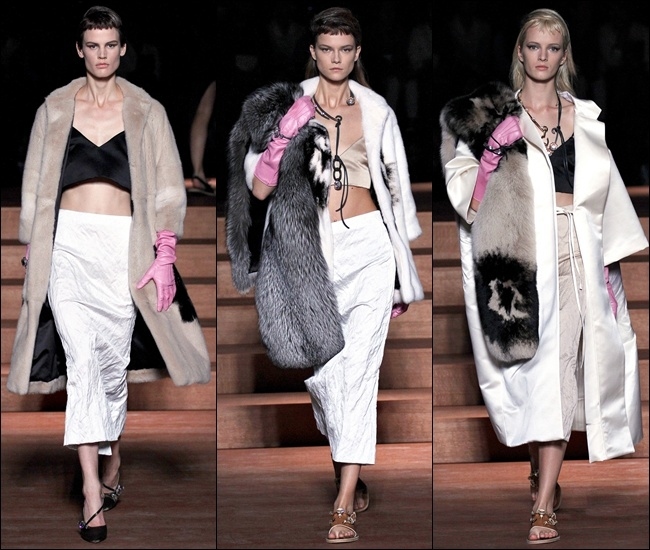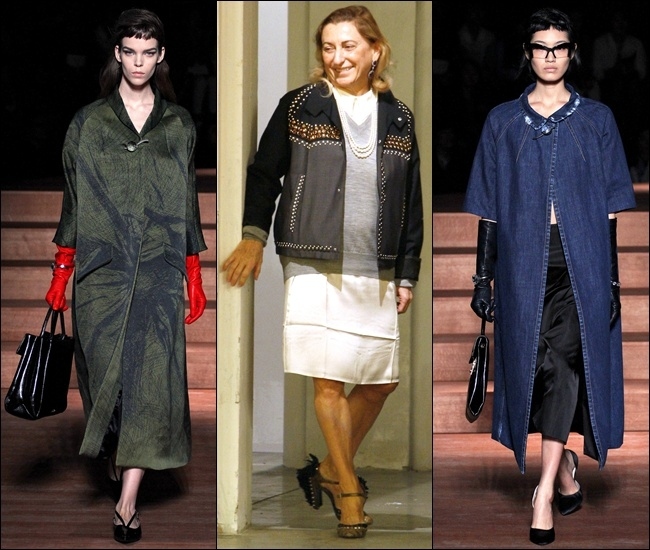 The collection was both nonchalance and sexual, however, since most of the pieces was created in forgiving shapes including the fantastic coats, elegant hemlines, neoprene-plastic jackets, long dresses, and plenty of pencil skirts paired with little cropped bra-tops, the sexual overtones were tampered down just enough to give this show the feeling of effortless eroticism. At the final, the show ended with a bang of big architectural coat like those at Prada, with wide sleeves in silk and accompanying fur pelts and wraps stamps with flower prints.