Well known for creating trendy fashion garments for full figured women, Mat.fashion is welcoming this Fall Winter 2014-2015 more dynamically than ever with ladylike looks based, consisting of sophisticated, dramatic and street style appropriate layered garments, on unique coats and classic dresses with fabulous motifs and the most incredible materials. Even if winter is cold, Mat.fashion offers the need of having fresh appearances by putting colors and patterns including delightful floral print in their outfits.
The new Fall Winter 2014-2015 collection is divided into several parts, including Snow Queen, Morana, Marzyana, Ziva, Lelya, Leshy, Zosia, Zeme, Dola, Vesna, Dogoda, which showcase stunning pieces from day to night with sophisticated look of Urban styles, enriched by romantically floral trend to give a little touch of refreshing spring. This time the inspiration surpassed the Greek borders, exploring the beauty of Slavic mythology's godesses, shrouded in mystery, compose a strange and fascinating world across most of Eastern Europe and Russia, from Poland and the Czech Republic to Belarus and the Ukraine. Let's take a look at each part of Mat.fashion Fall Winter 2014-2015 collection.
SNOW QUEEN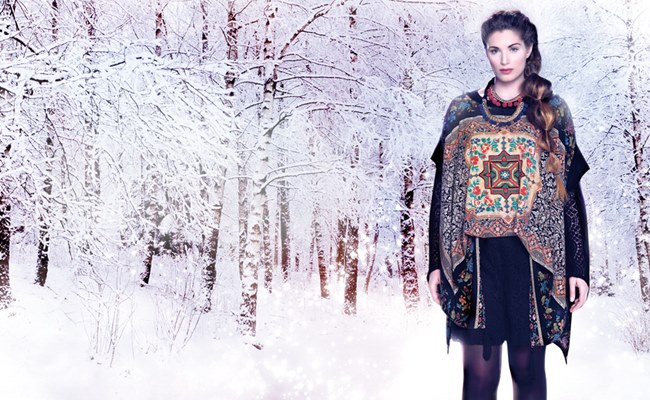 Showcasing eight selections filled with fabulous prints and beautiful colors, the Snow Queen line-ups evoke the aura of the sky, lakes, and streams, as it shows a whimsical fur hat that styled with multi banded ponytail and isle print sweater, a stunning V-neck printed poncho worn with black leggings, a bold and sophisticated burgundy dress worn with a fur, black vest, an asymmetrical wrap knit cardigan worn with black skinny pants and patent black leather booties, as well as a lush look of maroon velvety or floral printed dresses, which are ideal for special night-outs and formal events
MORANA
With a little metallic touch detailing its tunics and loose blouse, Morana selections come to represent a Baltic and Slavic goddess associated with death, winter and nightmares. Among the ten selections presented, there are a range of printed knit-wrap in a touch of a dark background for a safer look, paired with black leggings and booties, along with shimmering silver-sleeved blouse worn with leather skinnies and glittery pumps.
MARZYANA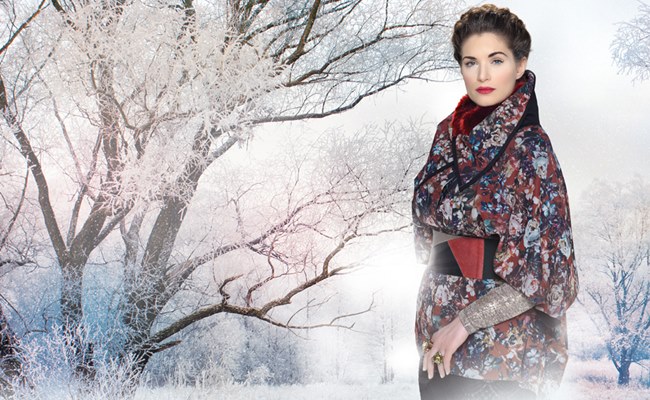 Inspired by the Polish goddess of grain and harvest, Marzyana selections propose variety of maxi dresses, knee skirt, leather skinnies, and several layer outerwear, including cardigan and wrap, mesh black cape, black and burgundy asymmetric cape, alongside strong appearance of black long leather gloves, booties, and bold necklace.
ZIVA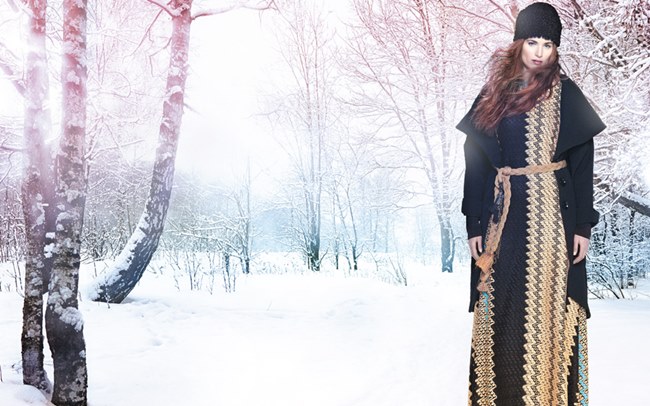 As for Ziva, she is a Slavic goddess of life and fertility associated with the meaning of "living, being, and existing". Ziva's collection offers rich knits and artistic zig-zag striped prints in mustard, blue, brown, and black, paired with neutral shade of black. It comes with the selections of crewneck dress with a wide collar, super-long maxi dress, oversized mesh coat, wide-leg pants, as well as some tunics and tops. The looks are more feminine and softer than previous selections, signed by the appearance of floral printed cropped blouse that paired with casual wide trousers.
LELYA
Resembling a goddess of love and erotic passion, Lelya presents a range of easy and casual outfit for a chiller winter days, which feature a chic LBD with brown leather belt and paired with leather knee-boots, a cowl neck knitted poncho over shimmering top which paired with slim-fitting pants and pumps, several knitted ponchos, little black sheath, as well as shiny wrapped, long sleeved blouse that paired with leather pants and chic booties.
LESHY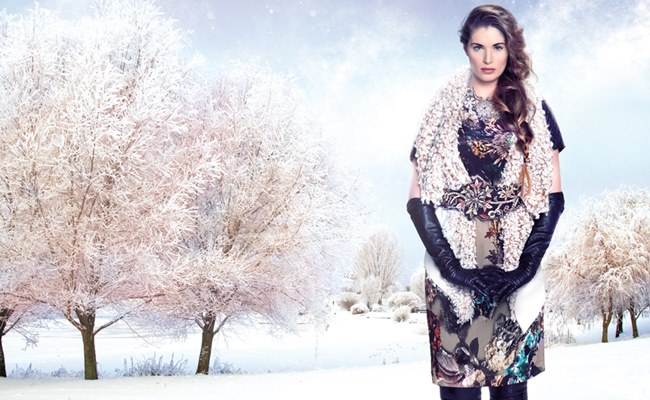 Leshy is a woodland spirit in Slavic mythology who protects wild animals and forests, as the selection feature number of cozy and chunky knit selections of long wraps, knitted cape-like knitwear, tunics, and sweaters, alongside long sleeve shift, tights and fitted thigh-high boots and casual footwear such as sneakers. There are also unique outfits like a front zip poncho that styled with earth tone top and zig-zag printed wide-leg pants, a perfect active style pantsuit which includes a zip hoodie and sweatpants, and an urban below-the-knee ensemble, wrap scarf and lace-up trainers
ZOSIA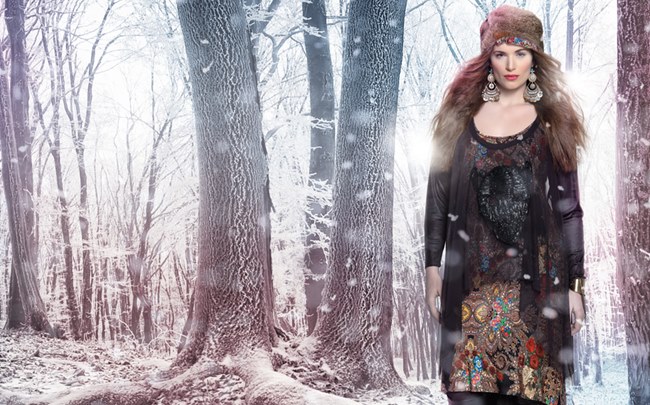 Known to her worshippers as "the heavenly bride", Zosia represents the goddess of beauty in Polish mythology. She is also known as a water priestess that protected warriors. Featuring a modern look of a princess warriors, the new selections of Zosia present several sporty outfits which consist a baseball hat, heeled sneakers, loose-fit, wide-neck top, casual trousers, and amazing black lace sweatpants. Another statement look features a star print knitted poncho and rubber rainboots, as well as the appearance of a cozy, quilted, belted down-coat, which has a versatile look.
ZEME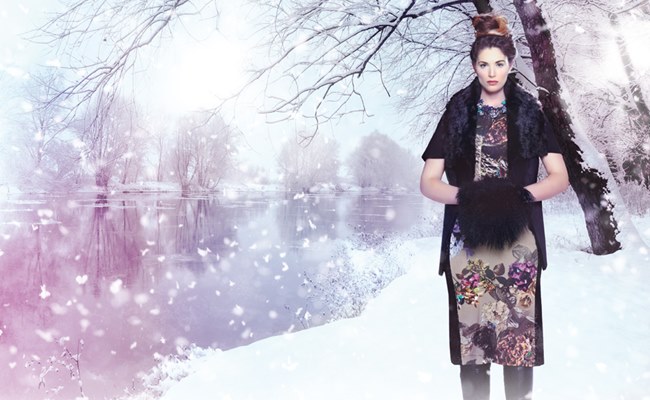 Zeme represents a Slavic and Latvian goddess of the earth, which showcases several stunning collection including a monochrome Houndstooth cape-like cardigan that is worn with fingerless leather gloves, slim-fit trousers and heeled lace-up booties, a little black dress with embroidery trim, tights, oversized slouchy pants, as well as slouchy tunics and dresses that paired with leather skinnies and ankle booties.
DOLA
Dola's selections are inspired from the name protective spirits which embody human fate, which offer casual monochromatic printed line-ups such as shift that layered with tee and tights, chunky knit-wrap with jeggings and lace-ups, as well as denim pieces of oversized denim shirt that matched with leather pants and heels, casual skinnies with boxy cape with envelope collar, and also bold shimmering cape that worn with chunky scarf, simple shirt, black denim skinny pants and military sneakers.
VESNA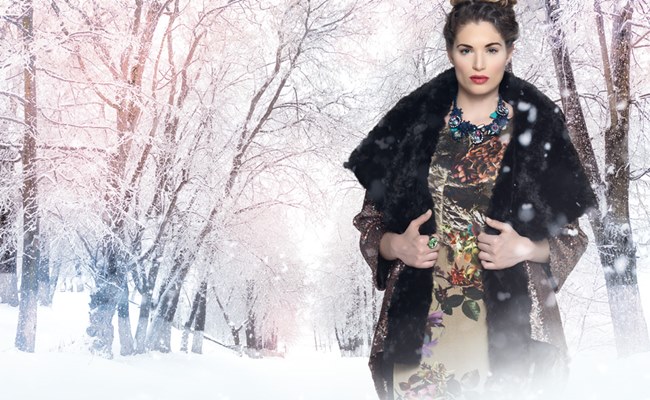 Vesna symbolizes mythological female characters associated with youth, just like how the new collection features trendy, chic apparels of rich blue wrap coat worn atop flannel top, regular jeans and hi-top sneakers, a pair of flowing velvety, velour tracksuit in blue color, plenty of cobalt blue palette offering cocktail dress with pleated details, tea-length dress, super boxy, long coat and net-fish cardigan. Jeans are also featured in this collection perfectly paired with sneakers and sporty boots to embody the youth-spirited look.
DOGODA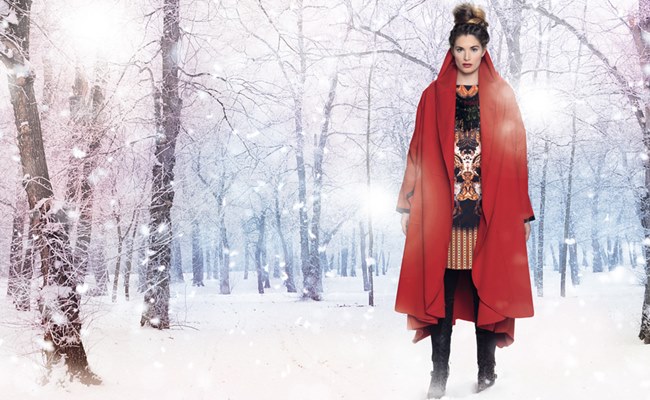 Finally is Dogoda, a mythological Slavic spirit of the west wind that associated with love and gentleness. The offerings in this collection is bright, flower-y, and marvelous, showcasing some of them are a rose print, hooded down-vest that is worn with red color, asymmetric top then paired with regular fit jeans and cool sneakers, a down jacket in rose print that looks perfect worn with an elongated chambray shirt and casual jeans styled with black sneakers, as well as a bootcut denim trousers that are paired with wrap open front sweater and simple tee.
All in all, updated from the mystical of Slavic mythology's goddesses, then mixed with a touch of vintage feeling of fabulous ethnic prints and beautiful colors, the newest collection of Mat.fashion Fall Winter 2014-2015 presents such adorable, pieces with bold yet stylish details where the timeless feminine elegance meets a trendy boho power.  The Floral print, on the other hand, delivers a strong trend which banishes the sunless scenery of winter by putting a spring touch to the outfits, while other impressive ethical prints become more unique with a cool grunge-chic 90′s allure accentuated by eccentric prints and exciting motifs.