Super cool and fabulous, ASOS Curve presents their Fall Winter 2015 collection, with blogging super star Gabi Gregg aka GabiFresh to be the face of the new lookbook. Being one of the most prolific fashion bloggers out there – thanks to her honest take on fashion and her personal unique style – Gabi has been wearing ASOS even before they had a curve line. So, out of all the plus size fashion bloggers, yes, Gabi is more than perfect for this work, plus, she also looks outstandingly gorgeous donning the collection.
Inspired by a truly 70's hippy styles, Gabi Gregg's ASOS Curve lookbook comprises various amazing selections with lot of colors and styles, and a diversity of fabrics like fake fur, sequins, suede and more. Among the offerings, there's a brightly yellow suede dress with cute ring appliques for adding the quality of style and "a breath of fresh air" to the plus-size landscape.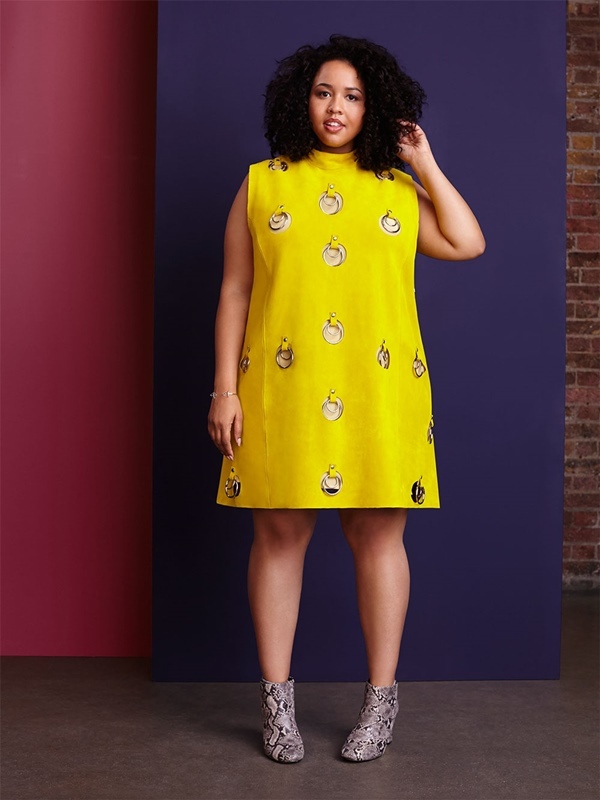 Through the lookbook, We can see all the amazing stuffs, including maxi floral gown with slit in sexy V-neck, furry pieces including scarf and coat in blush, suede moto jacket, sparkly sequined capelet with fringes and matching purse, kicky button-front skirts in bright yellow and rustic, and a few range of festive dresses such as striped bodycon, studded LBD, corduroy dresses in retro stripes and greyish hue, as well as a cute and sleek little white shift dress with keyhole front neckline.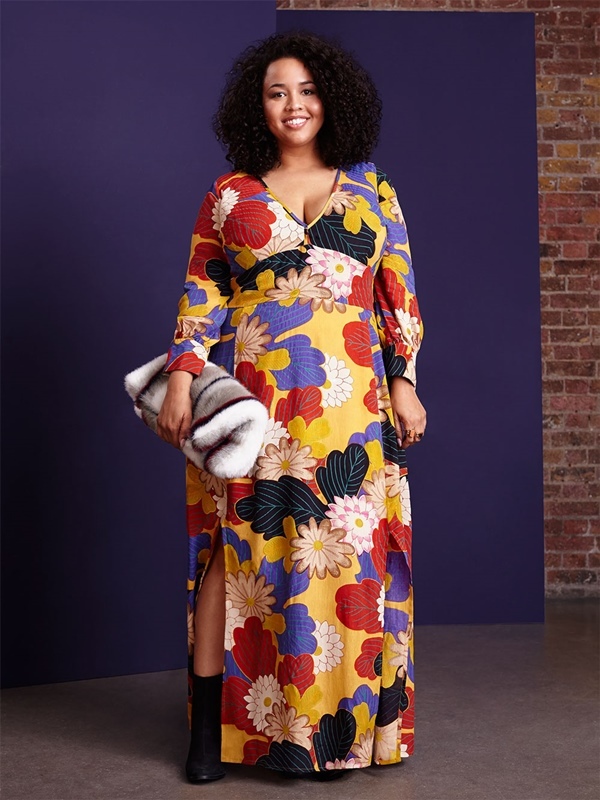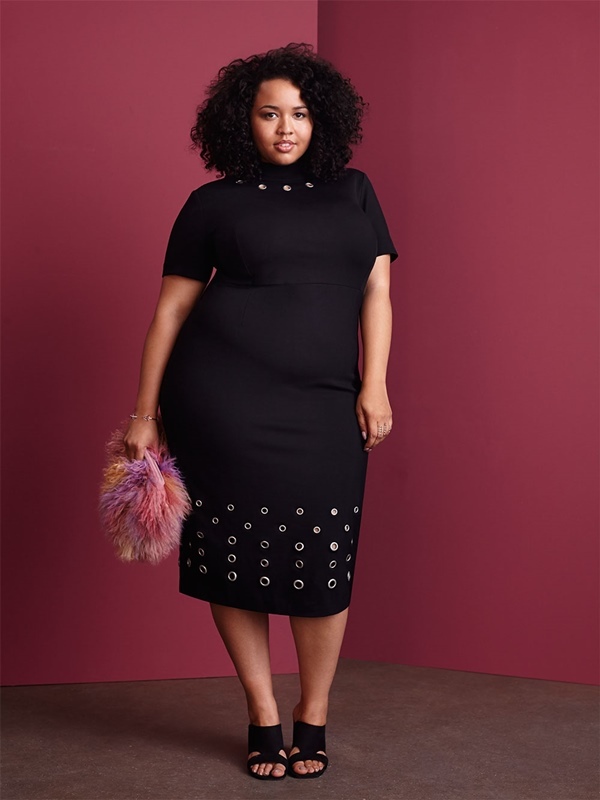 As for clutches and footwear pieces, perfectly matched with the clothing proposal, the new collection features a large clutch with star sequined motif evoking disco 70's inspired styles, along with other numbers in festive detailing such as fur, sequins and fringes. While ankle booties take as the predominant footwear in this collection – showcasing booties in suede fabrics, as well as snake skin and retro inspired motifs –, a pair of comfortable black strappy sandals add the feminine touch into the looks.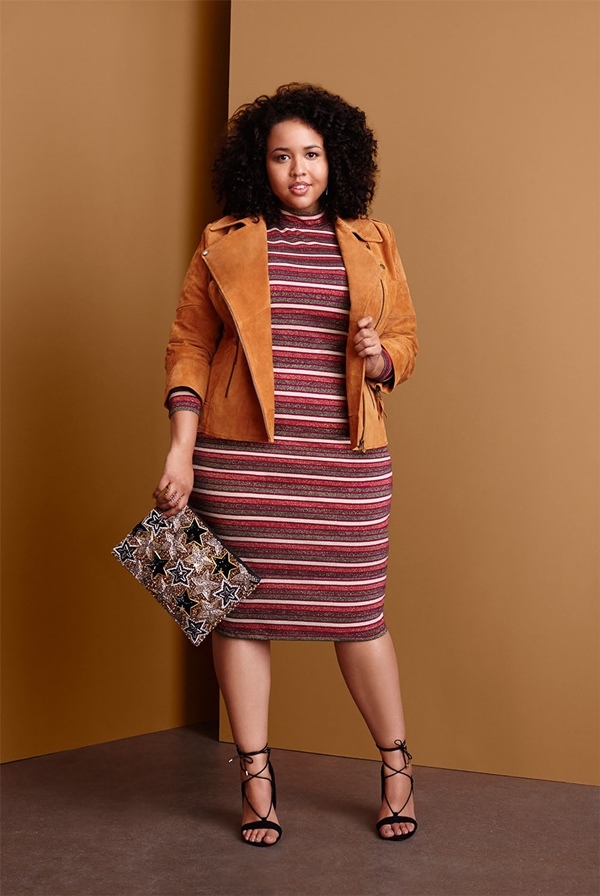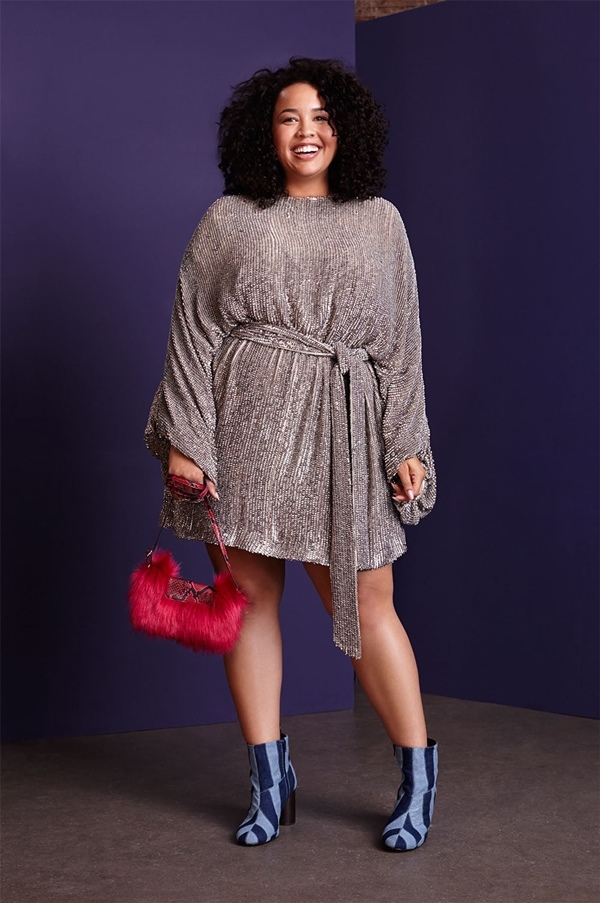 All in all, the new Gabi Gregg's ASOS Curve Fall Winter 2015 collection is everything we look for the next cold seasons, perfect for those fashion-forward girls who love to keep the trend alive while staying warm during the chilly days. These fall winter pieces will begin hitting the website this month through October.