"This is a tribute to all pop stars of the 1980s that influenced my fashion and how I fashion their outfits. Any resemblance to real persons or events is purely a non-coincidence", explained the Parisian designer, Jean Paul Gaultier, talking about his newly Spring Summer 2013 collection showcased in Paris Fashion Week. In other words, the show was all about musical vignettes and musicians as muses
In fact, all major icons of the decade were there, including Grace Jones, at first, where Gaultier's standouts with his favorite fashion staples – the tuxedo – and turned it out into jumpsuits, sleeveless vests, and jackets with the sides scooped out to expose the hips. Then in quick succession – with a swift cut in the music for each muse and back-up dancers recreating every singer's iconic moves in the background – came models impersonating Annie Lennox that showcased selections of short, cropped hot-pink hair and a double-breasted pinstripe suit, Jane Birkin's trompe l'oeil denim designs that came covered with transparent sequins, Boy George with outfits of a kimono jacket, silk robe or dress, and Palais Royal stain glass printed trousers, as well as Pure Ziggy Stardust in a one-legged, one-sleeved bodysuit made of an open-weave crochet.
More and more iconic 80s pop-stars' attires resembling Abba, Sade, and David Bowie are also included, while the very best Michael Jackson's took part as a black motorcycle jacket and a black fedora. As for Madonna, of course, as one of the most iconic stars for Gaultier, the designer showed the "material girl" with all black lace and mesh, with a bow in her hair. Madonna herself has a high recognition with her Gaultier cone bra worshiped in the 1990s, which also appeared in a movie version in Desperately Seeking Susan (1985).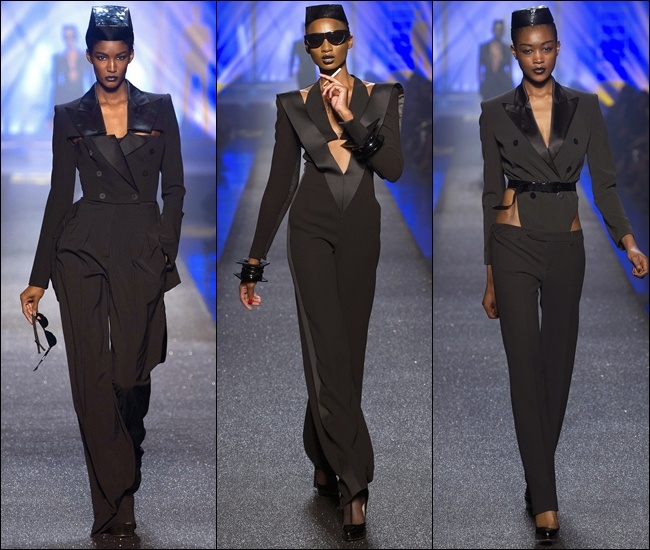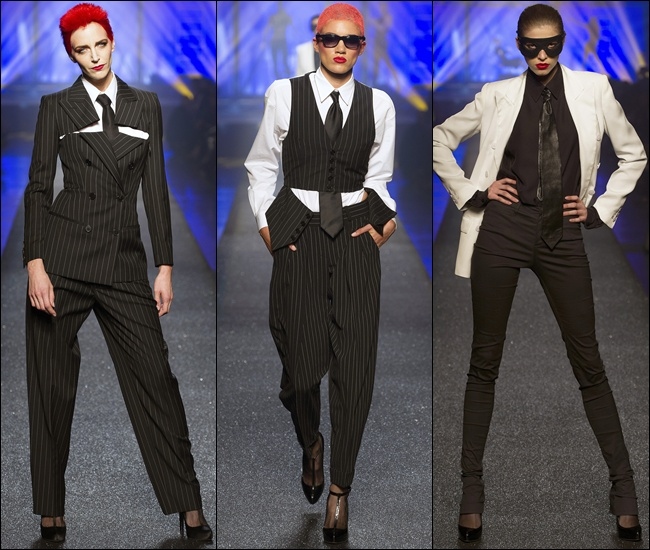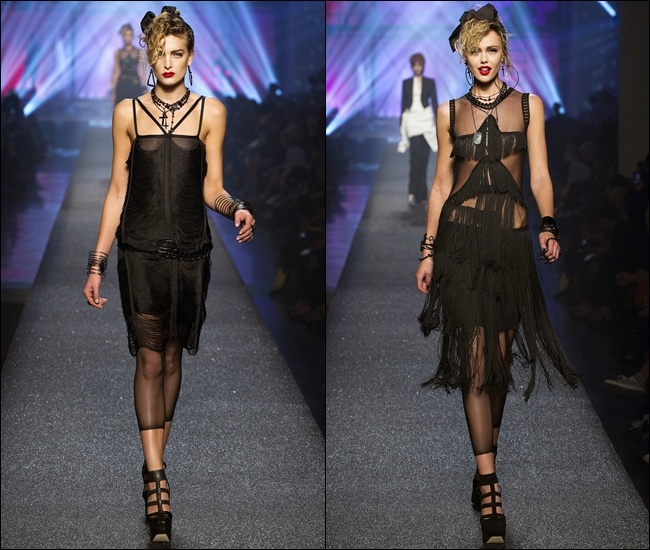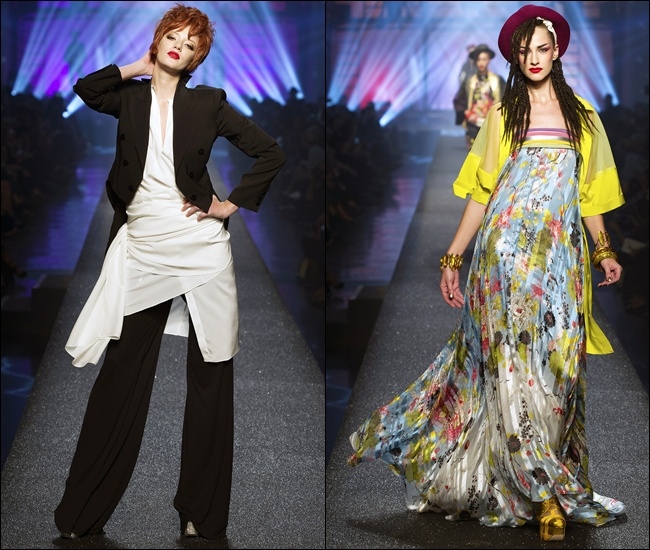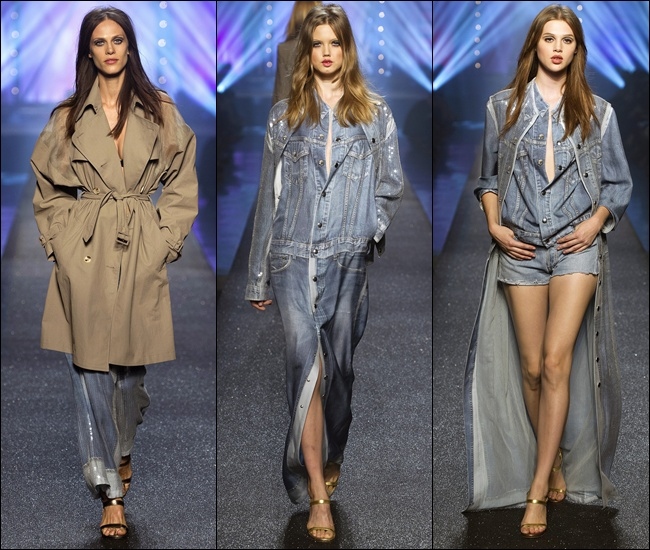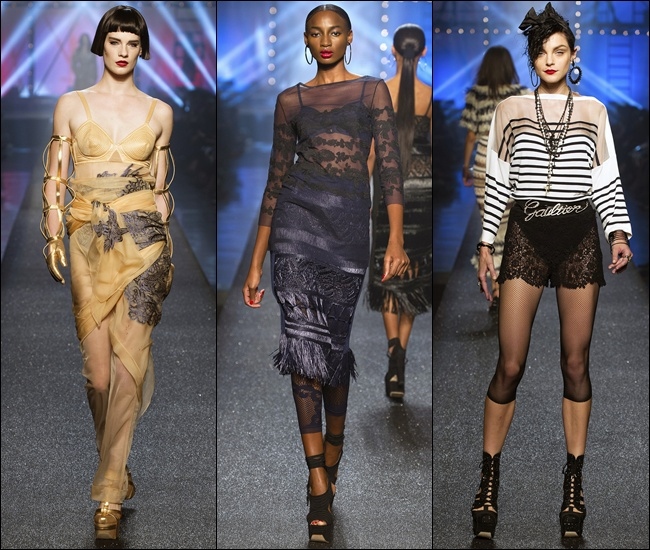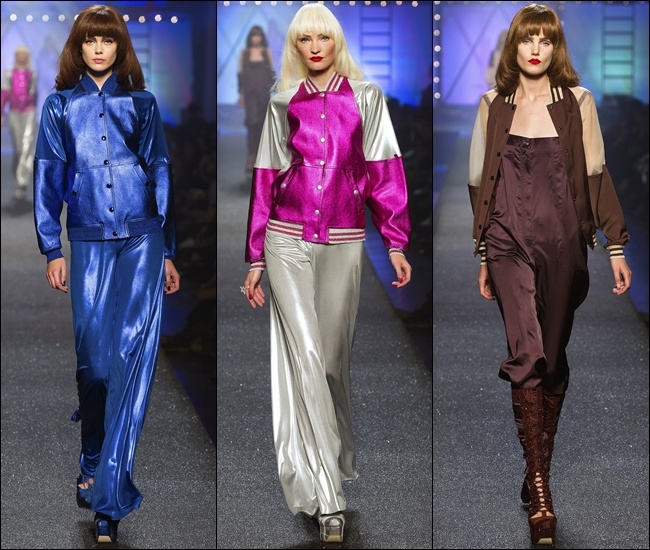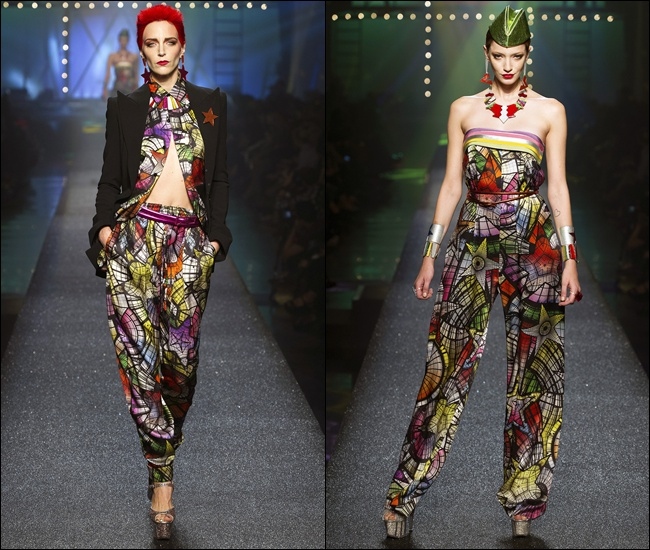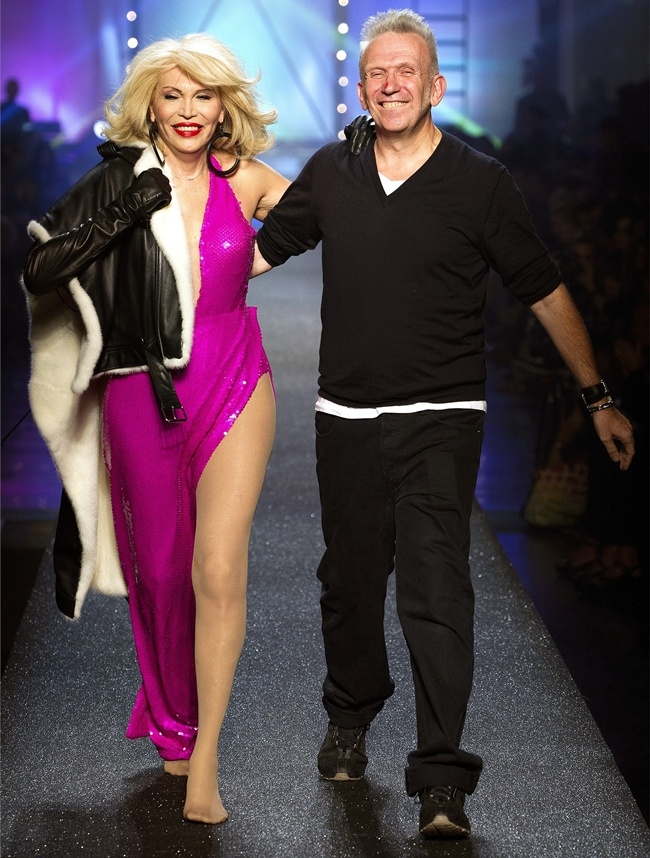 All in all, the parade was so energetic and powerful, lighthearted, yet with so much fun, as glittering globes and mirrors decorated the stage. And even among the 80s echoing collection that might not be relevant for today's customers, Gaultier showed some strong and marketable contenders, too, including a black gown with sheer triangular panels, some fun metallic baseball jackets, and a charming selection of denim pieces that went from short shorts to a duster jacket
Lastly, as a copycat Kiss tribute to the band, sitting in the front row during this ready-to-wear show, the party was finally ended with the singer and actress Amanda Lear crossing the catwalk in a fuchsia leotard.