Not only for spring and summer, the world of fashion has been treated to the timeless floral prints for all seasons all year long. And from time to time, these super romantic prints have emerged on the fashion scene, with plenty of opportunities to mix and match with other fashion pieces, embracing some flower power to your attire for a more feminine aesthetic. Take a look at a few style tips as well as some style ideas of floral fashion staples proposed by StyleWe perfect for all different seasons in a year.
Whether you choose a floral print dress, skirts, trousers, or a pretty floral top, almost every women love floral prints as a great incarnation of feminine spring and summer style, but why should spring and summer have all the fun? Even though fall and winter come with a distinct lack of natural flowers – except for those who lives in a tropical place – your combo doesn't need to skip these florals during chilly days in fall and winter. On the other hand, depending on your style, age and attitude, these prints can also look cutesy or matronly, if you style it wrong. This guide will show you some general advices on pulling off the floral prints for every season.
General Tips for Wearing Floral Print Dress
1. Brighten up: To make your combo brighter and less boring, seduce bold – but decent – floral prints to inject some personality into your look. Depending on the season and occasion you may opt for bouquets in bold and bright colors, or in watercolor pastels. If your wardrobe is filled with mostly solids, especially in dark colors, adding a burst of bright floral print can be just what's needed for building an interesting outfit, providing a little joy to your day.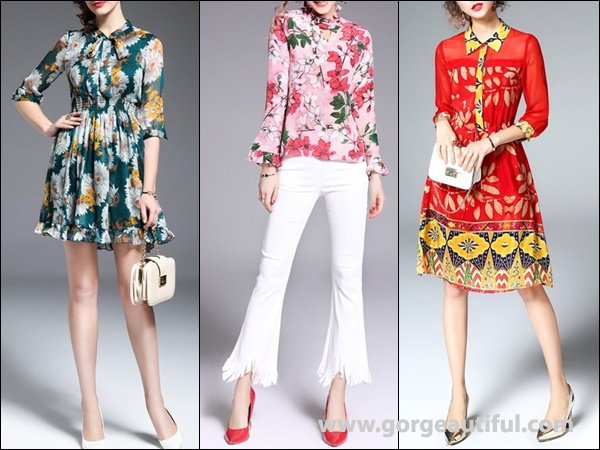 Make sure you know the occasion you are attending to, the more fun, relaxed and casual the event is, the brighter and bolder you may go. For general tips try pairing florals with solids in the same color family, or ground it with shoes, clutch, scarf, etc. in neutrals and metallics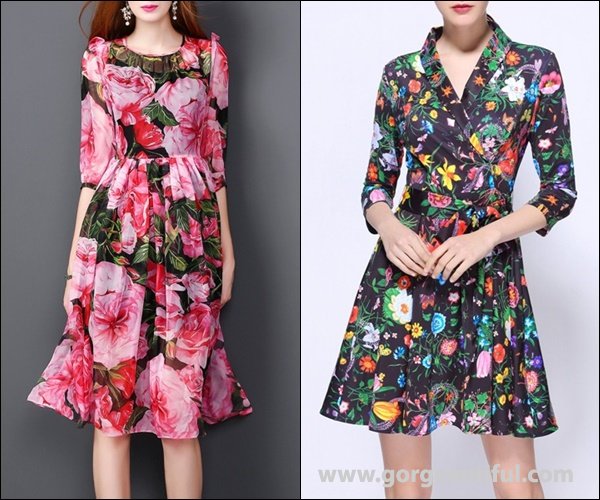 2. Tone it down: Although floral patterns can be bright, bold and busy, you can easily tone down your floral pattern by adding a little bit of calm and easy attitude into the look. Investing on floral prints in soft and pastel colors are one option to tone down the look, or you can go with minimal floral prints on solid colors, as well as mix and match the bright florals with casual pairing such as classic denim jacket, a slick, leather jacket, and sporty footwear or your badass combat boots. Even you can amp it up with a bright colored bag and pile on heavy metal jewelry for that extra edge.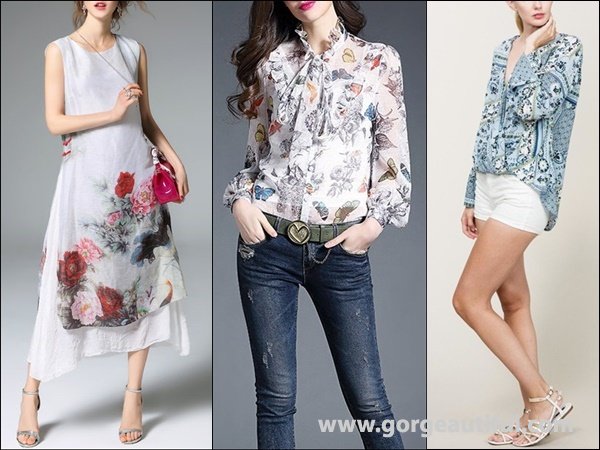 3. Pick a size: Through the runways or street styles, we've all seen traditional floral prints – dainty, feminine, soft, and totally classic, while you can also expect to see a more modern take – large, statement-making graphic florals, on tops and dresses that will continue to be popular, this season. There are some general tips on wearing these prints according to its size and color contrast.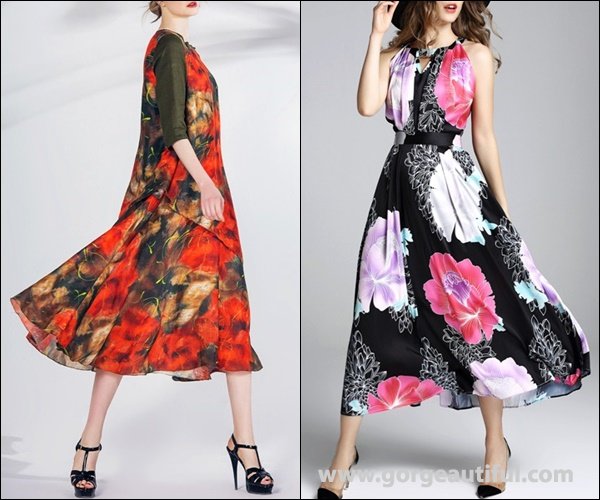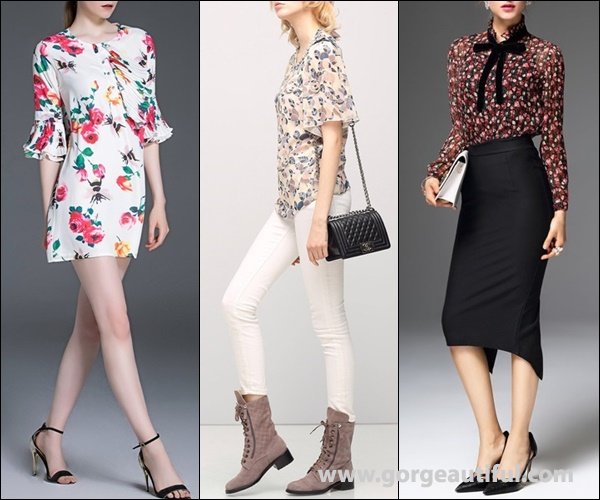 Generally, the scale of the floral pattern should align with the frame of the figure wearing it. A large floral pattern can overwhelm a petite woman. A miniature pattern can look too dainty on a woman with a larger frame. As for the contrast of the colors, along with the placement of the patterns, if the floral is not all over the garment, pay attention that placement of the print – especially if it comes with large and bold size or colors – will highlight part of your figure where the print is placed. And keep in mind that bright, bold colors as well as high-contrast color combinations will draw more attention and potentially add more width to the figure, compared with lower contrast, darker or more tonal combinations.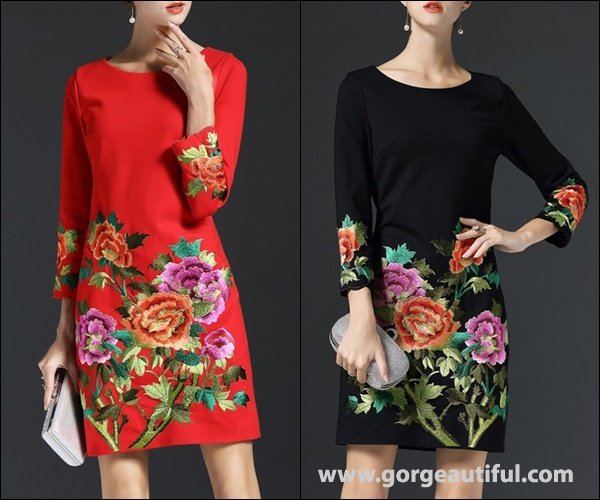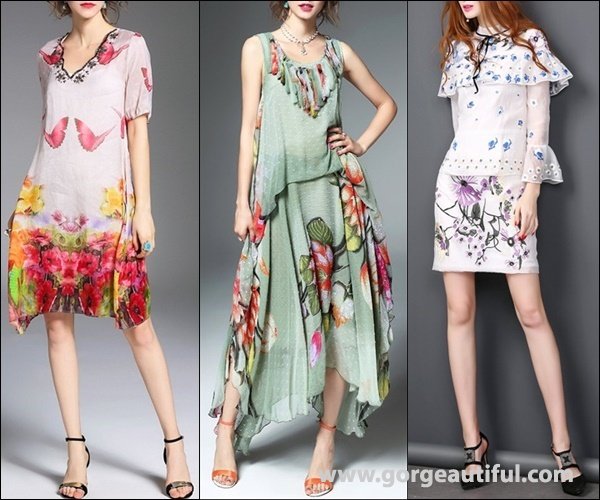 However, since fashion is all about fun and attitude, whether you pick bold or soft florals, in large or small scale, wearing them with your own personality is the most crucial way to have all the endless fashion fun and excitement. If you are comfortable with the prints, than you'll be fine wearing whichever types of floral patterns you want to pull off. Or, for easier trick, you can go with moderate options, mid-range floral in natural tones.
Floral Print Dress for Every Season
When it comes to wearing this easy-yet-beautiful trend, florals are such a fun print to style. They come in all sorts of colors and variations, and are especially interesting because of its versatility. You can find floral pieces in everything from casual athletic gear to dressy outfits suitable for weddings and formal dinners – perfect to wear for all different seasons all year long. Not only that you can experiment with different pairs of clothing, mix-and-match the prints between tops and bottoms, there are also plenty choices of accessories with floral theme, giving you even more ways to work flowers into your look. You can incorporate as little or as much floral as you want into your outfit.
Spring into Soft Floral Prints
When we think of spring, we think of light, bright, and happy feeling, and floral themes fit right into that. Grab your trendy pieces florals in pretty, soft pastel colors and vibrant hues as well as popping designs, all of which are some variation of the garden theme. Be prepared to embrace your inner lady with floral print dresses, swimsuits, jumpsuits, blouses, skirts and pants, rain-boots and other chic footwear, and even sunglasses or scarves. Check out more floral printed dress ideas for spring season, perfect attire for wedding or garden party.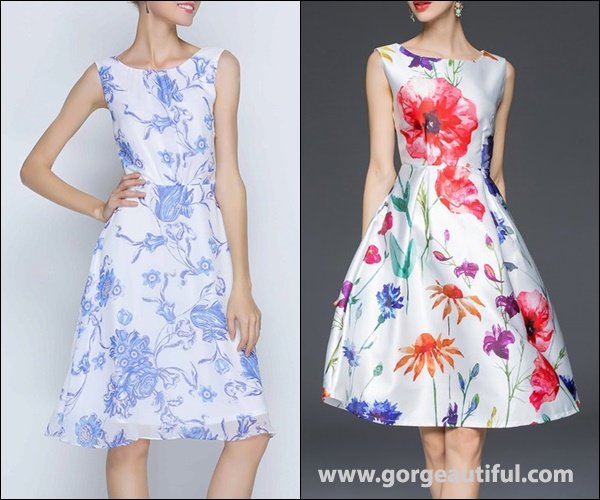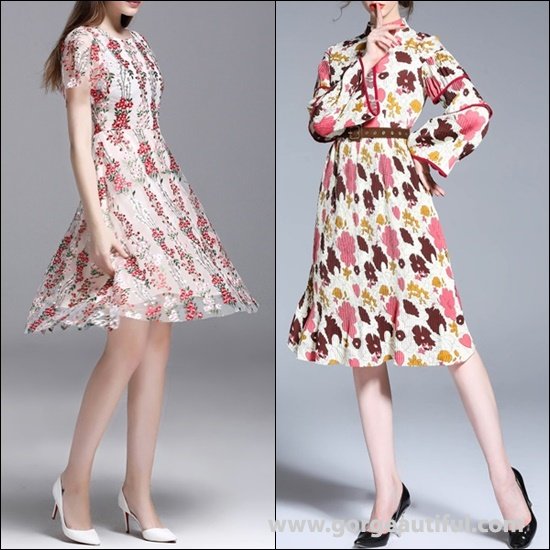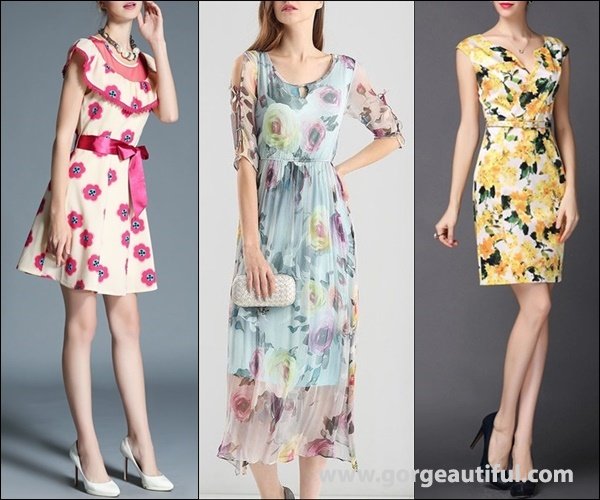 Summery Floral Fashion
As the season is getting warmer and hotter, while spring florals often incorporate lighter and soft romantic pastels, the season of summer is ideal to flaunt bright prints, even much more vibrant than those for spring. However, keep in mind that styling floral prints in summer doesn't mean you have to go all vibrant head-to-toe, but focus on pairing bright summer blossoms with cool and breezy pieces to reflect the carefree summer attitude.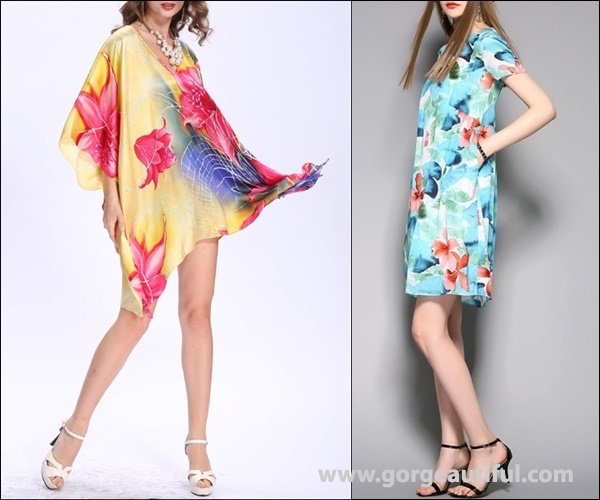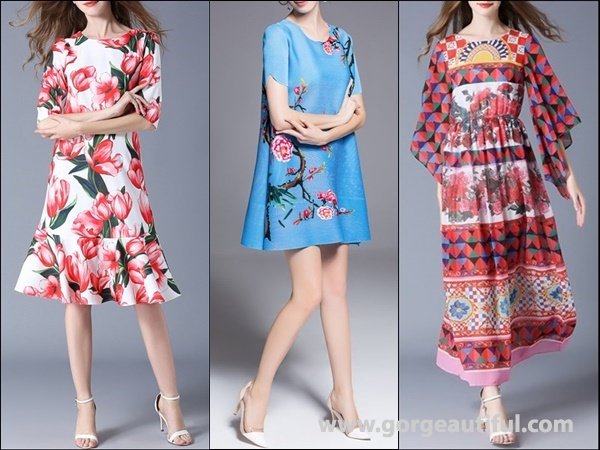 When figuring out how to wear floral in summer, save staples in thick and heavy fabrics for the cold seasons and pick lightweight or flow-y fabrics that keep you feeling cool and airy. Experiment with bold, large and edgy prints as well as hot colors to bring a touch of women power and to warm weather style so you can bring out your feminine charm with every outfit and accessory you wear.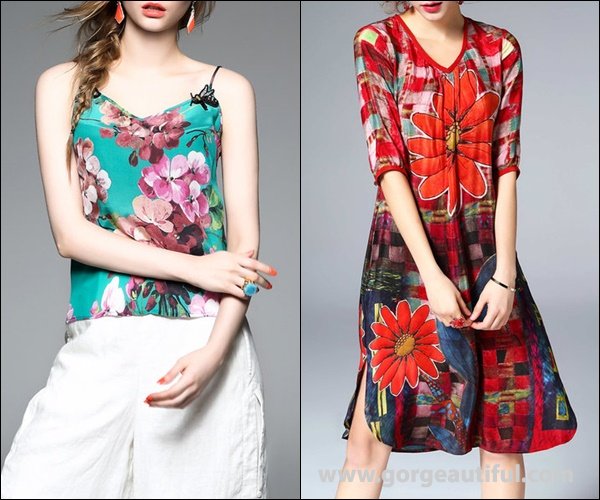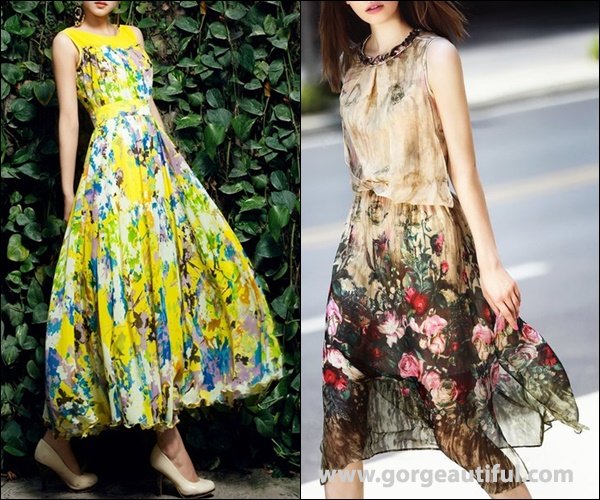 Crisp Fall Florals
As temperature is dropping, and leaves just beginning to change colors, you'll definitely need warmer cloth covering your skin and you'll also find it in rich autumn shades instead. Color is one of the easiest ways to give floral prints an autumnal feel. And by just changing the colors of the print, it can make a huge difference as it will soften your entire look.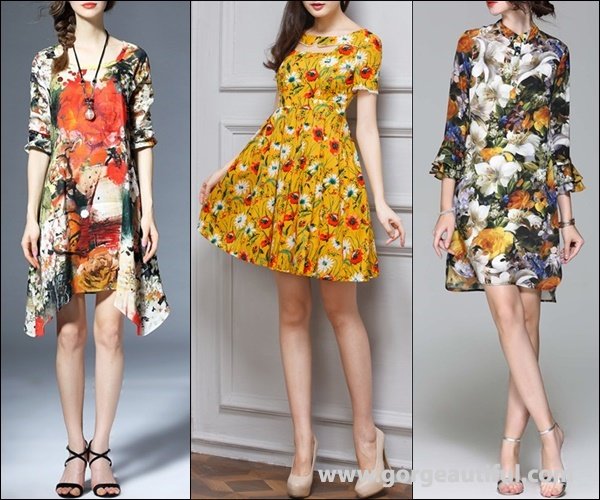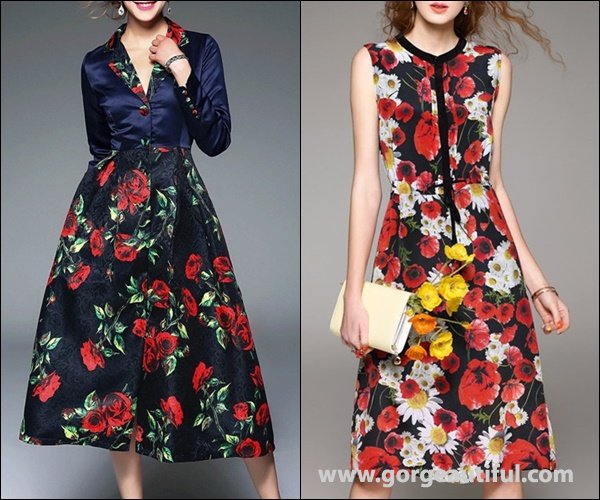 Instead of the bright pastels of spring or the bold hues of summer, look for colors in nature such as deep burgundy, forest green, mustard yellow, mossy green, copper, classic navy, or burnt orange. Minimize the contrast by choosing a darker background for your floral print, such as black, brown, or navy.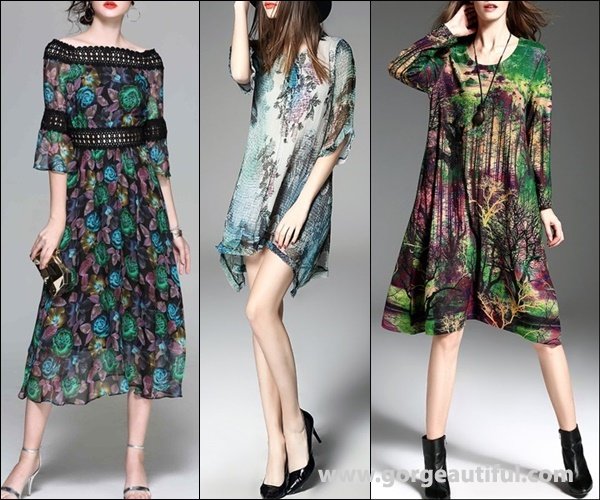 If you want to make your floral prints appropriate for the colder weather, then you'll need to stick with fall silhouettes. Try floral printed trousers, blazers, long-sleeve blouses, as well as dresses to expand your fall fashion options. Think of cold days' accessories such as layering pieces, scarves, tights, socks, and gloves, but make sure to coordinate your combo with only one floral piece, so it doesn't overwhelm your look.
Frigid Floral in Winter
And finally, winter. Learning how to pull off floral prints in the winter months isn't much of a challenge once you master fall floral fashion. Most colors for the winter stand almost the same as autumn-y hues – although for some people, they likely to choose gloomier and frostier shades reflecting the chilly days of the season. One big difference between fall and winter outfit is more about its layering pieces and accessories. In winter, you may need to take the layering and the extra warmth a little farther, especially in cold climates. So, do layer either underneath or over your main outfit. Learn tags "How to Layer Clothes" to know more about fall and winter layering fashion tricks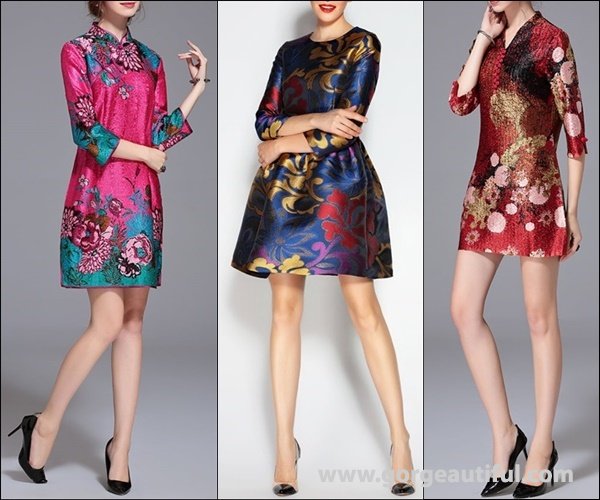 As for the color contrast, the darker floral palette still applies to winter, although you're still allowed to pull of rich jeweled tones in silky, velvety, or metallic texture. A more abstract floral print, including watercolor-style flowers in deep colors might also be your thing, instead of choosing well-defined flowers. You can always opt for something in a rich satin, knitted fabrics, plush cashmere, or even the velvet burnout to make it more suitable for colder wear.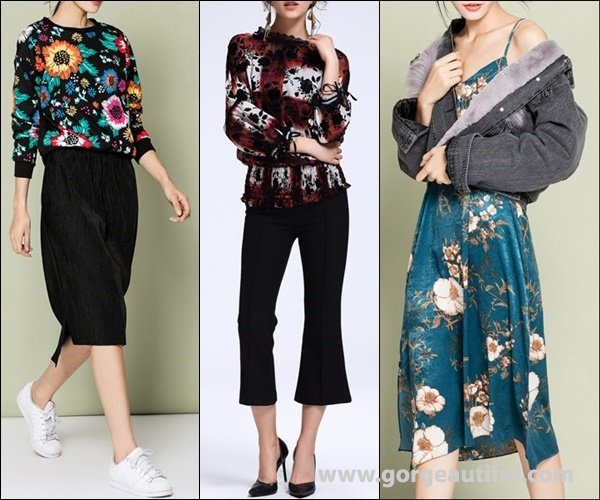 Last but not least, for those who always want to live in bloom all season long, the floral trend still continues from previous years with printed pants, mini-dresses, skirts, and everything else retailers can put a flower on. Florals are all about having fun with fashion and embracing the joy and romance of spring. Perhaps this is why the floral trend is one that just won't go away.