In continuing previous article, here we are again discussing the hottest fashion staple long skirt or what we call the maxi skirt. Since I wrote the article few months back, I've got comments asking about maxi skirt outfit ideas for different body shapes and different occasions. And because it seems too long to read, I decided to continue the discussion in another new article, wishing that everybody could share more ideas and styling tips.
This post is only about answering comments from article I mentioned above, worth discussing if you have more ideas about the question. I don't have – or actually I don't know how to create – a discussion board in this blog. For that reason, I create this post. Enjoy !!
Casual Long Skirts for Petite Figure
question by Abhi (2014/08/05)
Q: "I have an A line maroon straight long skirt..m petite with a ht of 5 ft 1 inch..n waist 26..cud u plz help me with what kind of top will b apt for a casual lunch..i dun want to wear a collar shirt or crop top"
A: First of all, you may check article "Fashion Tips and Style If You are a Petite Woman" for general tips and style ideas.
As for casual daytime attire, since you ask for a collarless top as well as no crop tops, at this time I'm thinking of a maxi skirt with simple tee and flats – whether sandals or ballerina. Depending on your personal preference, you may add fun accessories such as statement necklace or cute bracelets for more interest. Hat and outerwear are also good for style and weather protection.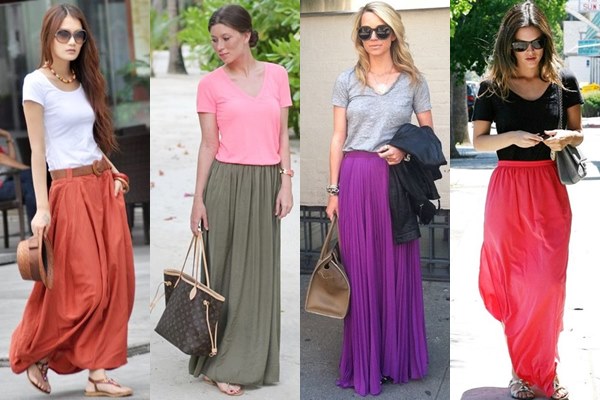 I don't know if the outfit looks too casual for you, but if you want to go for a bit dressy outfit, pair the maxi with chic blouse with cute ruffle details or other simple details. A light weight knit top or peplum top can also be an option with few accessories to finish the look. Here are some street style ideas for inspiration.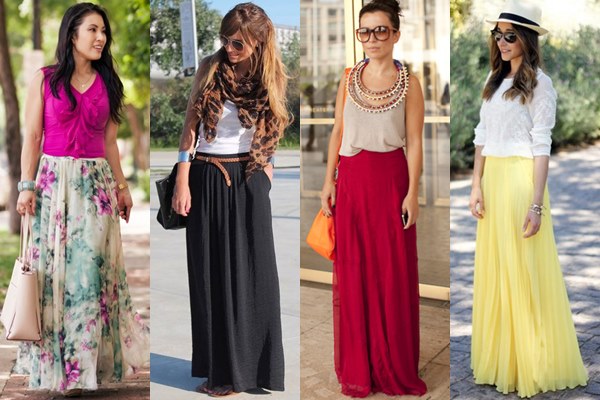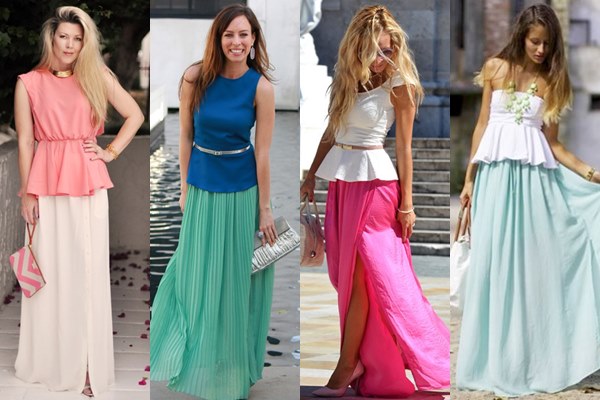 Long Skirt Outfits for Diwali Festival
question by Annie (2014/10/17)
Q: "I have a magenta indian ethnic pleated skirt very similar to the yellow one in your previous article wear the photo www as of a girk wearing yellow pleated skirt and a grey top. I am 5'2 and waist size is 28. How can I wear it for an Indian festival Diwali?? Please help me. I have no clue as to how to pair blouses with Indian ethnic skirts"
A: I honestly don't know much about Diwali outfits, but from what I've learnt and seen through various websites, it basically depends on the formality (glamour) of the event. You can choose whether extremely vibrant or simpler with less bold colors. Whether in traditional way or a bit with modern twist.
Secondly, I'm also not sure if your skirt is printed like most Indian ethnic skirts, or plain with pleats like the yellow one that you showed me. So I made outfits for both skirts (printed and plain ones). And I hope you like the ideas.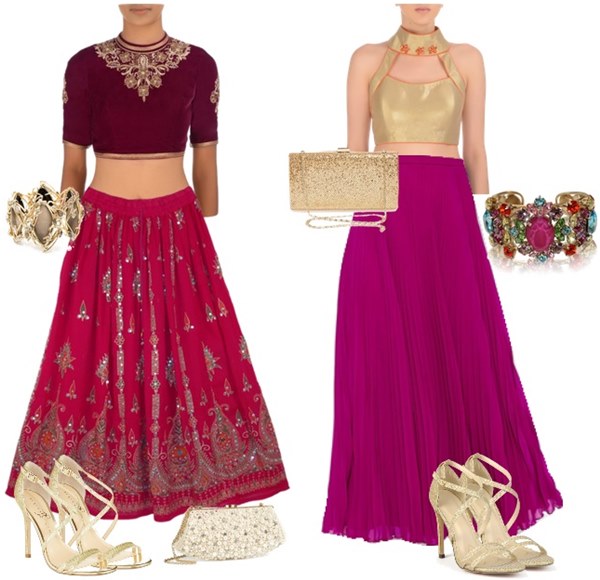 About blouses to pair with the skirt, any tops that look like crop top would be your best option for the festival. The top can be long or short sleeves, or even with straps. Here are some style ideas for Diwali. Take a look at the picture as an idea and choose which one is most suitable for your personal style.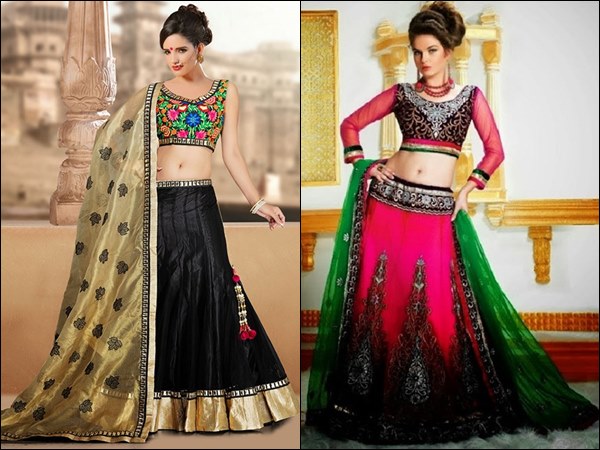 Basically if you want to go for bolder look, opt for metallic or embellished dressy top that is festive enough for the event. Or choose a simple crop top and add the glam by wearing blingy, sparkling, and glittering jewelry or accessories. You may also choose color-block style between skirt and top.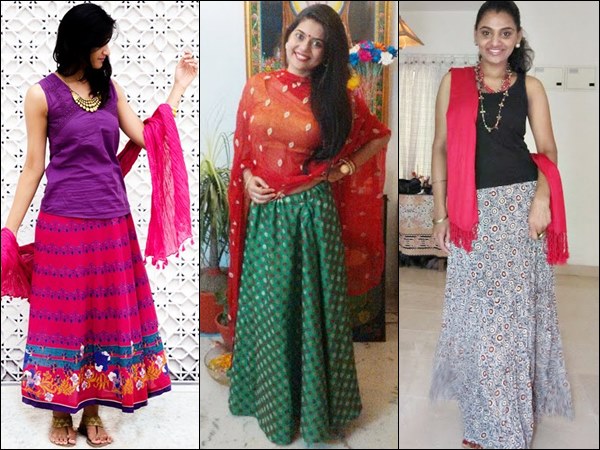 To keep it simple, pair you long skirt with nice tank top, silk scarf and loud accessories. If you want to go a bit modern, go for a dressy, fashion blouse and keep the accessories modern with a bold cuff, danglers, strappy heels, and a nice clutch to go with it. For a more traditional way, opt for a traditional Indian blouse (Choli).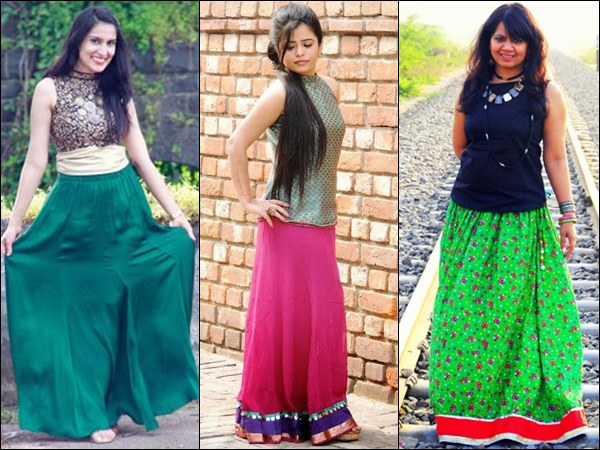 Below are more style ideas of long skirt outfits for Diwali Festival. Whether you choose for dressy jacket, peplum top, or long tunic. The key look of these outfits is to find a nice top with striking traditional embellishment – gold embroidered top.
Lastly, about your waist size and height, I don't think you will have problem to wear any fabulous crop top you want, whether it's short length (around the bust) or bit long (waist line). Just think about balance, if your printed skirt is super-busy, opt for much simpler top with statement necklace, and it goes vice versa. To create taller silhouette, you can wear heels or choose for a very long skirt (ankle length one) to give much leaner look.
White Maxi Skirt Style Ideas
question by Terra (2014/10/29)
Q: "Hello, thank you for this website. I have a few questions. I'm a skinny girl in high school, and I recently bought a white chiffon plain skirt. I don't know what to wear for the top (Or what color). My tops consists of long sleeve form fitting plain shirts (reds, blues, blacks, light green lace trim), I have some short sleeves in the blue and black color range. I tend to wear plain and non-patterned clothes."
A: White is a neutral color that can be paired with all colors. You can even wear the hue from head to toe for a fresh and crisp look.
So basically, just pair your white maxi skirt with any top you have. Plain or printed, long or short sleeves, all different tops work well with it. You can dress your skirt up or dress it down. Make sure your wardrobe is a reflection of your personal style. Here are some style ideas featuring white maxi skirts.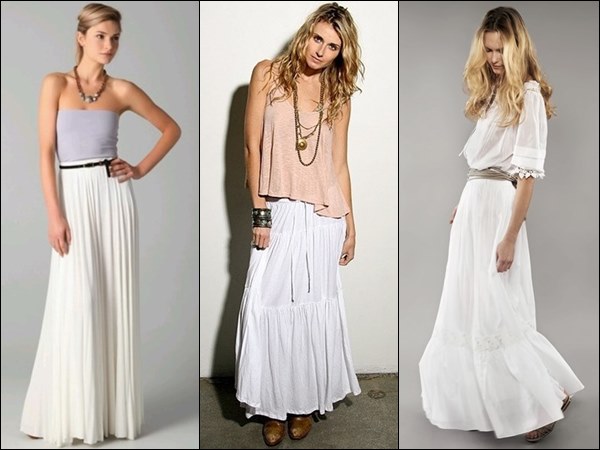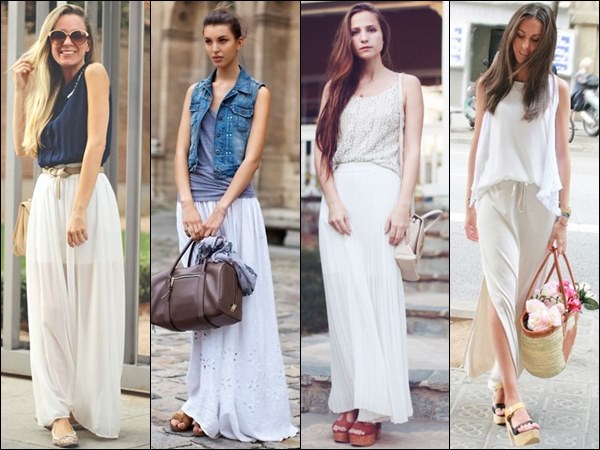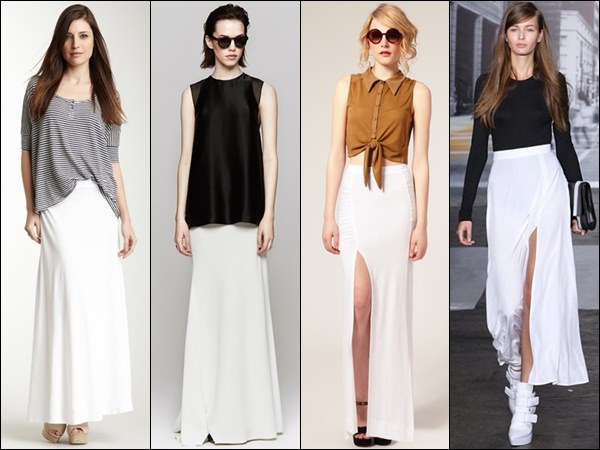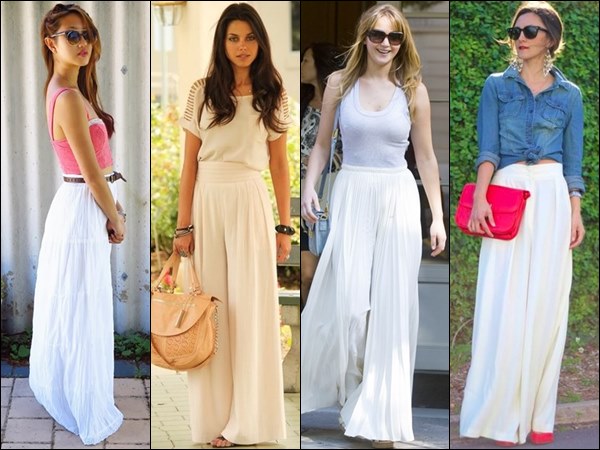 Top for Bright Orange Maxi Skirt
question by Joel (2015/03/25)
Q: "I have a doubt. Recently, I bought a full length bright orange colored skirt with a zari work at the end. None of my tops look promising with the skirt. What do I pair the skirt with? and since its too bold an orange, I want a lighter shaded top"
A: I don't know if you asked me to find a top for you, but actually you can wear whatever tops with the skirt – of course, the styles of the top really depend on the occasion. Even you can pair the skirt with a basic t-shirt or chambray for a casual look, or a dressy top for a more formal look.
Basically, you can opt for all different styles of top depending on the occasion – Whether you want to go for a casual choice or a bit more dressy. Crop top, long sleeves, sleeveless, jumper, peplum, button down, tee, tank-top … whatever styles go perfectly with the skirt.
Additionally, because your skirt is already bold and vibrant, you might need to make the skirt to be the center point by letting other elements simple and subtle. Thus, you will need to think of the colors and prints, Pick colors such as all pastels and neutral colors like white, grey, and blue denim, or pick small and simple printed top to tone down the brightness of your skirt
Below are some style ideas showcasing street style with orange skirt, and I also create two sets with orange skirt, which I think is similar to your skirt. I chose very casual footwear to make less vibrant look, but obviously you can wear a dressier one. As for colors, footwear in black or in skin colors are your excellent choice to pair with the skirt.