Like your grandmother probably told you, "Nobody's perfect", it seems that many women tend to hide or camouflage parts of their body they don't like. I personally think we shouldn't worry too much about this body parts 'problems' since having elegant self-confidence are main point of looking fabulous and stylish. I believe every woman should try to make peace with parts of their body. However, making peace with your figure doesn't mean you refuse to learn about fashion.
There's still a difference between being sensitive about your body shape and refusing to change out of your yoga pants for fear of ridicule. Understanding how to dress your body shape is still key to dressing your best and feeling fabulous. And fashion is not simply a question of size, age or style for that matter. It's about using your personal styles to maximise your assets and balance out your proportions.
Here in this website, I've posted some general body type dressing tips and ideas, and as fashion comes fashion goes, just have fun with it. Everyone has different figure flattery priorities and sometimes the most stylish outfits ignore all fashion rules completely. Filter through the information and use the parts that make sense for your shape and your personal styles
In continuing previous article "How to Fashionably Hide Specific Body Parts (Upper Body) Part 1", here are more guidelines when you're unsure how to create a balanced silhouette, or wish to camouflage some of your body parts to look best for your feature.  After all, dressing to look stylish is not simply about trying to appear slimmer, smaller, or thinner, but it is about making the most of the feminine form to emphasize your shapes elegantly in the right places.
UPPER BODY PART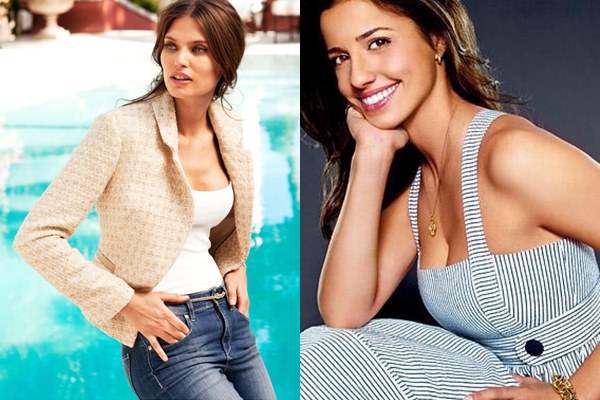 How to Dress the Big Bust
Whilst having a large bust is desirable, in reality it can be quite frustrating. Most people, other women included, simply cannot understand that it is actually quite a problem area for large breasted women to find clothes for big breasts that are both modest and stylish. Here are some advices on what to wear for big busted women.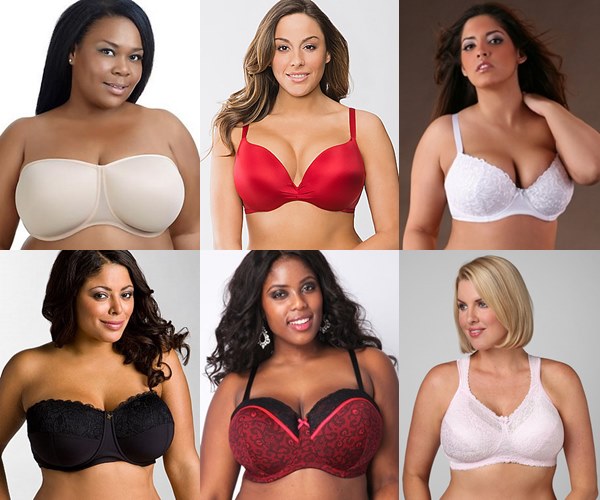 Always and always find or wear a good, comfortable bra that give you great support and have the right size to give your bust full coverage. By wearing the right bra, not only will you feel more comfortable and supported – your clothes will also look better.
Speaking of clothing for large busted women, if you wish to find the best clothing for your bust area, the best choices that come up with is by finding curvy or plus size clothing. In this case, even though your size isn't considered as plus size, many styles designed for curvaceous shape provide the perfect fit to your large bust.
There is an assumption that women with big boobs should look for styles that de-emphasize their boobs, which is not actually. Everything is all about balancing out your proportions so that you don't appear top heavy and overwhelmed. Your goal to create elegant look is not to hide or cover your boobs away but to reduce their impact, presenting yourself in much appropriate fashionable manner.
One most important thing is to wear clothing that is well fit – not too loose or too tight – baggy tops swamp your figure and can make you appear large than you are, while very tight clothing is very uncomfortable. Don't be afraid of fitted garments.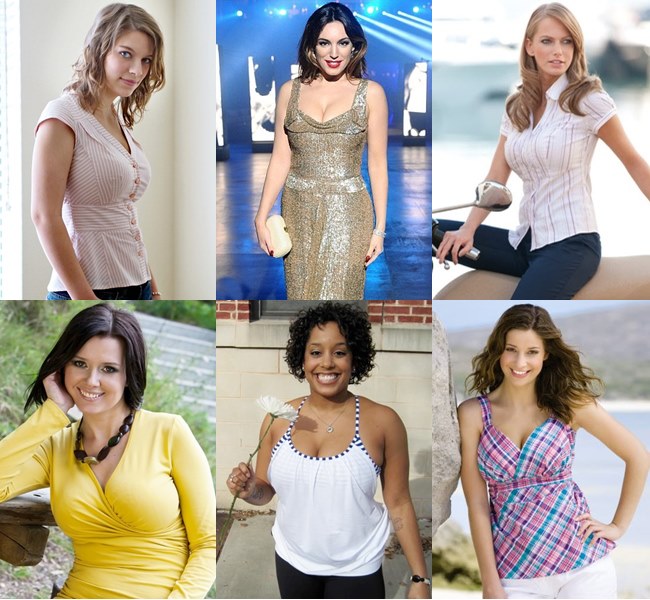 Opt for tops or dresses with the most flattering necklines to accentuate the long lean line. Whether it's a peplum top, dress or even a t-shirt, aim for a low neckline like V's, scoop, cowl, open shirt collars and boat necks as they give the appearance of smaller bust and are flattering to the bust area.
If you do need to wear dresses or tops with high neckline such as close-buttoned shirts for example, this neckline can create a uni boob. Reduce the bulk by wearing a necklace, fitted jacket or belt to give leaner effect to your body visually.
Opt for statement jewelries – necklaces and earrings. Large earrings, perhaps the most popular way to accessorize big boobs.
For ladies with large bust, wrap dresses and tops is the perfect choice since these pieces separate the bust and enhance waist giving you a perfect hourglass figure.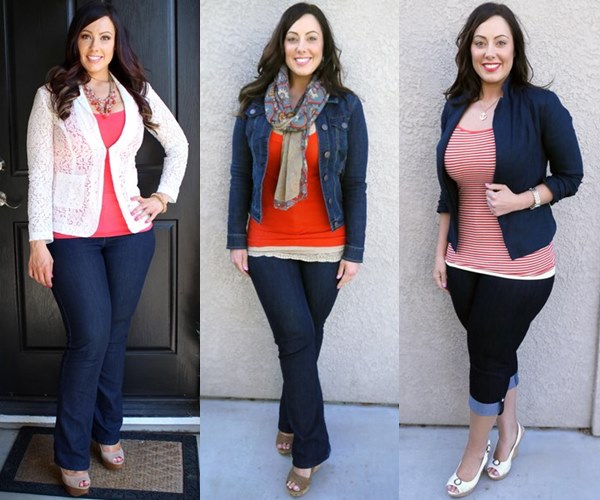 You could also hide your large chest by wearing layers such as jackets, blazers, or cardigans. Depending on a person, try to avoid anything double-breasted and skip any styles that add extra bulk on top.
Opt for blazers or jackets that have streamlined fits to elongate your shape. Layers with a nipped-in waist also give just the right balance to waist and hips creating a streamlined appearance. If you can't find the blazer that covers all these bases, tailoring is a major for women with a larger chest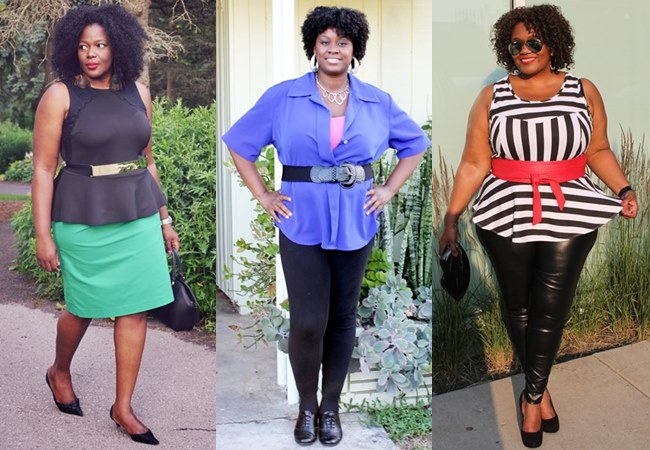 Enhance your curve by cinching your waist with a belt for the best fit to create a slimmer waistline. This gives you a sexy hourglass shape and will earn you the evening's best-dressed title.
Camouflage your busty chest by dragging the attention away from that area so that your bust will not be the feature of your outfit. Add some shoulder details such as cap, bolero or offset sleeve, or wear a wide collar.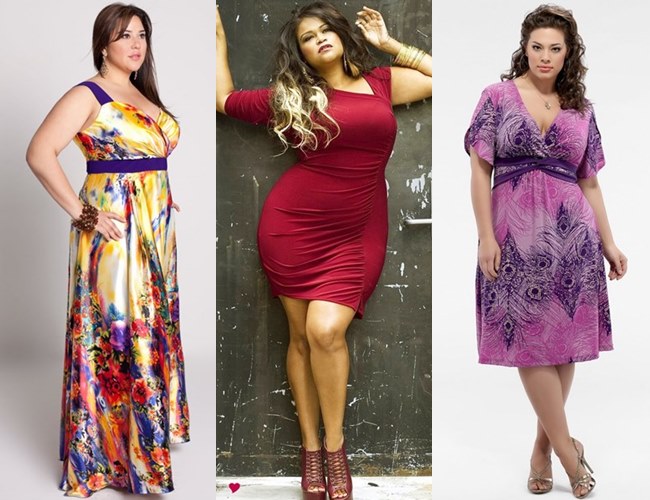 Pieces with an excellent fit, flattering colors and the right prints including prints that give slimming effect such as vertical and diagonal stripes, or bodycon dresses with optical illusion prints are also other good options to accentuate your curves, elongate your body, and even have a slimming effect.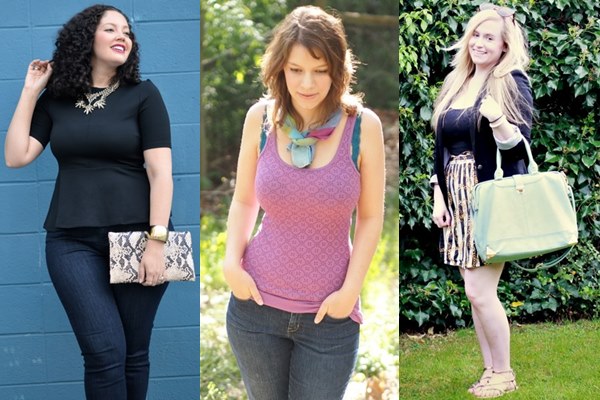 Finally, other elements in your outfit such as bottoms, footwear, jewelries and scarves, and bags can also distract attention from your bust. Big handbags or large purses can be a useful means of distracting attention from your chest.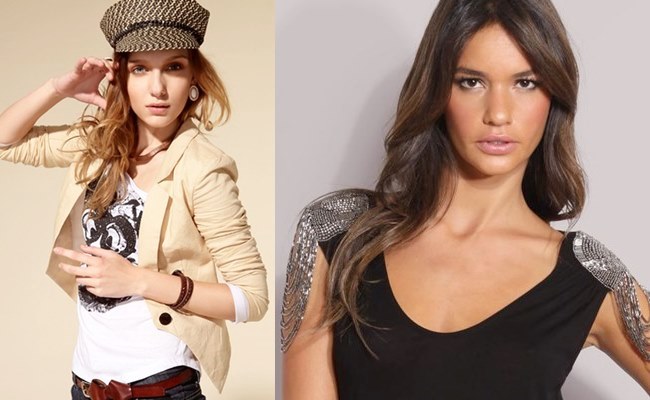 How to Dress the Narrow Shoulders
Also called the sloping shoulders, narrow shoulders usually go hand in hand with curvy hips and in particular a pear shaped body or bottom-heavy. Meaning women with narrow shoulders should focus on their upper body to get more balanced silhouette. Here are some quick and easy style steps for those with narrow shoulders:
To get a well-proportioned figure, you need to create flattering volume around the shoulders including those staples that can broaden the shoulder line. Generally, the ideal shoulder line should be equal to your hips.
The most important thing to make narrow shoulders look more flattering is to opt for perfect fitted clothes. If they are too large, your shoulders will look larger. If they are too tight, they can make your shoulders look even smaller and even more pronounced.
Make sure your shoulder seams fit your frame perfectly. The shoulder seams should be at the right place, which means that the seam extends just past your natural shoulder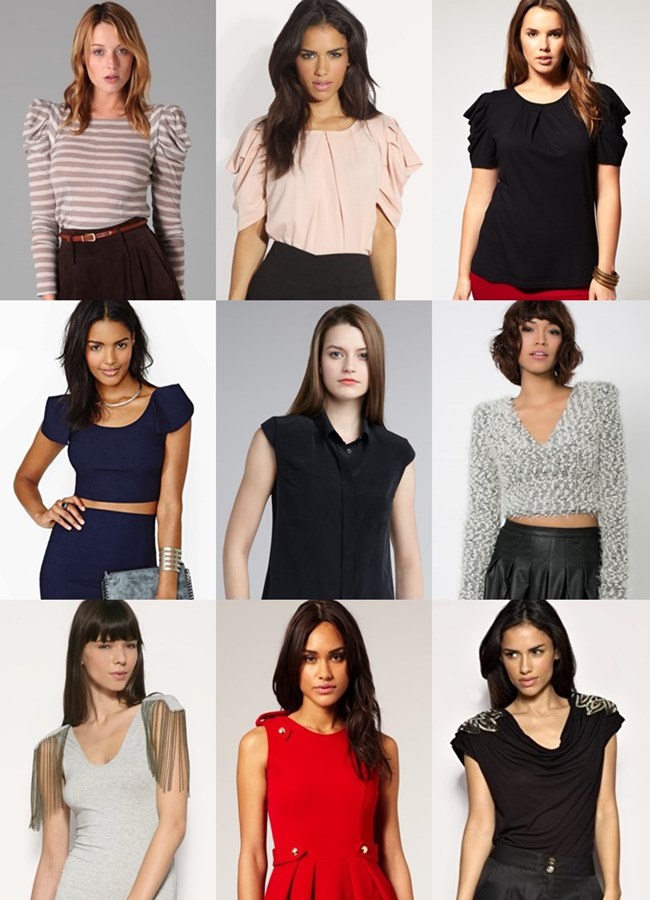 Opt for blouses or dresses with details on shoulder areas to create a more defined looking silhouette and balanced proportions to your softer frame. This includes puff sleeves or small shoulder pads, capped sleeves, and Raglan sleeves.
When choosing shoulder pads, keep in mind that you want to make your shoulders look wider, not bigger. So choose pads that are not too thick and have natural rounded shape.
Pick your pads in skin color or in same colors and patterns as your clothes you are wearing. Make sure your shoulders pads are not visible through your fabric. Place the pads underneath your bra and pull them as far wide as necessary to balance your hip
Blouses with military-styled epaulettes or other similar embellishments, accents or any horizontally placed details on the shoulders can also be a good option.
A trench coat or military jacket with epaulettes is also great to add volume to the shoulders, as well as blazers with structured shoulder.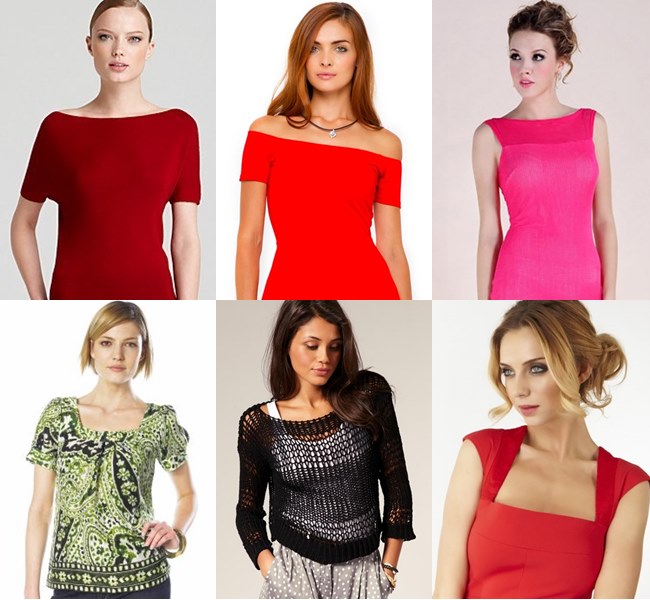 Pick flattering necklines and shoulder lines to visually widen your upper body part. Opt for shirts and tops with an open collar, the bigger the collar, the better.
While blouses with wide V-necks and off-shoulders lead the eye to the side making them look wider, necklines with square cuts and horizontal lines such as boat, square and slash necklines create the illusion of width.
As for narrow and deep-shaped necklines such as deep cowl, scoop, or halter necks can actually make your shoulders seem even smaller, so better to avoid them if you don't wear any details and accents on your shoulder.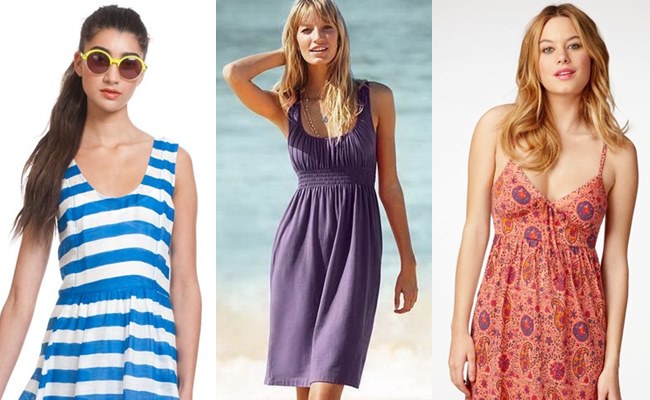 You could also choose wider straps on a sundress or tank tops. If you choose small straps, opt for spaghetti straps instead, as they will draw the perfect amount of attention to your shoulders. Basically, go with wide straps or very thin ones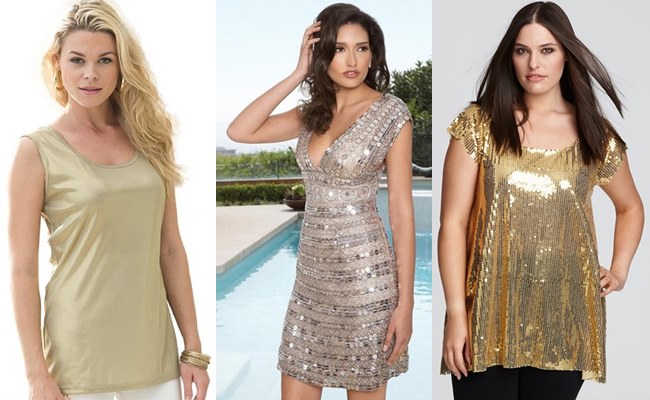 Another way to make your shoulders look broader is to involve the use of shiny fabrics, metallic fabrics and others like them to make your shoulders look larger visually, making them seem bigger than they are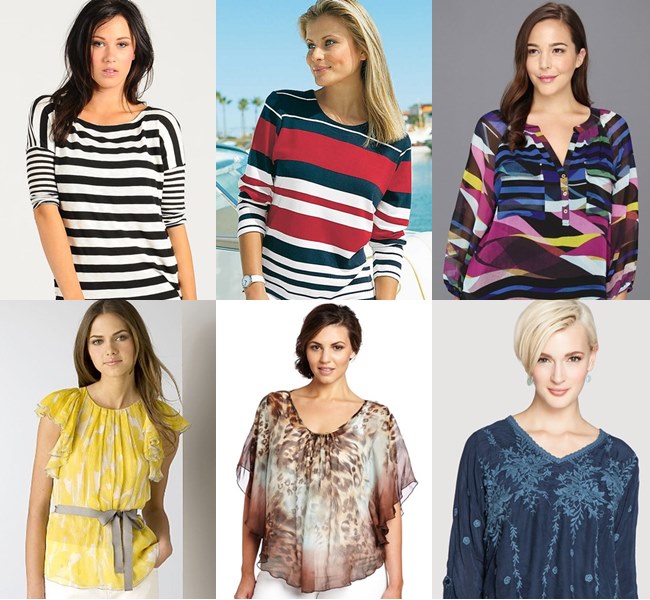 When picking prints and colors, if you really need to concern this aspect, busy prints and diagonal and horizontal lines, like stripes and ribbed stitching that angle out toward the outer part of your shoulders also make your shoulders look wider. While light colors give the illusion of volume
Finally, to balance out the whole silhouettes, depending on individual styles, opt for slimmer pants that sit closer to the leg or a skirt that doesn't have too much fullness. Basically fuller bottoms create more volume to your lower body part, while here, your objective is to create volume to the upper part
How to Dress the Broad Shoulders
Silly stereotype says that it's difficult to feel feminine when you have broad shoulders. Not true! We can rarely change our body shape but you may be amazed just how much you can change perception. Sometimes overly broad shoulders can be difficult to deal with, especially when they are paired with a very small or very large bustline. Learn to accentuate the positive and play down the negative with a few styling tips.
Everything in fashion is all about creating a balance, well-proportioned figure. If you have square shoulders a few styling tricks will generally focus on softening shoulder area to create balance between upper and lower body part.
Just the opposite of those with narrow shoulders, women with broad shoulders usually suggest the same dressing style as women with apple shape or top-heavy body type.
Here, we talk about balancing your shoulders to get proportional silhouette by softening the width of your shoulder visually, or adding volume to your lower half.
First of all, just say no to shoulder pads and other embellishments or fussy shoulder details which only add bulk to the area. This includes puffed sleeves, bulky and ruched upper arms.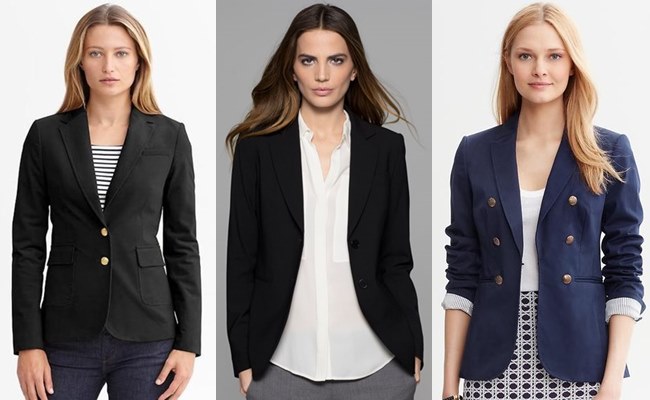 Although many jackets have inbuilt shoulder pads, it's actually not a problem if you want to go with shoulder details, but basically in this case you need to think simple and clean for your shoulder. Opt for jackets that fit your shoulders correctly, don't buy a jacket with too broad or too narrow of shoulders.
Ensure you only buy garments with minimal padding and details and look for very narrow lapels or pleats.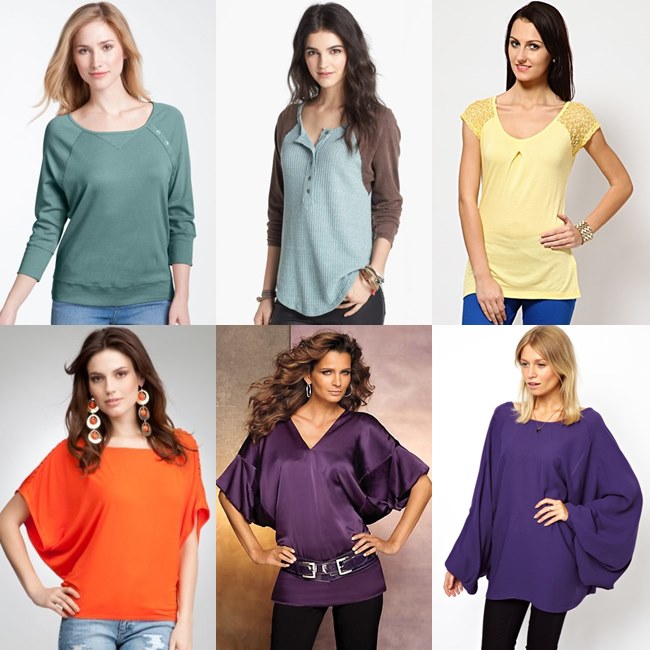 Opt for the right sleeves including those staples with blouson or blousy sleeves such as Raglan, kimono, and dolman sleeves to help downplay broad shoulders because they soften sharp edges.
While raglan sleeves has diagonal seam from armhole to collarbone which actually works to de-emphasize your broad shoulders,  Kimono sleeves is wide from the armhole and flares out to the wrist or elbow which help soften the shoulders.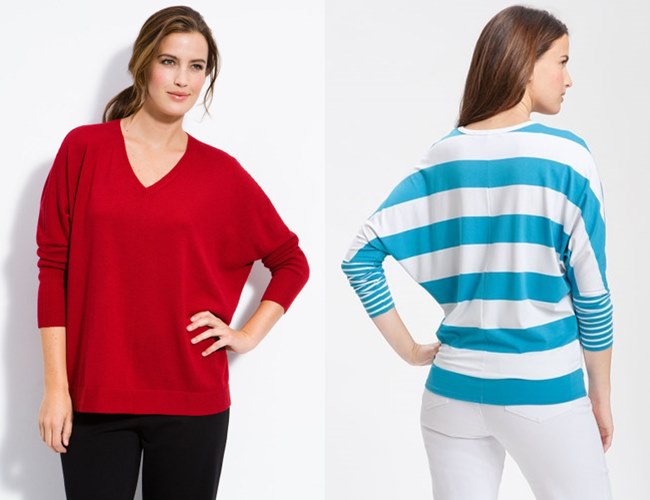 As for dolman sleeves, even though they are wide at the armhole and narrow at the wrist, on the other hand, because the sleeves are cut as part of the bodice hence there is no stitching at the armhole-shoulders area, making the effect of sloping shoulders, this give great influence of minimizing the appearance of the shoulders.
Sleeveless or outfits with medium straps are some of the best bet as they balance the shoulder without drawing too much attention towards them.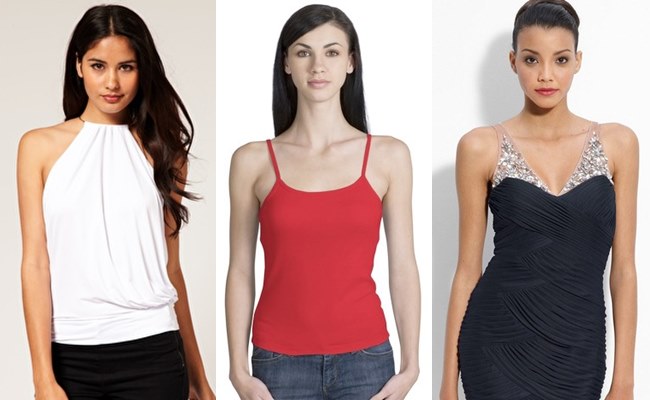 Be careful with spaghetti straps. In some cases spaghetti stripes make shoulders look broader, which also goes the same with halter-neck and diamond neckline. The looks of both necklines can appear differently, pretty much depend on each individual style and shape. Take a look at the picture above, if your frame appear to be like those models and you don't see them flattering, put those necklines away !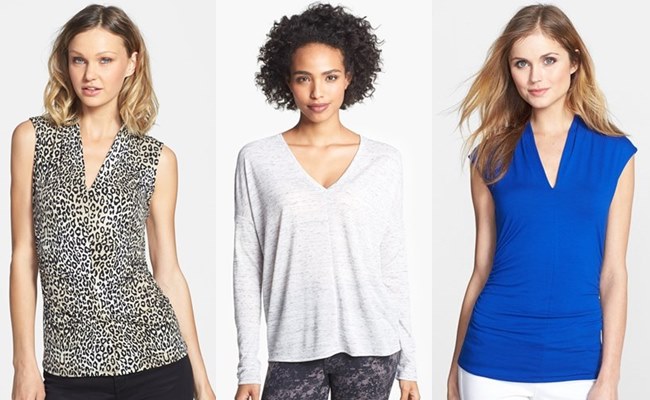 As for necklines in general, basically, necklines for women with broad shoulders should be more vertical or diagonal than horizontal. So sometimes it depends on how the necklines are cut.
For example, V-necks that comes in different cuts. As the most flattering neckline on most women because it emphasizes the oval shape of the face and makes the neck appear longer. Depending on the depth of the neckline, the V's can be used to create the illusion of a broad shoulder or a narrow shoulder.
If your shoulders are broad, pick a narrow V's to elongate the neck and draw the eye inwards, dividing bust area by showing a little (or a lot) of décolletage, while wider V's  create your shoulders to appear wider. High V-necks and round-necks that draw the eye away from the shoulder area, but don't plunge and accent the bust, are also good for ladies with broad shoulder.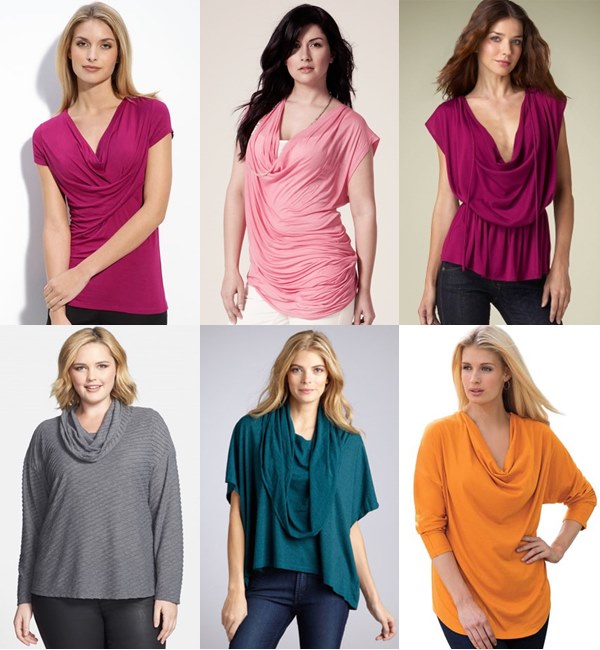 Other necklines that create more vertical lines visually are draped necks and plunge. Necks that are scooped are fine if they have a narrow scoop neck. High V's and round neck is good to create classic and feminine look – not as revealing as the deep necklines.
As for cowl-neck, it also great because it incorporates a greater amount of extra fabric, hanging vertically in a scooping fashion, on the neck-line. This helps to draw attention towards your chest and neckline. Thus, losing the focus from the shoulders.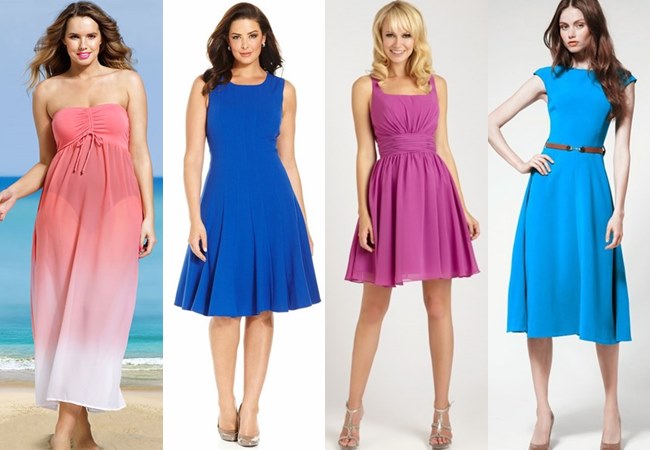 Because necklines that create horizontal line such as boat, square, slash, off-shoulder, and strapless necklines create more illusion of width, obviously, adding more width on the shoulders that are already broad isn't good idea. But, you could opt for these necklines as long as the outfit comes with no sleeves or has an A-line, fit and flare silhouette.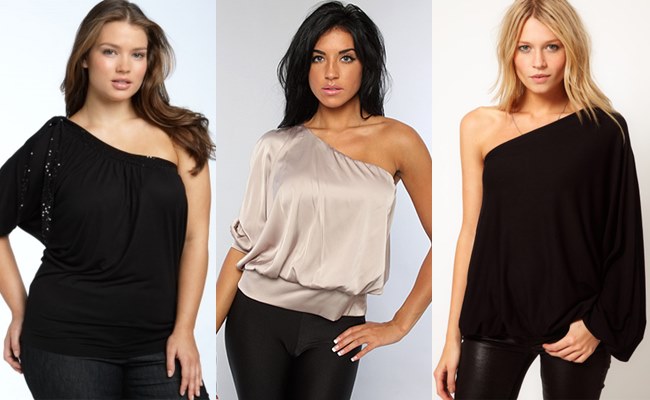 On the other hand, rather than choosing off-shoulder or strapless necklines, better to choose asymmetrical or one-shoulder tops that can work really well to distract attention from your shoulders.
High necklines such as turtle-neck in many cases also add volume as it make your shoulders look wider and even more pronounced
Basically, if you have broad shoulder, you should generally be avoiding any wide and large features up around the neck and shoulder area. This includes wide necklines as well as open and wide collars and lapels. In fact, collarless shirts are best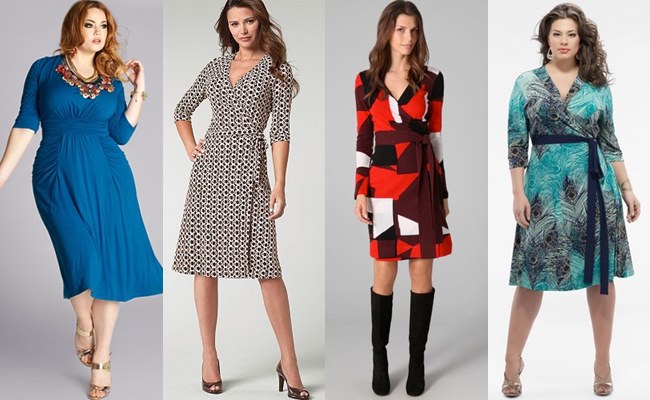 Wrap-front dresses and blouses that aren't made out of overly clingy fabrics are also one best bet because the wrap usually creates narrow V-neck and diagonal silhouette which is good to balance the look.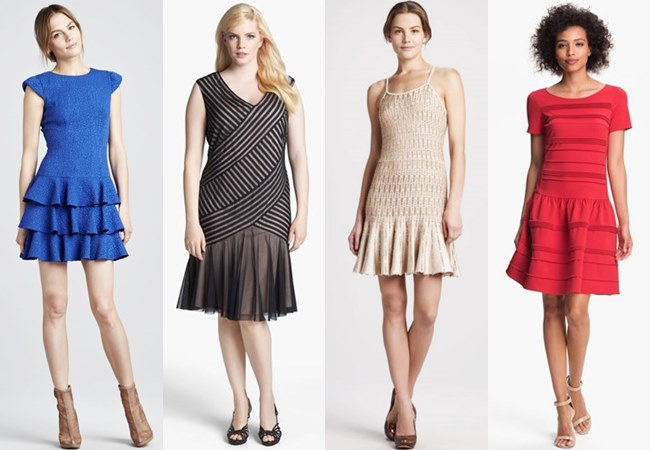 Dresses with dropped waistline or natural waistline are perfect. Because dropped waistline falls three to four inches below your natural waistline, it creates horizontal lines to your lower body part, while natural waistline that lies at the natural waist, keeps in accordance with balance and proportion
Don't go with boxy tops which only make your upper body look even squarer, opt for longer garments with simple lines instead, as well as loose-fitting, soft form styles that drape the body with lightweight fabrics.
If you are small chested lady with broad shoulders, sometimes empire waistlines are not recommended since they draw attention to the bust and shoulders, creating an awkward proportion. If you want to pull off dresses or tops with empire-waistlines, do something with the necklines and sleeves this article mentioned before
As for the bottoms, since your aim is reducing width and volume on your shoulders visually, skirts that flare, from A-lines to circle, bootleg, flared or wide-leg pants can be your best options to create a well-balanced frame because they add width to your lower half.
Some accessories and jewelries best for broad-shouldered ladies include long necklaces (the longer the better to lengthen and soften the strong horizontal lines of your shoulders), elegant, dainty earrings (your goal is to enhance neck area, making your neck and shoulders look slimmer, so don't wear anything that's too heavy), and long rectangle scarves with the ends hanging down the front of your body for the same effect
Last but not least, all guidelines and ideas aside, check out some pictures below featuring numerous styles of Charlene Wittstock, Princess of Monaco, which are incredibly fabulous from day till night, casual to formal.
Having very broad athletic shoulders, Charlene always looks elegant and beautiful in her own styles, which sometimes not really following what all mainstream fashion guidelines told us. If you are one of those that has the same frame as Charlene, take her styles for more styling ideas and inspirations.