Frida Giannini's feisty slicked-haired femme fatales took to Gucci Fall Winter 2013 catwalk with vintage floral prints, leather, python, stiletto booties and fishnet stockings. The new collection put forward the image of a woman that looks androgynous and romantic at the same time, somewhere between rock star attitude and vintage ladylike belle. This collection was subversively sexy and it even took a special sultry woman to pull the looks off as the designer showed her love for the 1950s obsession.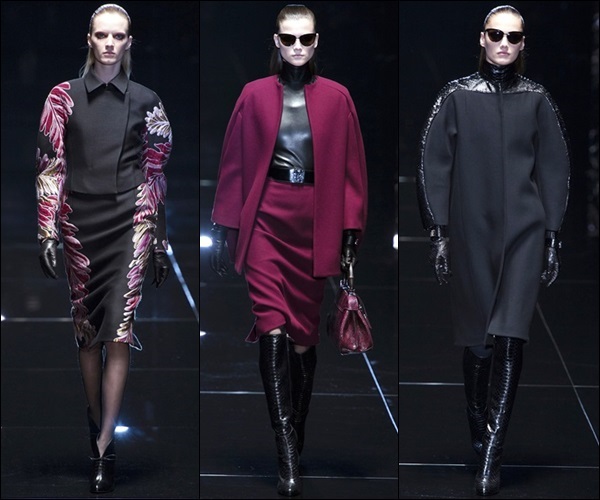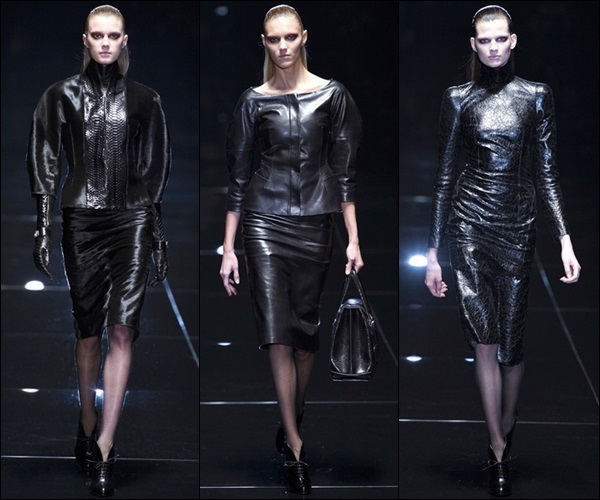 Featuring styles that fluctuate between severity and bohemian look, there was a real focus on the neck and shoulders in this show with the designer offering up second skin turtleneck tops cut from supple leather or glossy snakeskin (both in pitch black). And if there was any nod to Giannini's pregnancy, it could possibly be inferred in the softer egg shaped shoulders featured on jackets and coats including the one that cut with gilded oversized feather-like faun leaves.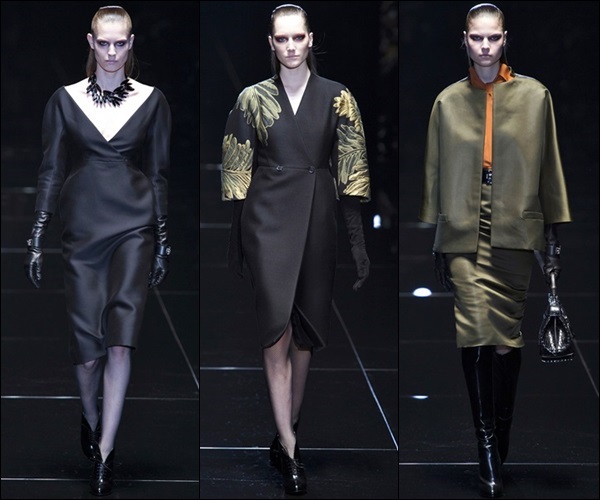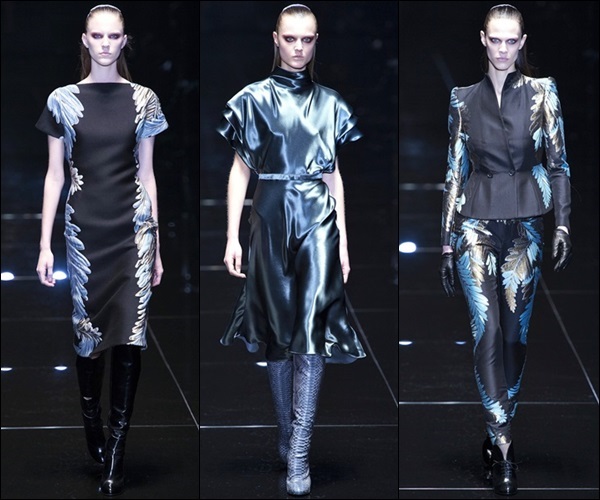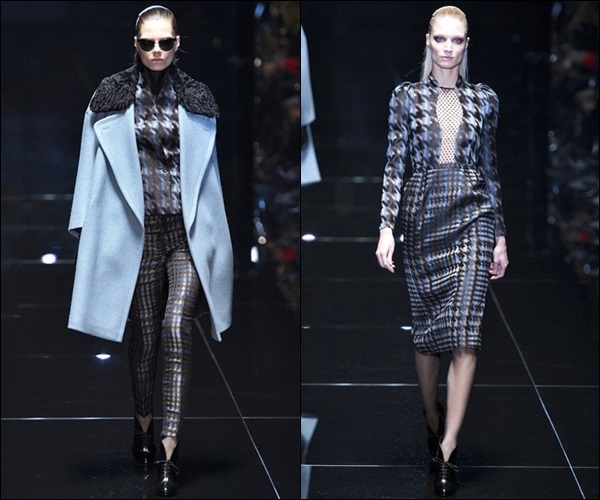 Long dresses were made from flower patterned fabrics or were enriched with jacquard designs, while silk was embroidered and the rather wide coats were embellished by inserts in chiffon. Giannini also paired a silk dress that flowed like molten liquid metal with a pair of knee-high blue python boots, plus she's not afraid of flamboyant embroidery as she showed how to make a demure cut ooze with sex appeal. While the sumptuous dresses decorated with small pearls or enriched by sheer sections leaving legs visibly uncovered, the waistline, on the other hand, is not enhanced by the classic belt but by ribbons and bows.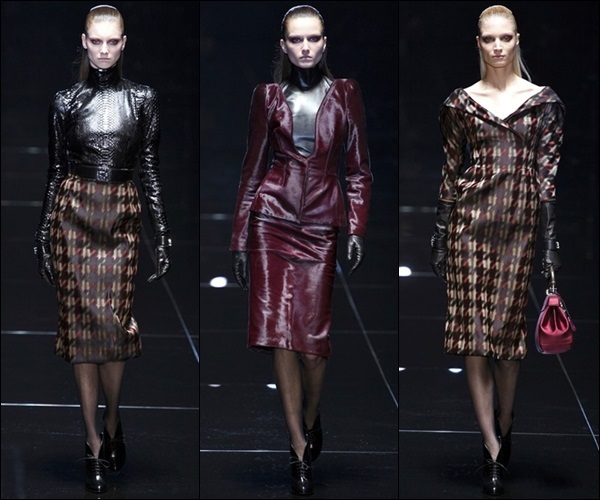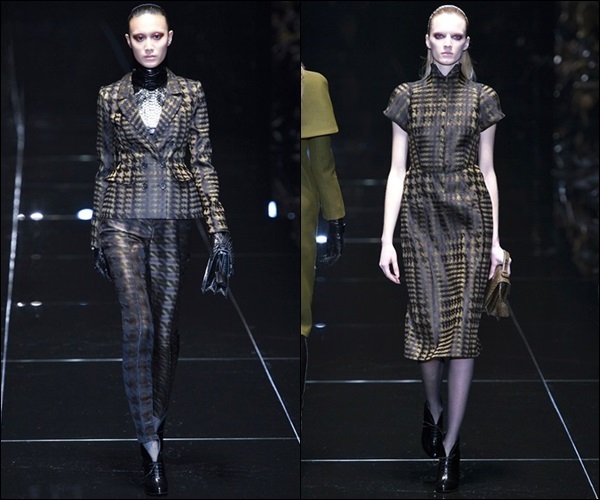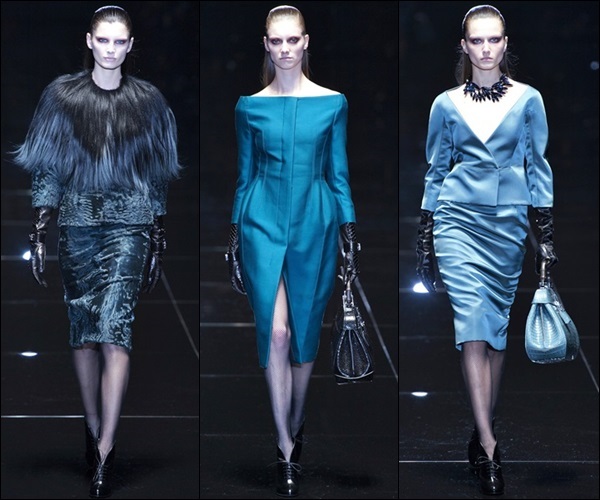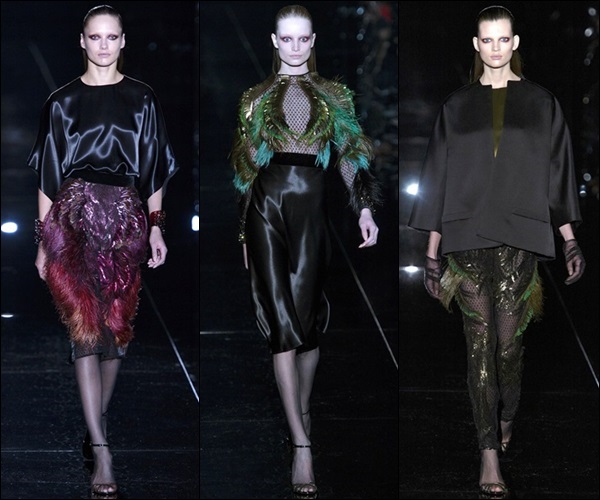 As for skirts, they were made of soft velvet if worn during the day, but, at night, the models donned very gorgeous pencil and long skirts decorated with feathers and animal prints sculpted to the body in hourglass shapes, which made them looked powerful. As Giannini echoed the look of the show's fishnet stockings and floor length gowns, she then embellished the lace using couture techniques to blend sequins, studs, and feathers in a way that made each model look like an exotic bird of prey.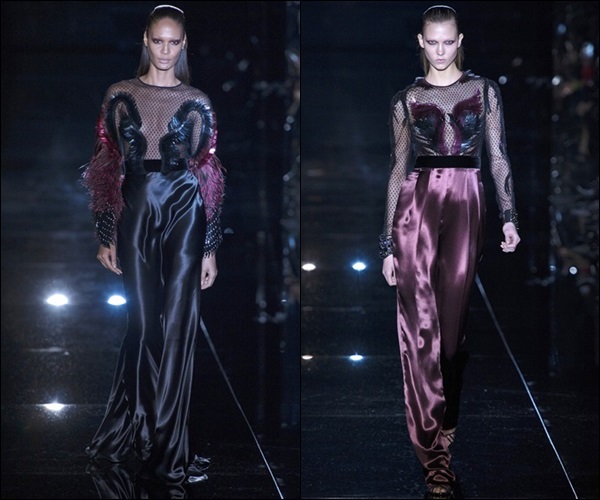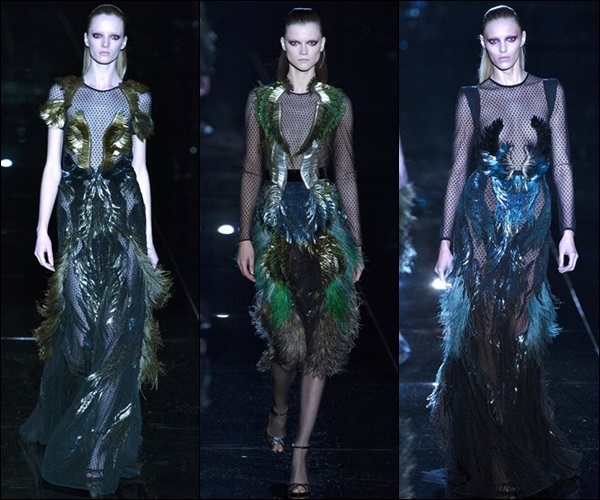 For this collection, the designer primarily chose black, but also made space for dark jewel tones such as woodland green, cerulean blue, plum and bronze liquid satin. Love everything about this collection including the blurred houndstooth prints, the wild accessories and the feather-filled evening wear, which made for a strong finish to a fine show. The show is definitely one that the designer can be proud of while she is on her maternity leave.