So it's SAHA swimwear again, presenting the new 2014 Swimwear Collection which sold in the most exclusive boutiques and specialty stores. Speaking of the well-known Colombian swimwear brand, SAHA, not only that they're super stylish and elegant, they also give you the best quality, comfort and freedom to run, jump, swim or whatever else suits your fancy. Everything is the epitome of perfection with all the awesome motives and techniques that you can imagine for the flabbergasting looks of yours.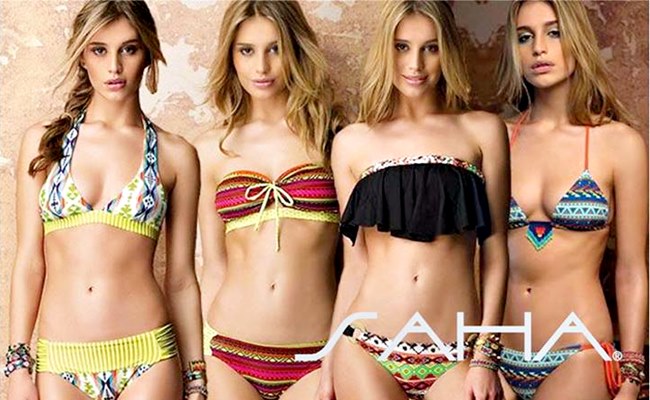 Consist of eleven fabulous mini-collections for this 2014 collection – including INDI, KARI, SUI, INGA, WALKAS, ELUNEY, WALEKERU, UMA, IWA, ARUMA, and, TAYEL – it seems like the main principle of SAHA is to be unique, comfortable, glamour, and matchless with every other pieces and every new collection. This line is not an exception either, featuring really cool options for you in numerous designs of two-piece bikinis and one-piece swimsuits.  Check more info at SAHA to find your perfect fit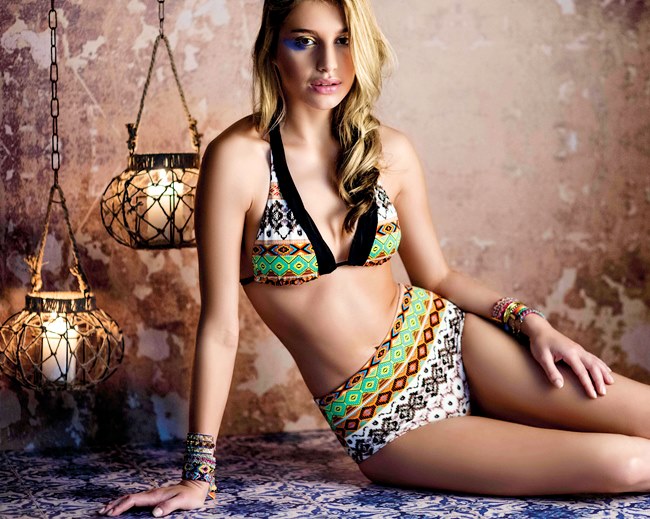 Featuring some nice designs of monokini with fabulous strappy details at the back, and a vast selection of bikini tops including bandeau style bikinis, triangle tops, halter, one-shoulder, straps with mesh ruffles, and underwire bustier tops, as well as triangle panties with strings, ribbons, or straps tie-side detailing , the new looks is the drive for diversity showcasing different elements of patterns, colors, and embellishments. Not to mention, the cover ups also provide flattering summer-y pieces including maxi, dresses, tunic, skirt, long vest, poncho, shorts, romper, and flare pants.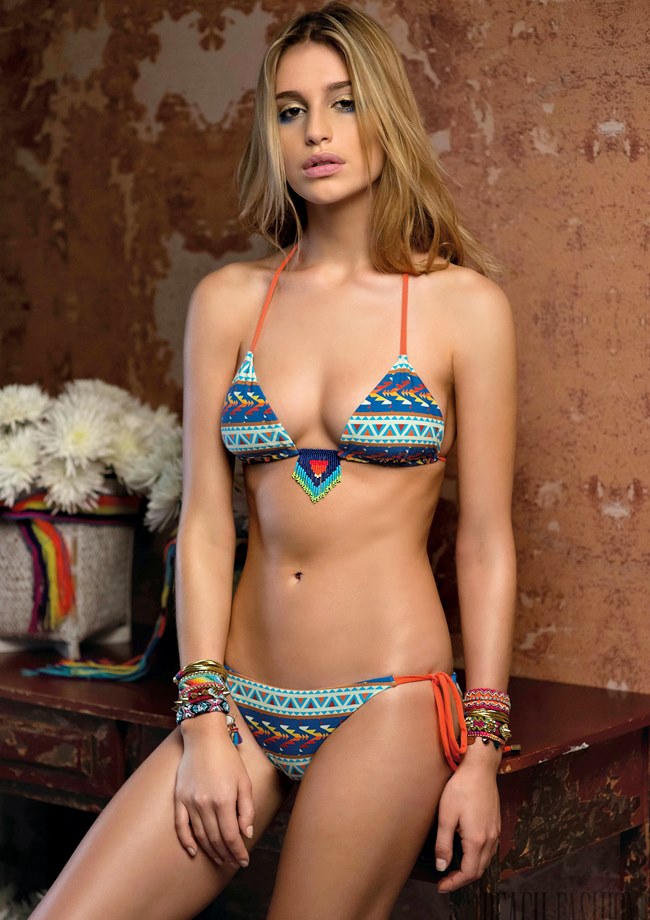 From classic, elegant cut-outs to edgy and stylish variants, the new collection from SAHA carries different color shades – black, red, green, mint, purple, yellow, and orange – and patterns – tribal, Aztec, rainbow, tie-dye, floral, and stripes – along with dainty yet stunning appliques with beadworks, fringes, ruches, and a stripe-like arrangement. All elements don't look too busy and overwhelming for the sunny bright, yet outstanding enough to grab attention with its unique, cute, and pretty looks.
As for the non-bathing suit versions, presented as cover ups and cute relaxed dress silhouettes are also worth mentioning. Some are adorned with feminine outlines and meticulous embroidery, while flare pants and skirt offer the typically relaxed and draped designs, noteworthy among the list of top eye-catching alternatives for your summer days.
Let's take a look at each variant for different colors and patterns.
INDI: It comes in horizontal Aztec prints with dominant white, black, orange, lime, and green mint colors, featuring selections of one-piece suit and bikinis including bandeau, classic triangle, and halter tops, as well as a pretty white summer dress with multicolored embroidered V-neck and cross over straps at the back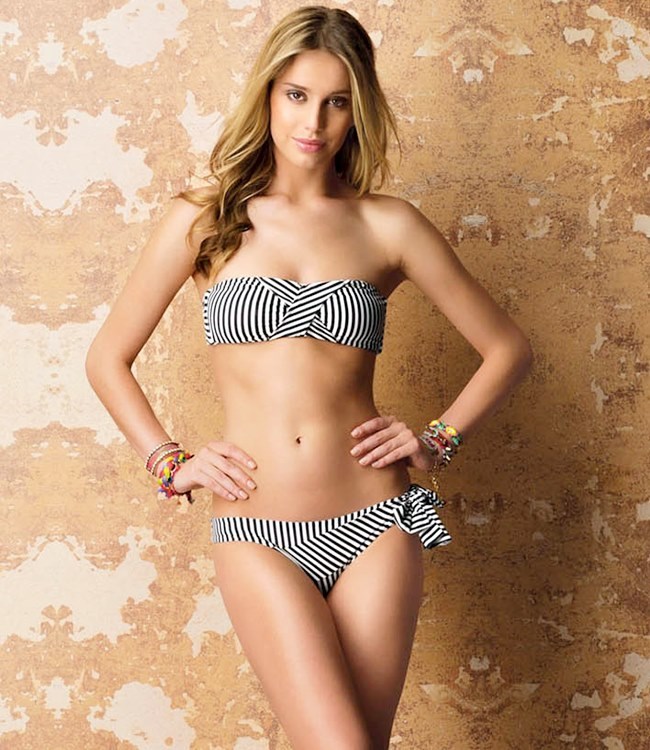 KARI: Offered in dainty floral prints in yellow and brown, the lines also comes with stripe patterns combination showcasing summer dress, one-piece suit and bikinis – one bikini top features interesting ties at back with red ribbon and multiple straps
SUI: Featuring a stunning bodysuit with straps detail at back, this collection provides number of chic bikinis and summer staples including flare pants, skirt with asymmetric cut, and waisted summer dress. Prints and colors come in tribal red tones with various color combinations of black and yellow.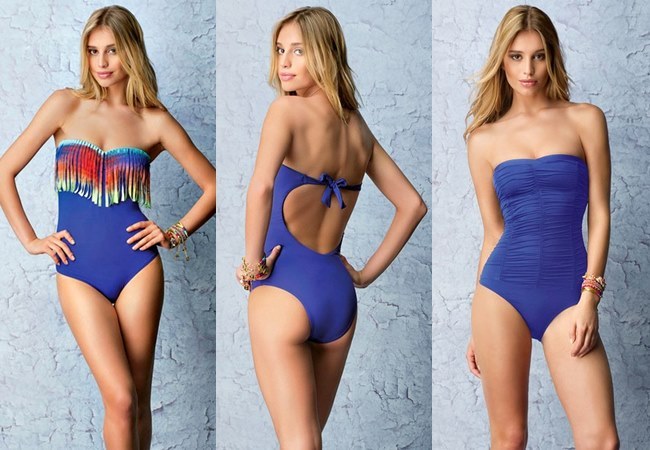 INGA: The looks start with eye-catching orange and bluish tribal prints, proposing a range of unique bikini tops with embroidery and strap details, as well as body suit with tie die fringes at neckline or with horizontal shirred back joins with vertical band across back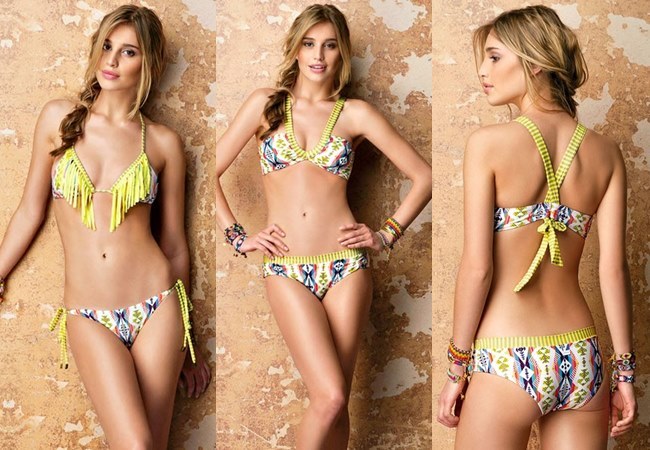 WALKAS: As for this line-up, offered in pretty designs of tribal prints and stripe patterns in white, yellow and blue, there are cute bikini designs with fringe details at neckline, or ribbon at the back with cross straps. One bikini panty also comes with attractive wide band waistline shirred at both sides
ELUNEY: It's the most beautiful and glamorous among others featuring romantic and colorful floral prints with silvery straps. The lines consists of spectacularly adorable multiple straps and embroidery accessory at back, giving such feminine and sultry styles, designed to flatter your figure and keep you feeling comfortable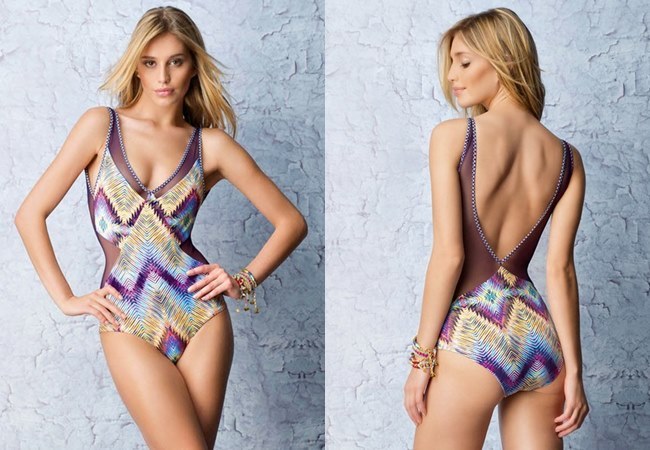 WALEKERU: Looking classier than other proposals, the selections feature pretty ethnic prints in purple color tones detailed with mesh and fringe appliques for more outstanding looks. As for the summer cover-up, it comes with trendy white romper with super deep V-neckline.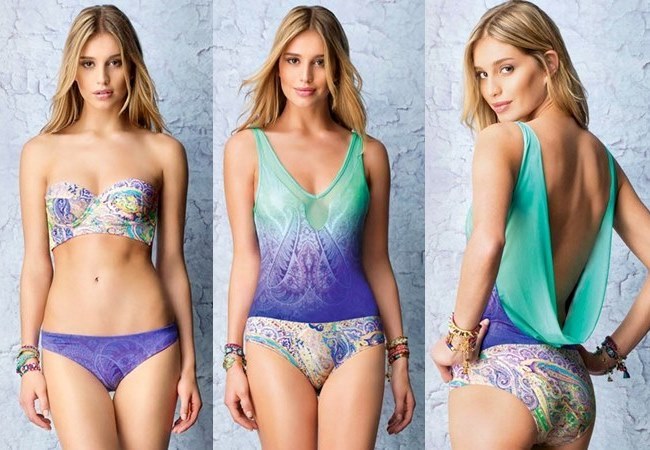 UMA: One stunning design proposed in this collection is a classy moderate coverage one piece that ties at back with optional string and aquamarine mesh detail at front and back that is fully lined. Other bikini-sets feature interesting designs in paisley prints and soft turquoise shades. There's also cute sheer-trough flare pants with adjustable knot at front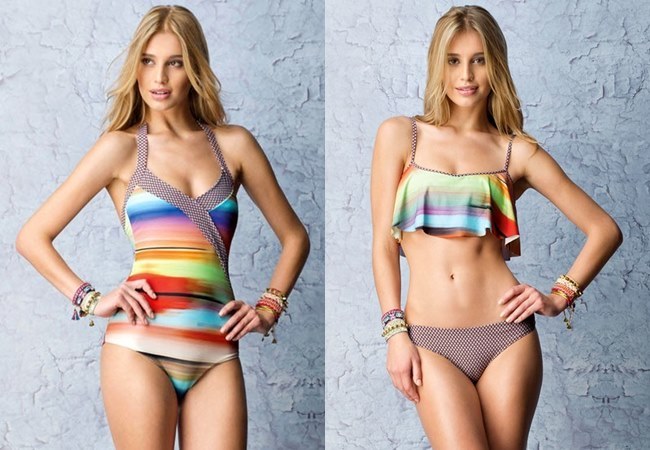 IWA: These lines comes with beautiful rainbow shades of tie-dye prints, consisting several pieces of bikinis and body suits in different necklines such as halter, bandeau, and triangle neck. One bikini hipster also comes as wide band and with hand made accessory on front, while crochet pieces with fringes detailing, shorts with soft elastic bands, and V's dress with decorative strip in front and back are proposed among the cover-up selections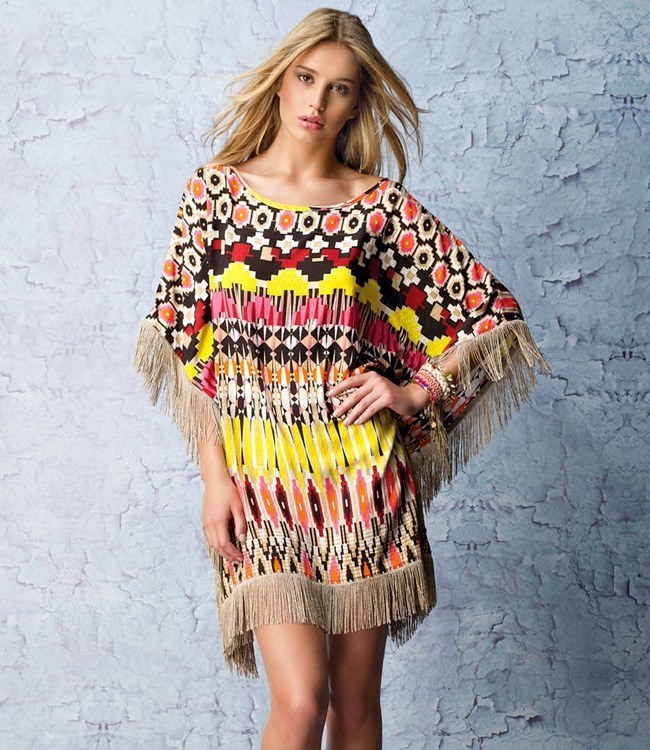 ARUMA: Very vibrant with bolder and brighter colors and Indian prints, the lines feature boho-look tunic with fringes around sleeves and in bottom hem, along with other swimwear collection such as bikini-sets and flare pants.  
TAYEL: Finally, this collection also comes in colorful floral prints matched with contrast shirred details adorning ranges of bikinis and swimsuit. A fabulous bikini-set is featured with cute long-line bustier top and panty with retro-cut style and belt that ties as a maxi knot on front