If you wish to explore the newest trends for Fall Winter 2014 – 2015 in terms of socks and tights in various heights and materials, make sure you take a glimpse at the new legwear collection by Nylon Journal. Out of thousands of fashion socks now in stores, this stylish array of hosiery designs feature range of hosieries such as ankle socks, long socks, knee-highs, full tights, and leggings that would warm you up for the cold season and can be easily pierced into your formal as well as casual chic outfits.
Standing out in truly attractive colors and patterns including polka dots, stripes, argyles, smiley, colorful rainbow, floral, and hand-prints, the new collection will provide you with all the must have fashion socks of the season and can fill in the gap from your wardrobe in terms of fun and cheerful accessories. Find the one that best suits your personality and makes you feel like a real trendsetter. Check out the new collection below along with a few outfit set ideas for style inspirations
Ankle Socks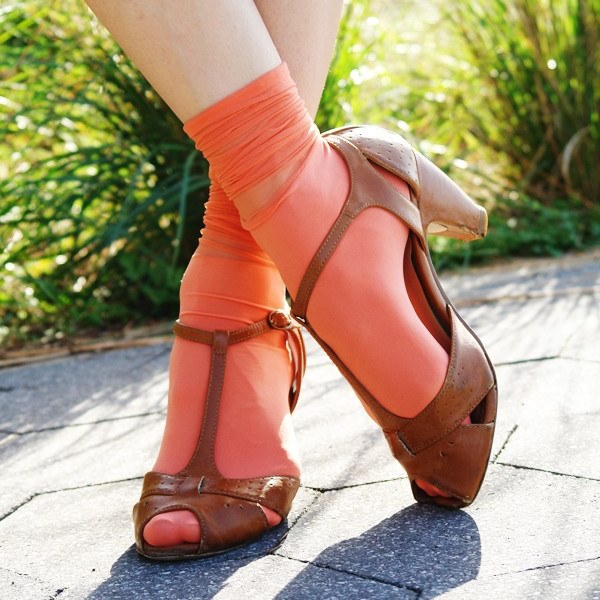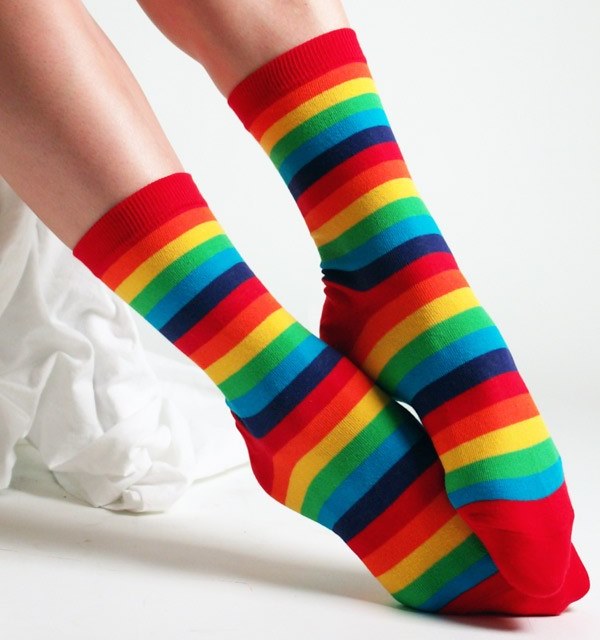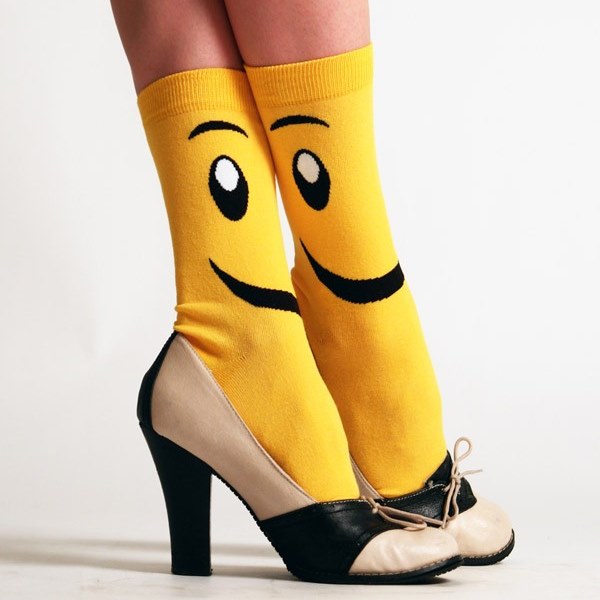 Pick one of these cute colorful striped ankle socks and match them with fun winter outfit. Thanks to the harsh weather you can put on your favorite ankle socks paired with skinnies or leggings along with stylish boots and UGGs. Choose the fabric with great attention in order to complement the basic pieces of your wardrobe and have the chance to sport the hottest looks of the season.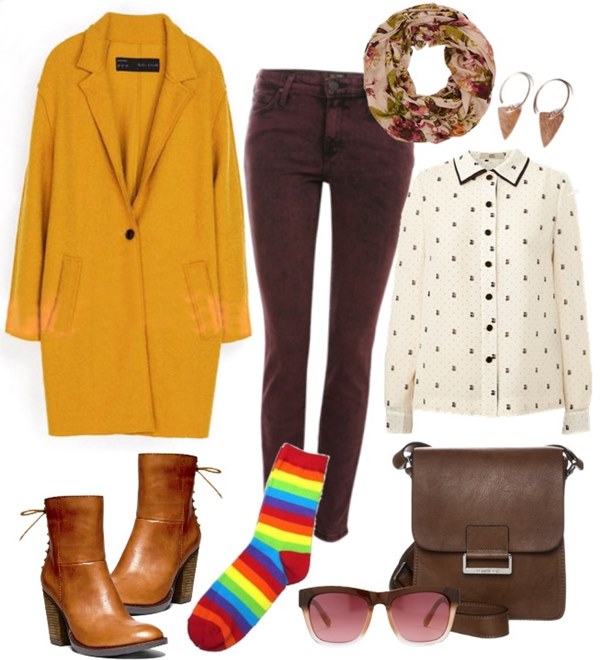 If you want to tone-down the brightness of your rainbow socks, pair them with outfit that has similar color family (but more earthy) to one of the rainbow colors – red with maroon, or green with olive, yellow with mustard, etc. – and wear ankle booties to show just a little splash of the socks' colors.
Long Socks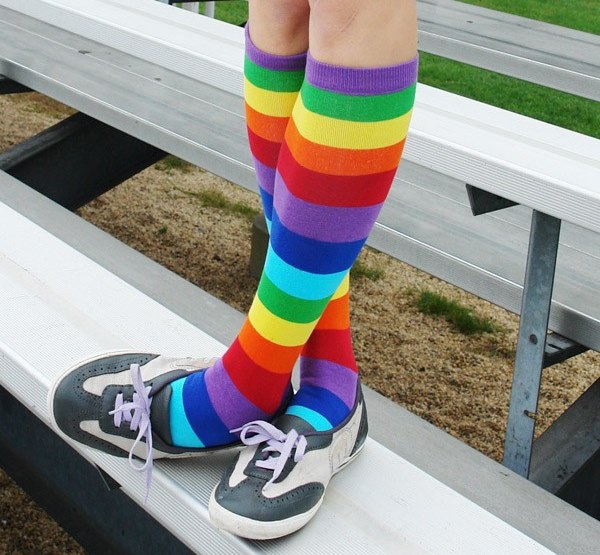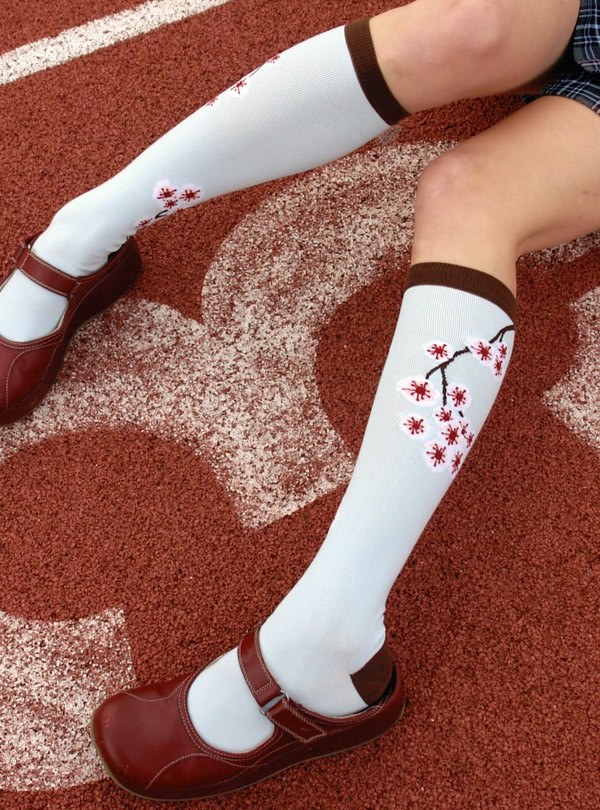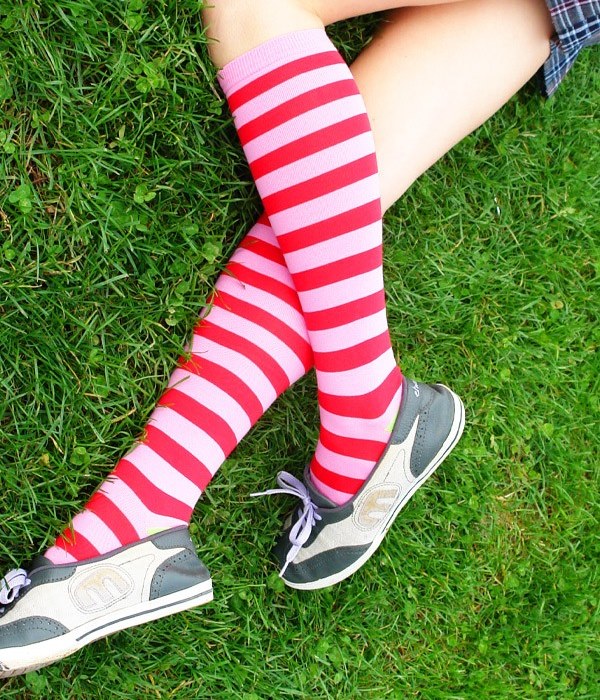 Although they look incredibly cute in such lovely colors, sometimes a pair of rainbow socks is really hard to pair with, especially if you are not type of person who likes to dress vibrant outfit. You might love the colors but still want to wear them in a chic, stylish way. Or you might want to pull them off without looking like a clown or even looking tacky. Here are two simple tips to consider:
Do be careful with outfit you are going to pair with, and be mindful with the image embodied by these colorful socks. Because rainbow socks are super cheerful evoking the free-spirit of teen styles, avoid wearing this accessory for a professional and formal wear. Have this accessory only for a casual, fun, and playful occasion that you could opt for cute, trendy, and unique staples to pair with. Go for a preppy look, or girly chic or you can even match them with rock' and' roll staples for a more hardcore attitude.
Think of the height of shoes versus the height of the socks and the ability to wear them the complete getup confidently. If you are confident enough about the brightness of your socks, lower shoes will go very well to show off the colors of your socks. But, if you are not, use your rainbow socks only to put a little pop of brightness into the outfit. Thus you need to opt for higher shoes to cover most part of the socks.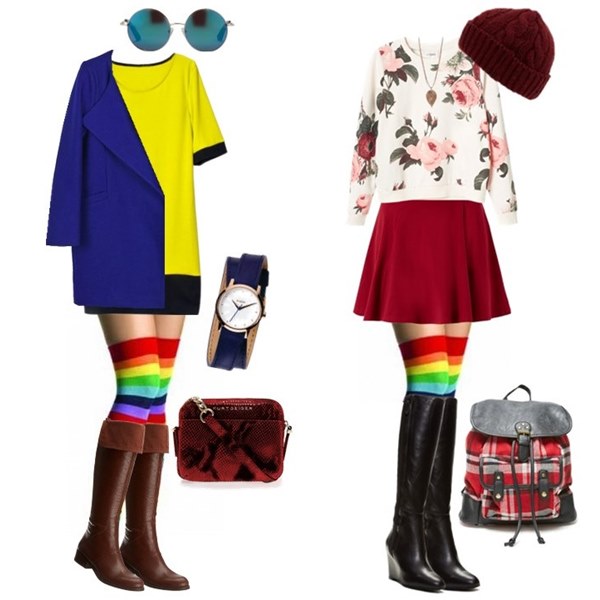 Knee Highs Socks and Tights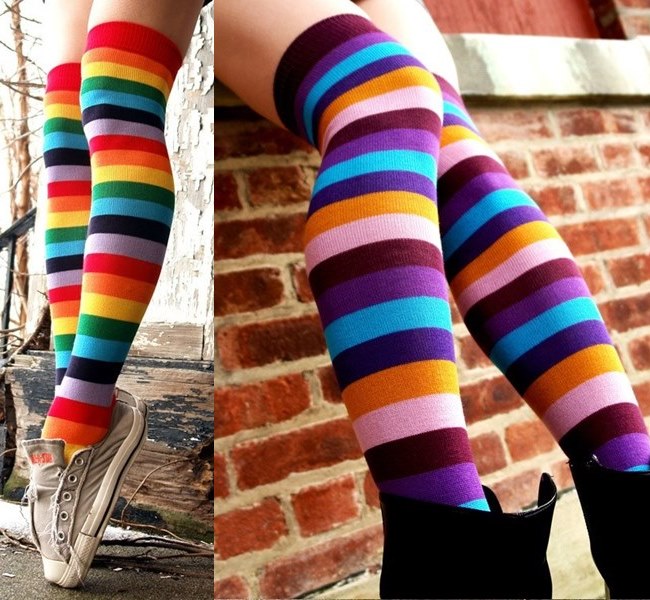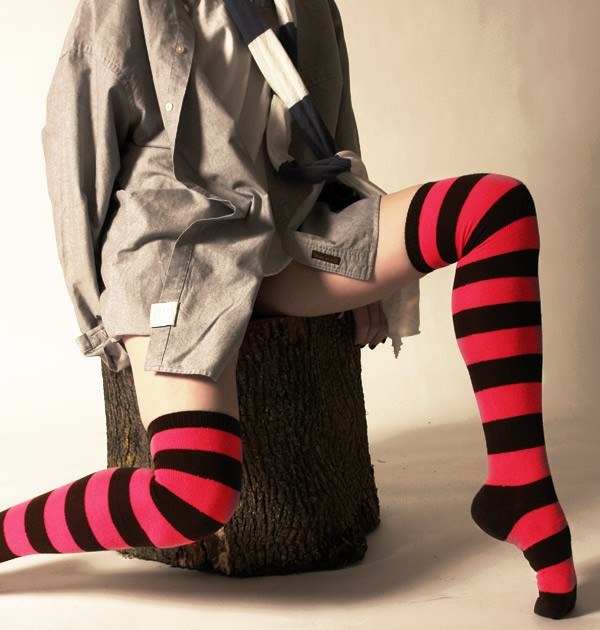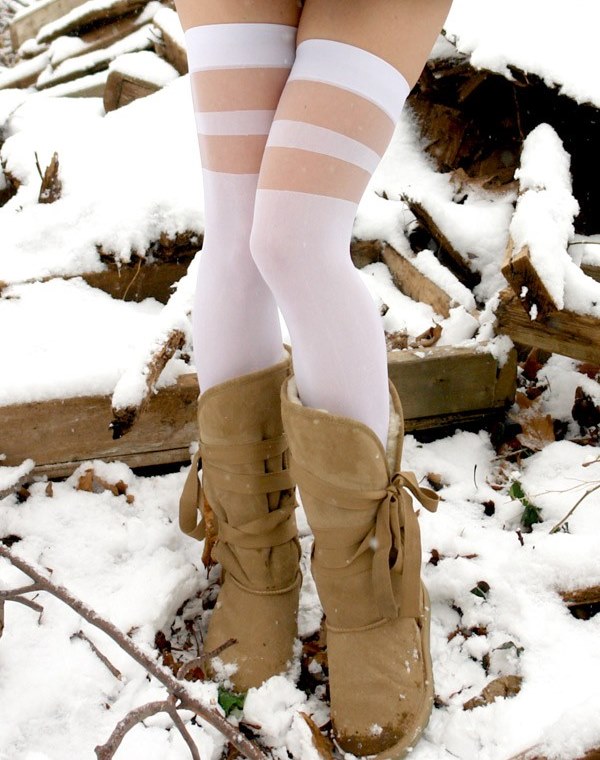 Those who are impressed by the colorful over-the-knee socks in vivid patterns and prints can wear these striking pieces over skinnies or leggings for a casual day-to-day winter wearing. As for a more professional look, you could pull off the classic knee-highs with cute skirts and dresses whereas the fabulous tights and stockings are also perfect for business meetings as well as ordinary work days.
Full Tights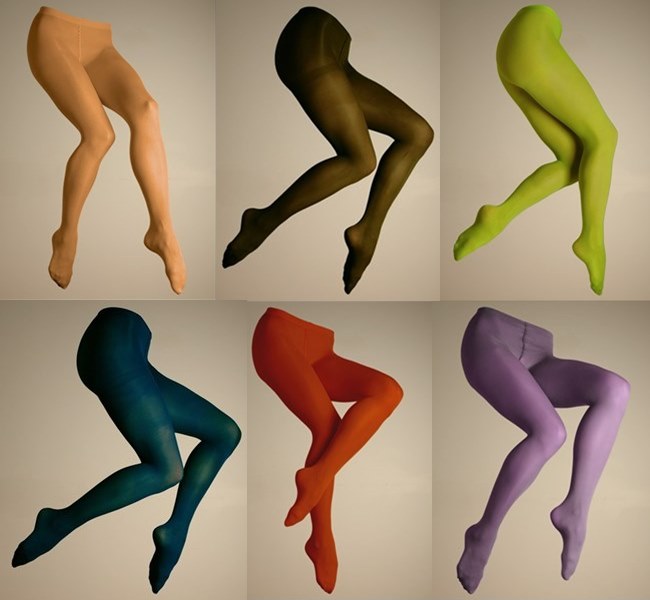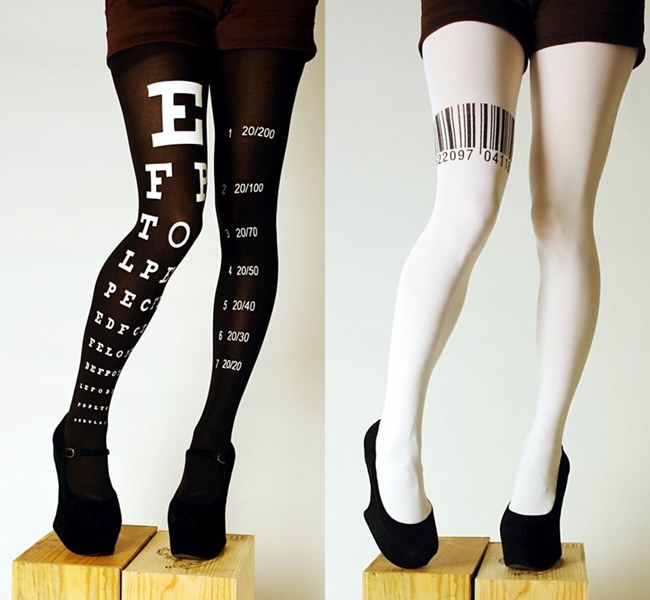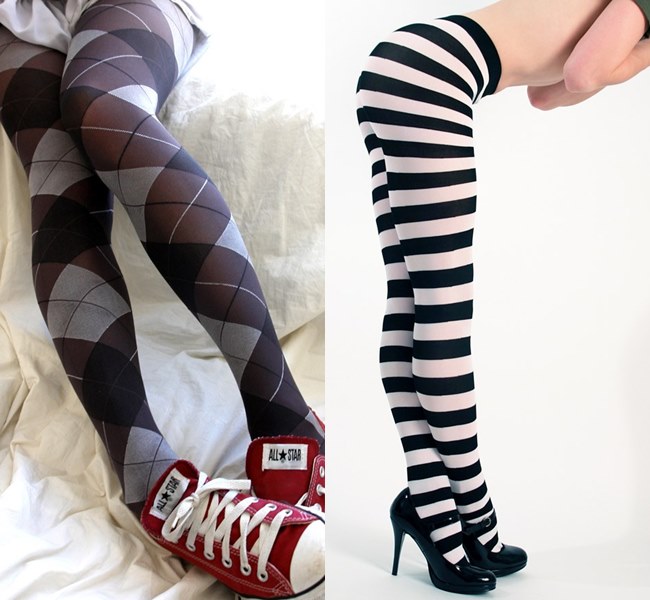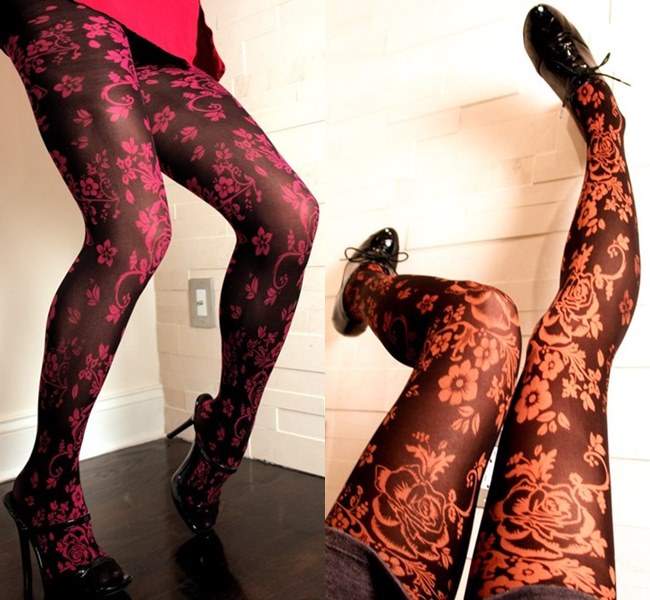 Sport the new collection unique hand printed tights – including cyborg, barcode, eye exam chart, etc. – or solid color tights as well as other printed full tights such as florals, argyles and stripes with your favorite party or casual looks. Show off your versatile personality by wearing these cutting edge designs. All tights and leggings collection are made with super soft mircofiber material and ornate design.
Leggings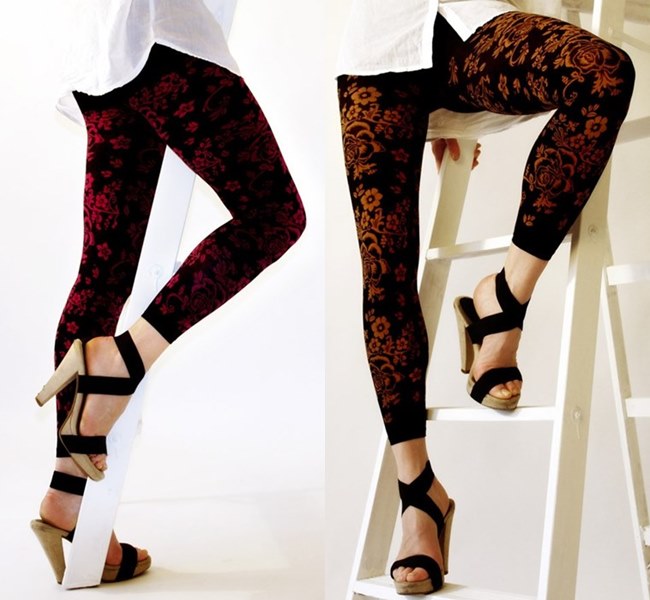 Pair these stylish leggings with white top to achieve that classic, easy and casual look for the season. Take a look at these articles for fashion tips on how to wear leggings.