Apple Inc. knows that a watch would need to succeed as a fashion accessory as much as a gadget. As a result, on September 9, 2014, the company introduced its first smartwatch, the long-waited Apple Watch that combines a series of remarkable feats of engineering into a singular, entirely new experience. As it's smartly designed to be both fashionable and functional, the new gadget is available in an array of different color and materials, and won't go on sale until early 2015 with prices start at $349.
Although Smartwatches have been around for a few years, but makers such as Samsung and Sony have failed to make them a runaway hit. What separates Apple from the others is partially the design itself. Not only that it helps you stay on schedule, in touch, and headed in the right direction – as well as the Apple ecosystem and (software) developer opportunity, Apple Watch is a lot more elegant than other offerings, which each watch comes with a range of watch faces with millions of different appearances you can change whenever you like – from traditional designs to playful characters – and you can also add specialized functions.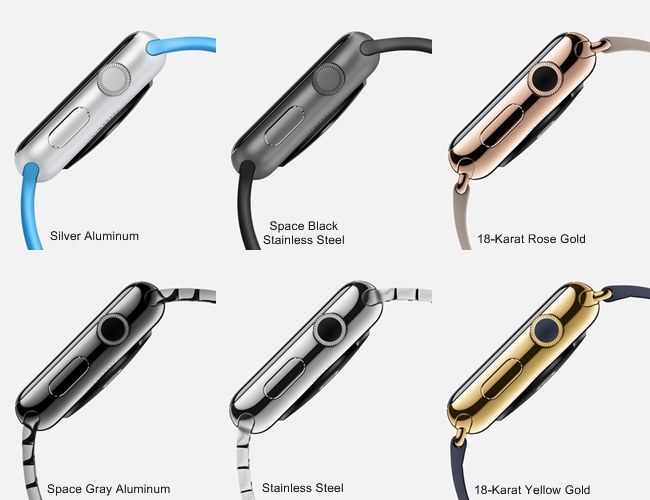 Available in two sizes measured by height: 38mm (1.5in) and 42mm (1.65in), with six different casing materials and six separate interchangeable band options, the Apple Watch is built to be a companion device to the iPhone, and as such, it requires an iPhone to function. It beams messages, Facebook updates, simplified apps and Siri to our wrists, eliminating the all-too-common need to take out our devices to constantly check notifications.
For the technology, just like all of Apple's products that develop both a unique operating system and unique input methods, the company also considered the way people will interact with and use the Apple Watch. To serve as a home button, the casing features a circular knob known as the "Digital Crown" – located on the right side of the body – which replaces the pinch-to-zoom touchscreen mechanic used on everything from iPhones to MacBooks. Rotating this crown will allow users to zoom into app selection, location on Apple Maps and a photo from a gallery without covering the screen, or to scroll through dates and stopwatch times.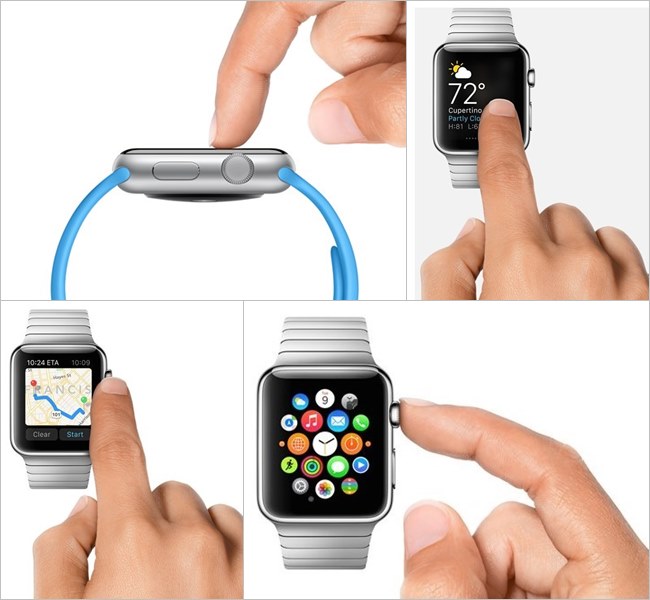 In addition to recognizing touch, the device senses force by "Force Touch" which uses tiny electrodes around the flexible HD Retina screen and sapphire-covered sensors that built into the zirconia backing, and an NFC chip to allow the devices to distinguish between a light tap and a deep press, and trigger instant access to a range of contextually specific controls – such as an action menu in Messages, or a mode that allows you to select different watch faces.
As for the selections offered, Apple Watch comes into three distinctive collections, which includes; the "Apple Watch" and "Apple Watch Sport" – both surrounded by casing made of custom alloys of stainless steel and aluminum that, according to the company, stands up physical demands of daily wear; and a special "Apple Watch Edition" version that has a watch case crafted from 18-karat gold or rose gold for a premium look. Check out the three Apple Watch collections released
Apple Watch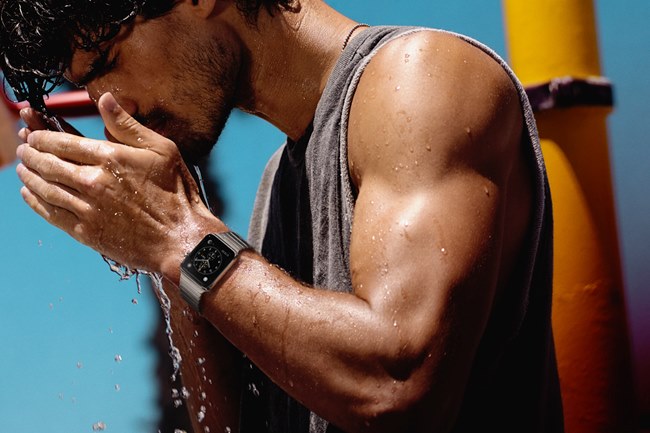 Consisting 18 models in the collection, the Apple Watch version offers the widest array of band materials and closure styles, which each one is distinctive in its own right, yet perfectly matched to the collection. The bands and closures include;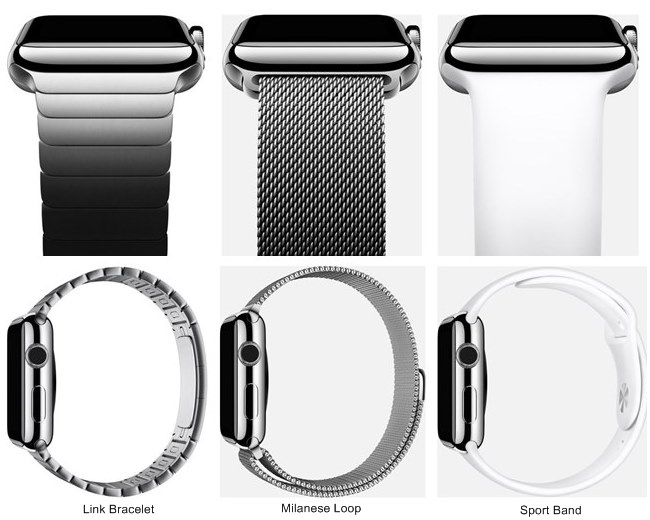 Link Bracelet that crafted from stainless steel and space black stainless steel as the case, featuring custom butterfly closure that folds neatly within the bracelet with a simple release button, so you can add and remove links without any special tools; Milanese Loop with flexible woven metal mesh that will wrap fluidly around your wrist for a perfect fit; Sport Band that is durable and strong, yet surprisingly light and soft, featuring an innovative pin-and-tuck closure to ensure a clean fit.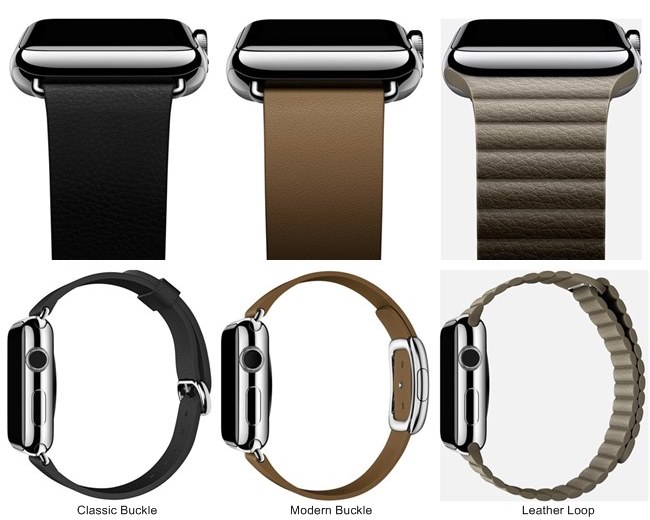 Classic Buckle that is made of Dutch leather with a distinctive embossed grain and a subtle texture, featuring a simple stainless steel-crafted closure; Modern Buckle that comes with elegant Granada leather, a solid buckle of a two-piece magnetic closure, and an inner layer of material for strength and stretch resistance – which according to the company is the same material NASA used to create the parachute strings for the Mars Rover; and Leather Loop that's perfectly designed with traditional Italian craftsmanship, combined with an innovative magnets concealed within the soft, quilted leather to allow you simply wrap it around your wrist for a precise fit and a trim look. Leather Loop is available in stone, light brown and bright blue.
Apple Watch Sport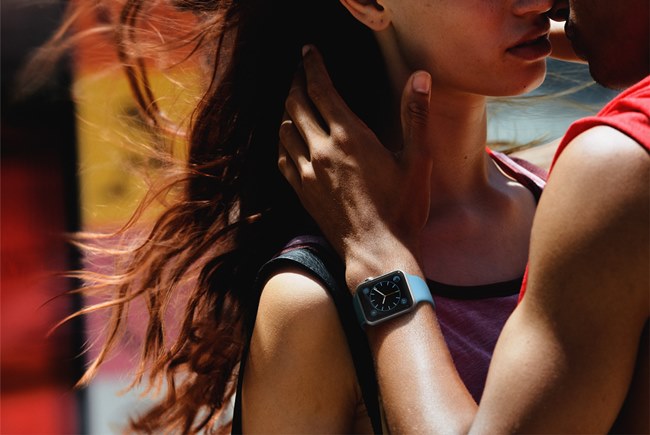 Available in 10 models of five sporty colored fluoroelastomer bands, The Apple Watch Sport collection cases are made from lightweight anodized aluminum in silver and space gray, while the display is protected by strengthened Ion-X glass. As for the vibrant neon bands – along with black and white colors – because it's made from a custom high-performance fluoroelastomer, the Band is durable and strong, as well as surprisingly light and soft with material that is more flexible than the rubber commonly used in watch bands, so it has a nice feel and drapes smoothly across your wrist.
Apple Watch Edition
Featuring six luxe elegant designs of Apple Watch, the Edition version comes with 18-karat gold or rose gold case with display perfectly protected by polished sapphire crystal.