Supermodel Irina Shayk flaunts her curves once again in a recent swimsuit photo shoot for Agua Bendita 2015 Swimwear Collection, titled "Exotic Journey". The Russian stunner shows off a bronzed tan in colorful array of statement-making swimwear pieces, evoking an exotic journey from the jungles to the beach, from tropical to floral to animal prints. Behind the lenses of Enrique Badulescu, Irina enchants her swimsuit body in sexy bikini styles, one-piece suit, as well as beach cover-ups for the brand.
Featuring such an outstanding collection that embraces all the characteristic features of the lush and exotic species on the planet, including wild animals, breathtaking flora and fauna, as well as lots of mixed textures, prints and patterns, the Colombian brand has successfully brought Colombia's beautiful colors and traditional designs, combined with modern and contemporary twist, creating a jaw-dropping swimwear line that takes you by surprise.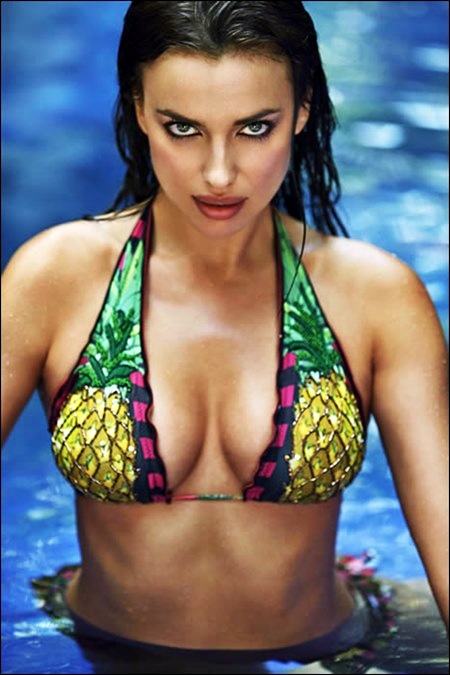 One of the best things about the characteristic of Agua Bendita is the handcrafted garments, full of manual work, done by hundreds of talented Colombian artists under the expert guidance of the designer. As a result, there are lots of delicate embroidery, floral appliqués and interesting textures that look so incredible with sensual lace, ruffles and uber-imaginative prints and patterns, being transferred into real works of art that any beach bunny would love to acquire.
This new Exotic Journey 2015 line is truly stunning that there is absolutely no room for boredom. There are pieces with exotic parrot and owl prints, awe-inspiring snake images, tropical fruit patterns, wolf and tiger motifs, as well as super-cool world map patterns in order to radiate uniqueness and a fancy style on the beach and by the pool. Not to mention, besides being so colorful and tropical, there is also a sultry side of this collection featuring the leather and lace ensembles in passionate red and timeless black shadesNot only Agua Bendita proposes a wonderful journey of prints, textures, fabrics, and patterns, the new 2015 collection of the brand also stands out for the curious cuts and designs, as well as lovely ruffles and lace details inserted here or there. While the sultry bikini pieces and the cool one-piece swimsuits are the hits of the line, no less spectacular are the gorgeous beach cover-ups, short denim shorts with floral appliqués, hats and lace jackets that match the swimsuits ideally.
As for the photo shoot, attractive locations around Columbia were selected for shooting the campaign, and definitely we understand why Irina is one of the world's sexiest models with her smoldering looks and killer swimsuit figure.  Whether lounging in the sand or surfacing from the water like Venus, Irina shows she has elegantly stunning sex appeal in spades.Image Source: Agua Bendita