A vast range of Fall fashion lookbooks are starting to roll in. And for that reason, Modcloth, one of the best online fashion retailer known for their whimsical, playful, and modern-vintage inspired style, comes with their new Fall Winter 2015 collection featuring stylish selections in varying sizes and shapes, from petite to regular to plus sizes. With an assortment of retro, feminine looks mixed with modern style, this collection is all about texture and print, filled with everything from plaid and stripes to floral prints.
There's some super cute pieces offered throughout the collection, bringing some key pieces to so your fall wardrobe will feel fresh, including colorful blouses, belted coats, snugly cardigans, full midi skirts with pockets, and fantastic printed dresses that can work for the office, a date, garden party, and the weekend.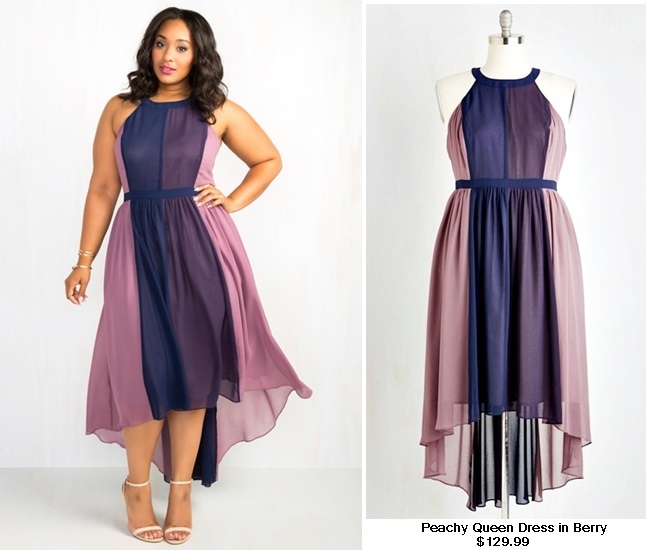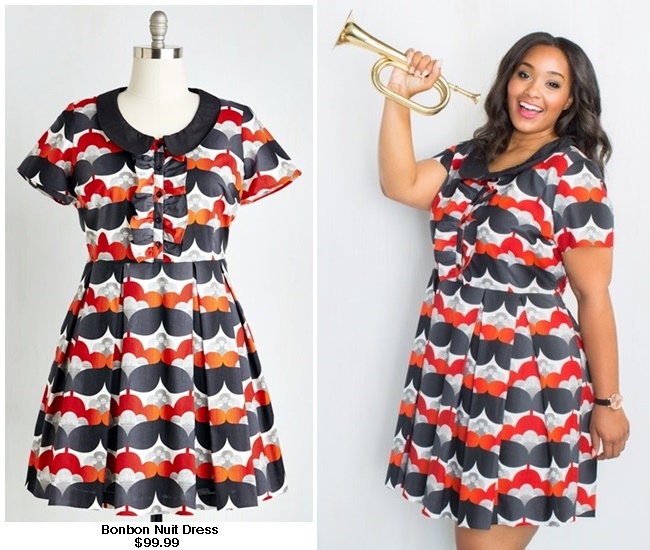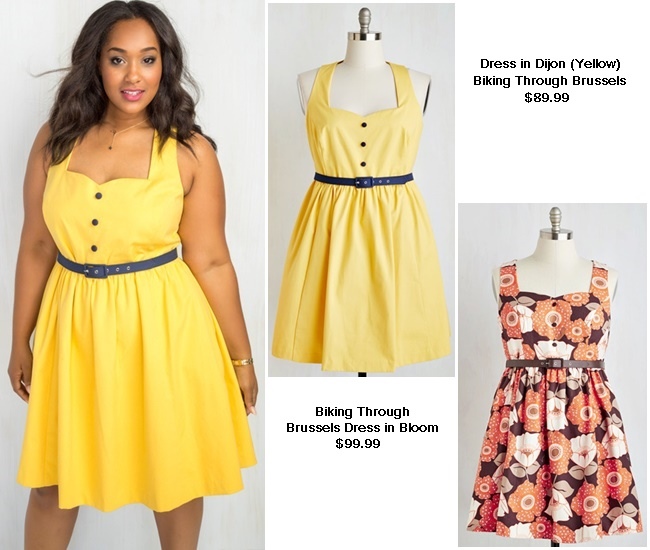 Among the favorite line-ups, two adorable A-line dresses are proposed for keeping a casual pace while still looking girly and chic for your stylish breezy days. A cute, collared "Bonbon Nuit Dress" is featured in retro prints of crimson, grey, white, and black hues, added with a perfect ruffled placket and sided pockets for one sensationally sweet treat. While two sleeveless "Biking Through Brussels Dresses" with pockets and a sleek belt detail, are designed in different colors, which one of them comes in vintage-y, blooming floral prints.
As for a more formal treat, the "Peachy Queen Dress" is selected in berry, mauve, and navy hues combination, featuring chic pockets, a gathered waist, and an elegant high-low hem for a perfect beauty and elegance for your afternoon cocktail occasion.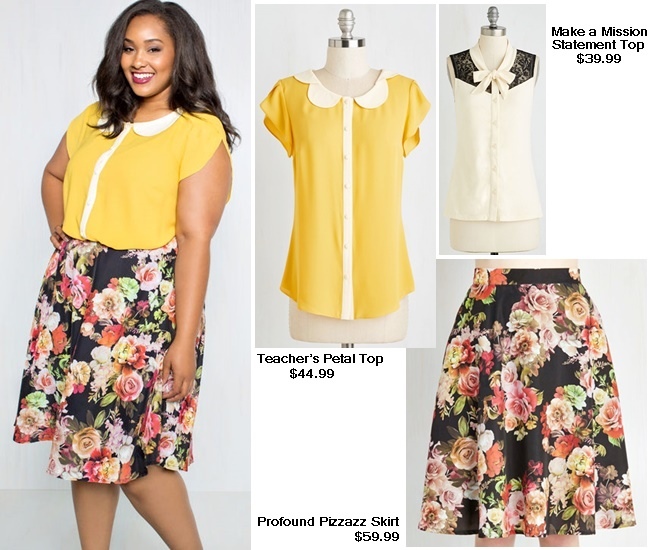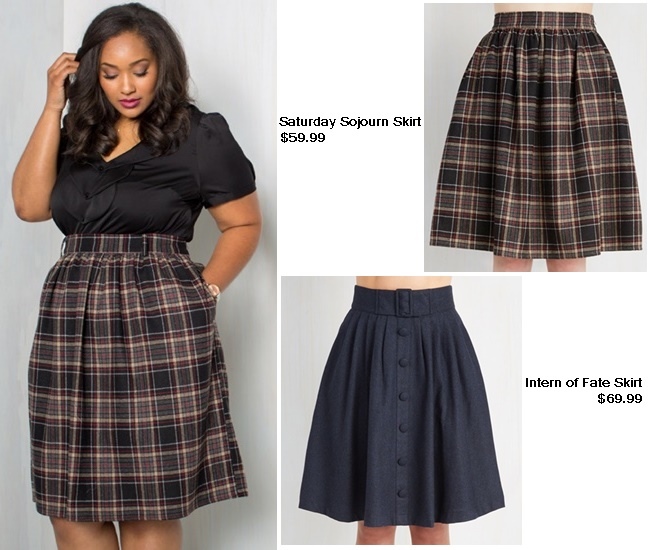 Part of ModCloth namesake label of midi skirt and blouse selections, there are a few gems featuring two midi-skirts "Intern of Fate Skirt" in navy and latte that come with chic details such as pockets, a buckled waist details, perfect pleating, and a buttoned front to evoke such a great work-ready vibe. While a classic A-line midi in beautiful floral print called "Profound Pizzazz Skirt" comes with pockets and an elasticized back detail for a great fit, and a "Saturday Sojourn Skirt" in plaid features pockets and a structured silhouette. Such beautiful pieces, ready to jazz up your casual Friday workday or for the weekend.
For a dressy top proposal, the label offers two great selections, including a classic ivory-trimmed "Teacher's Petal Top" in refreshing yellow, which features flirty flutter sleeves and a scalloped petal collar that's sure to earn you fashionable favor. The second selection is a timeless "Make a Mission Statement Top" in three variation of classic colors – black, ivory, and burgundy – featuring a brilliant button-up blouse with sheer black floral lace panels and a dreamy bow tie-neckline that encapsulates your vogue values.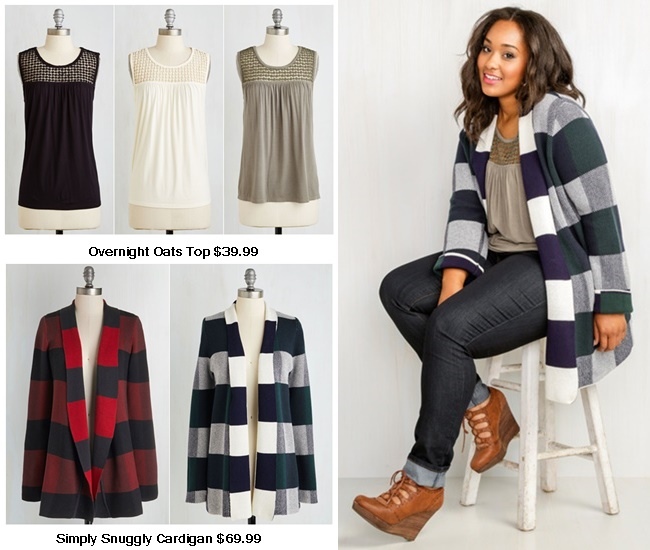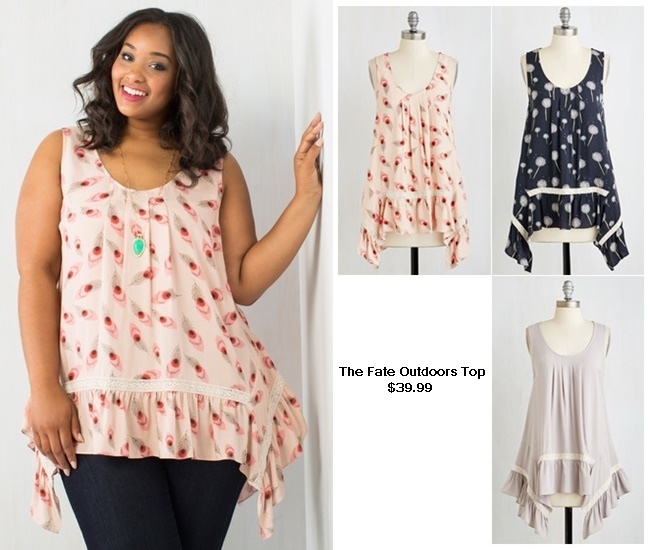 And when it comes to comfort and style, a range of casual staples are also presented in the collection, proposing two kinds of tank tops including soft and soothing jersey knit tank named "Overnight Oats Top" in three classic hues of black, ivory, and grey, alongside a dazzling tank tunic "The Fate Outdoors Top" also in three different variations of color and print, featuring neckline pleats, a crochet-trimmed, and ruffled shark tail hem. These tank top pieces are sure a satisfying feature for any ready-to-wear ensemble.
For warming up in the chilly days of fall, Modcloth doesn't forget to offer great outerwear and layer selections, starting from knit cardigans to A-line coat, which exclusively perfect for a pear shaped woman. Among the cardigans, there's "Simply Snuggly Cardigan" in two different color variations, featuring an open-front silhouette that adds a cuddly-chic vibe to any casual ensemble.
Finally, among the greats and favorites, there's also a vast range work staple for the office, from elegant dress and top, to stylish coat and cardigan top. Check out the gallery or their website for more and more pieces from Modcloth Fall Winter 2015 collection which exposes the label signature quirky, girly flavor to the line, whose pieces all retail for under $150 and are available in an impressive size range of XS to 4X.