The new look of Dolce & Gabbana Spring 2015 makeup collection is a combination between juicy bright and calmer tones. It's described to be "a hymn to the beauty that is full of the joy of spring", featuring playful feminine spring look where intense eyes are contrasted with subtle rosy lips and bold fuchsia nails. Dolce & Gabbana found their inspiration in their beautiful country to bring such luscious colors to the scene that remind of the Italian afternoon sunlight filled with rainbow shades.
To complement the Spanish influences as seen at Dolce & Gabbana Spring Summer 2015 runaway, the entire makeup collection focuses more on the power of contrasting shades, as we see bold yellows and magentas juxtaposed with soft and delicate shades of lilac, peach and easy pastels, which is exactly what we all need to create the option of a natural or intense beauty look. It consist raspberry bright and nude shades for lips, eyes, and cheeks, as well as bold, juicy, and refreshing shades for the nails. Get Dolce & Gabbana's Spring 2015 makeup collection now on dolcegabbana.com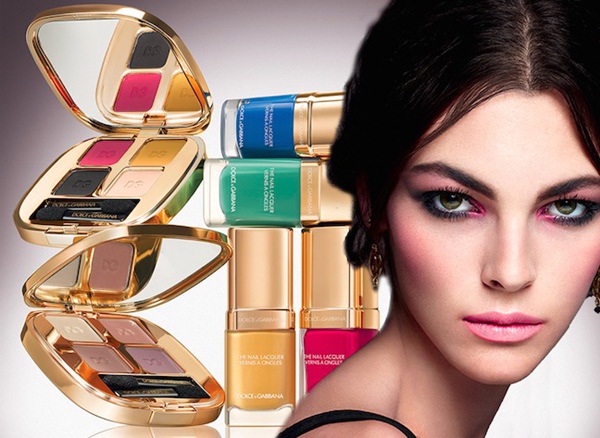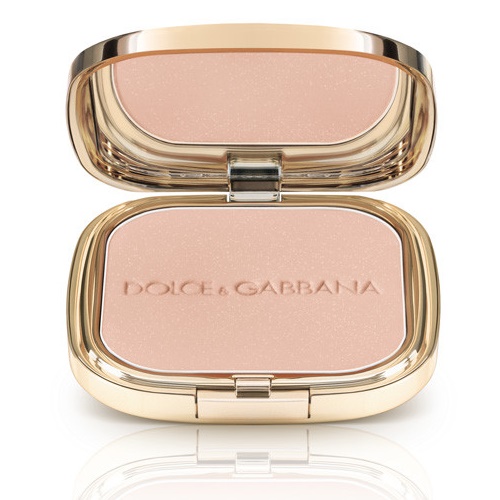 Dolce & Gabbana Spring 2015 Makeup CollectionGlow Illuminating Powder $51.00
Shimmer 6 – delicate blend of pearlescent tones
The selection of beauty products includes Dolce&Gabbana Glow Illuminating Powder Shimmer 6 that provides a touch of light and glamour to your complexion. It's ideal for adding definition or achieving an effortless glow, perfect to create a radiant glow or to highlight the eyes and cheekbones.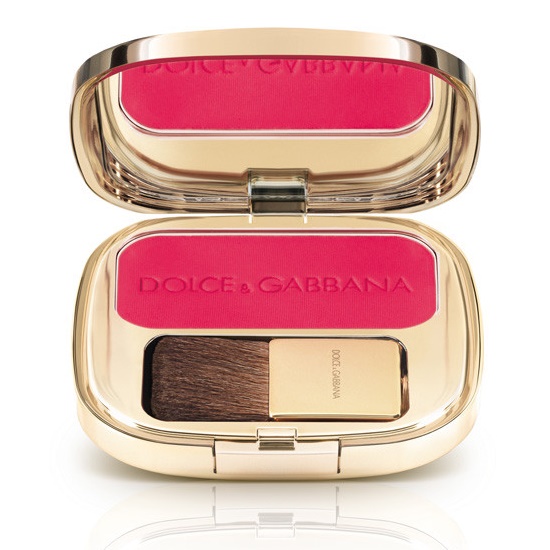 Luminous Cheek Color $46.00
Raspberry 45 – delicious bright raspberry blush
Dolce&Gabbana 2015 Spring beauty is all about perfectly flushed cheeks, featuring a delicious Dolce&Gabbana Luminous Cheek Colour – The Blush in Raspberry (45) – to give the cheeks a warm spring glow in a shimmering fuchsia shade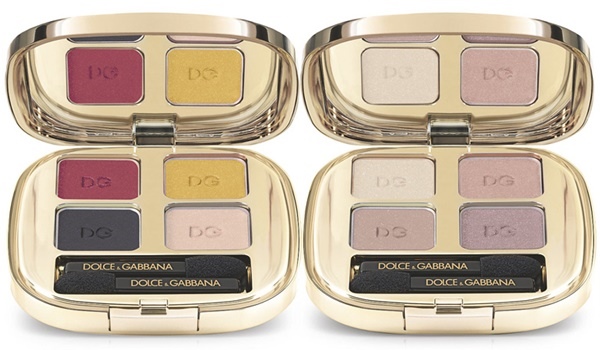 Smooth Eye Color Quad $61.00
Color Explosion 175 – dark crimson, mustard yellow, black and milk
Tender 121 – beige, light peach, beige-lilac and dusty lilac
As for the eyes, there are two eye shadow palettes available in the collection – one meant for the fans of natural nude eye makeup, called Dolce&Gabbana Smooth Eye Colour Quad – The Eyeshadow Quad in Tender (121) – which is perfect to combine with a bright lipstick color, while another one is for those who prefer to keep the spotlight on the eyes – The Eyeshadow Quad in Colour Explosion (175) – perfectly matched with a light lips color to tone down the look. Both the eye shadow palettes feature four coordinated colors for you to mix and match and come up with the sexiest looks ever. Use your fingers to blend more than one colour or apply with a wet brush for a stronger effect.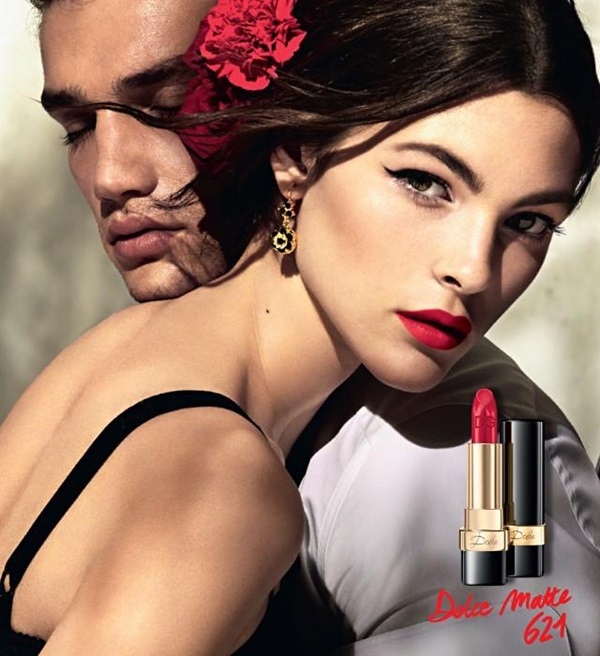 Dolce Matte Lipstick
Along with the Spring beauty 2015 collection, Dolce&Gabbana also presents their new fabulous lips color collection, called "Dolce Matte", which adds to the romance of the collection's campaign imagery and heightens the sensuality of its formula. Red was chosen as the Matte lipstick's palette, in shades "warm, cold, dark, and bright," to play against Dolce & Gabbana's rich, textured fabrics used in its women's Spring Summer 2015 ready-to-wear collections.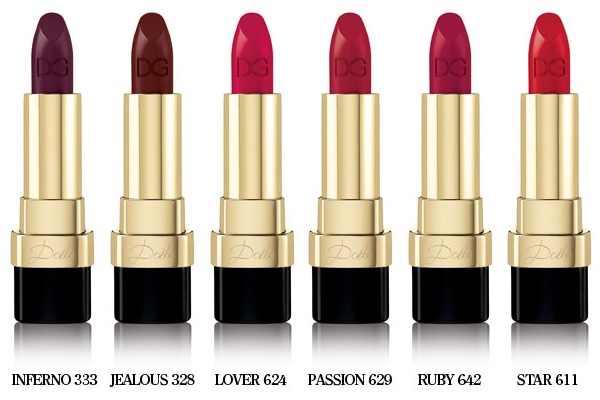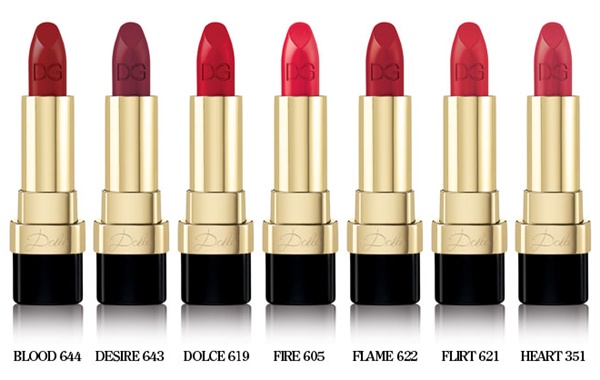 Dolce Matte Lipstick $37.00
The new Dolce Matte lipstick line is the first Dolce&Gabbana matte lipstick, featuring a perfectly opaque texture to envelope a woman's lips in an intense, full-bodied red, while keeping lips hydrated and soft. Consisting 13 different shades of red with names such as Flirt, Fire, Ruby, Jealous, etc., this new lipstick line is ideal to embrace every mood and emotion with a palette of reds. According to the label, Dolce & Gabbana often connects its lipsticks to the mood of the wearer. For instance, the campaign copy for Dolce Matte includes the tagline, "the red you choose reflects the red you are."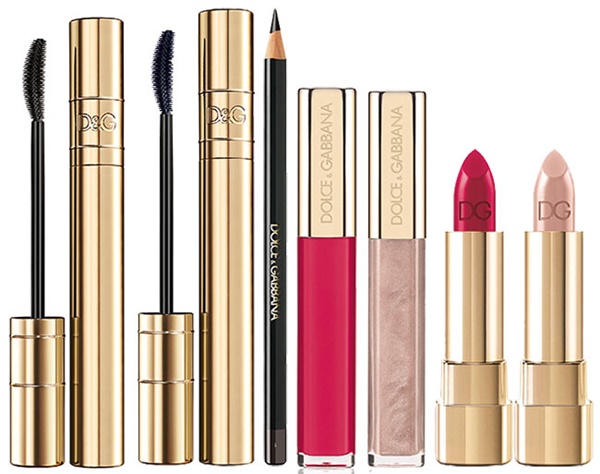 Classic Creme Lipstick $33.50 + Intense Color Gloss $30.50
Bouganville 247 – rich crimson
Sugar Pink 105 – nude
Back to the label's Spring Beauty Collection, like the eye shadow palettes, lipstick also come in two colors – a nude tone and a brighter shade, which can be perfectly matched with the eye makeup you choose to don. Dolce&Gabbana Classic Cream Lipstick – both in Bouganville (247) and Sugar Pink (105) – are enriched with an intense color and rich moisture for the long-lasting smudge-free effect.
As for lip gloss – Dolce&Gabbana Intense Colour Gloss – the same contrasting color philosophy has been applied to create these amazing lip-glosses, which will instantly add mirror-like shine and freshness with intense colour for full, sensuous lips. Wear them alone or over your favorite lipstick tone for a more dramatic look.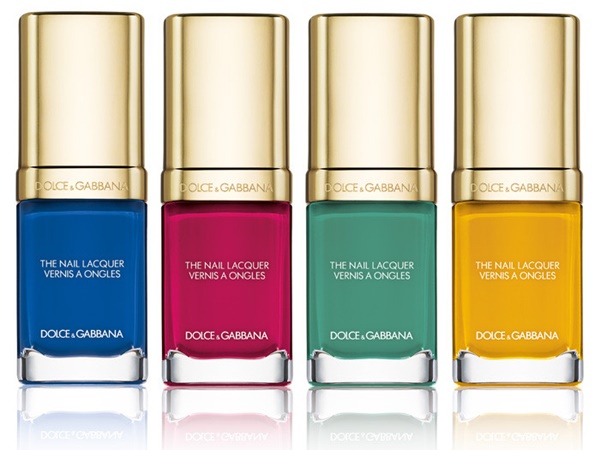 Intense Nail Lacquer $25.50
Blue Angel 723 – blue
Bouganville 233 – fuchsia
Grass 713 – green
Sole 813 – yellow
When it comes down to the nails – Dolce&Gabbana Intense Nail Lacquer in four dramatic colors of Blue Angel (723), Bouganville (233), Grass (713), and Sole (813) – everything presented are about bright and bold colors. It's all about adding a splash of vivid tones to your fingertips, turning them into real accessories capable of taking your spring summer outfits to a whole new level. Depending on your mood, you can go for any of these vibrant spectacular selections of shade and texture
In addition, the new makeup collection also features two new mascara tones, which are Dolce&Gabbana Passioneyes Duo Mascara in Nero 1 and Blu Indaco 3 – and Dolce&Gabbana Intense Khol Eye Crayon in Graphite 6 to add extra intensity to the eyes.