Continuing their fascination with their Sicily heritage, this time Dolce & Gabbana Spring Summer 2014 voyage referenced the Mediterranean Greek ruins, turning out another romantic collection of dreamy dresses and gowns. Throughout the theme of their collection, Domenico Dolce and Stefano Gabbana seem to have had money matters on the mind of late by proposing a collection that was quite literally all about the money and an archaeological excursion that were a recurring motif this afternoon.
This new collection was an imaginary journey, transforming from an ancient to the modern world, from ruins to riches, from mythical to practical. Coins were blown up to the size of tea plates and joined together to make impressive waist cinchers, or else chain-mailed into a jingling mini dress, while others were suspended in hoop earrings or stuck to barrettes positioned into messy up-dos. There were simple shifts and longer column dresses in archaeological prints, cinched at the waist with form of gold gladiator-style belts and dangling earrings, or paired with a matching coat, the prints moving in unison as the model walked giving a wonderful dimensional quality.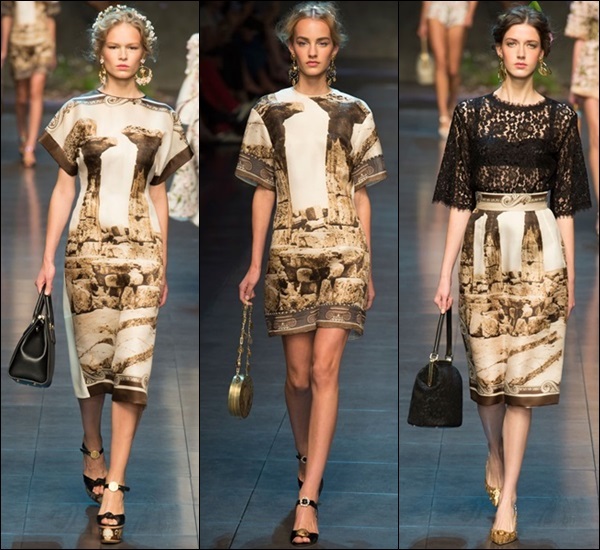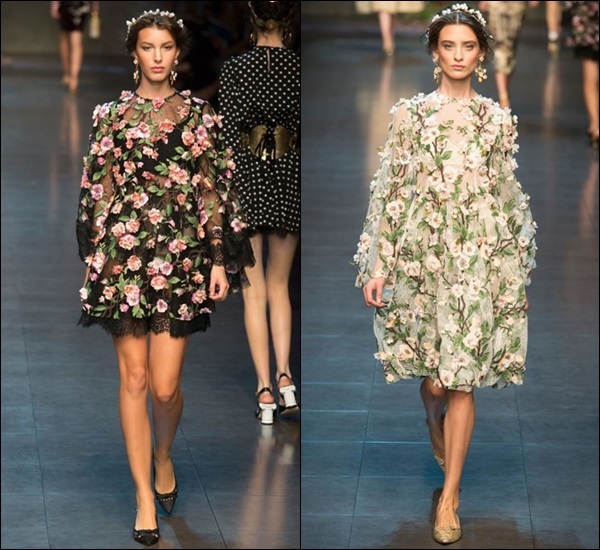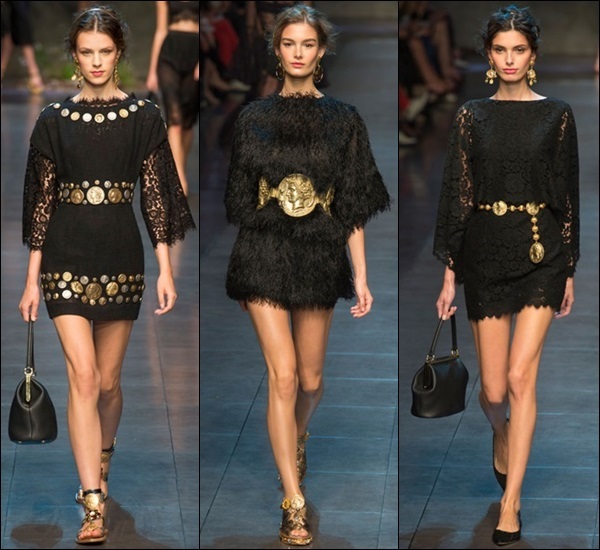 Set against a backdrop of Almond trees – a staple of Sicily's natural beauty – the key themes for this spring summer collection were all there, lace, florals and sheer fabrics, along with cherry blossoms, Coliseum prints, polka dots and coins as the main motifs, added with a touch of an extremely glamour of the label's signature, featuring dresses, skirts, and tunic-style tops silk-screened with ancient ruins and columns paraded down the runway, as did pieces printed with gold coins, and the blossoming flowers in reds, greens, and pinks.
Among the pieces, PVC dresses and skirts in unusual hues from lime to racing green and claret were embroidered with delicate blooms, bringing a sense of the contemporary to proceedings, while extra wide sleeves on mini dresses, slim midi length skirts and ancient historical scenes used as inspiration for bold, gold hued prints were developed further. All in all, in inimitable Dolce and Gabbana fashion, this collection is truly fantasy with a heavy dollop of cinematography.