Welcome to another 'the Sicilian Dolce & Gabbana' … Still with their signature roots and traditions, the Italian design duo Domenico Dolce and Stefano Gabbana, once again, looked for another southern Italian vibe by presenting a vibrant parade of Dolce & Gabbana Spring Summer 2013 collection, which joyfully proposed in many prints, textures, and colors that speak "Sea, Sun and Love."
There was heat coming off the runway featuring a fantastical journey that began in Taormina, one of Sicily's traditional tourist spot. The bold stripes recalled beach umbrellas and sunbeds in seaside coves, and while walking along the coast between the umbrella lines on the beach, the show continued with the colorful festive atmosphere, showcasing small artisan shops that sell tomboli, puppets, wicker baskets, Sicilian ceramics of Caltagirone, as well as other materials and crafts evoking the Southern Italian characteristics and techniques.
Started with dresses in thick stripes referring to the folklore Sicilian charm, the parade continued with number of sheaths, mini-dresses and tops made of subtle burlap fabrics, along with lots of prints depicted the famous puppets of Sicilian street theatres, the island's traditional ceramic vases and cartwheels.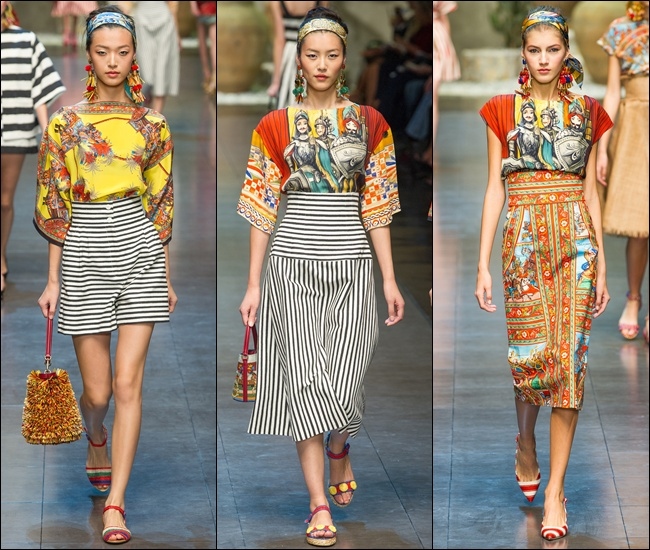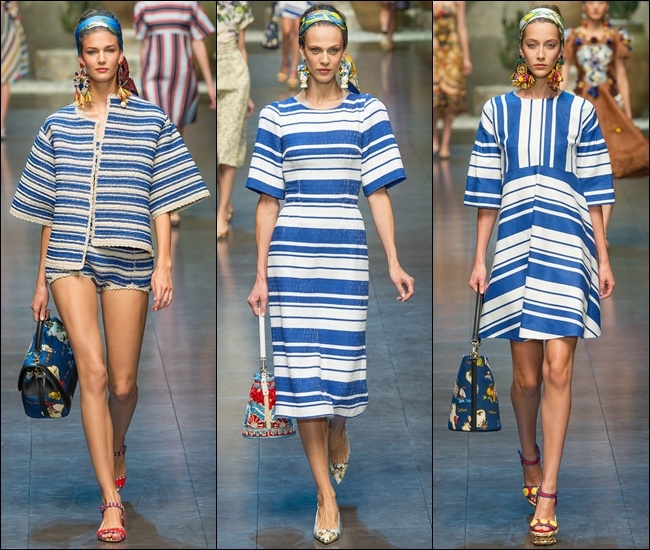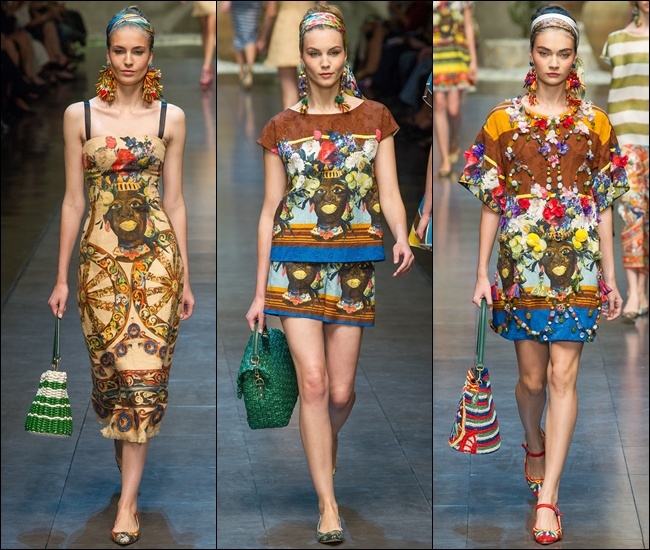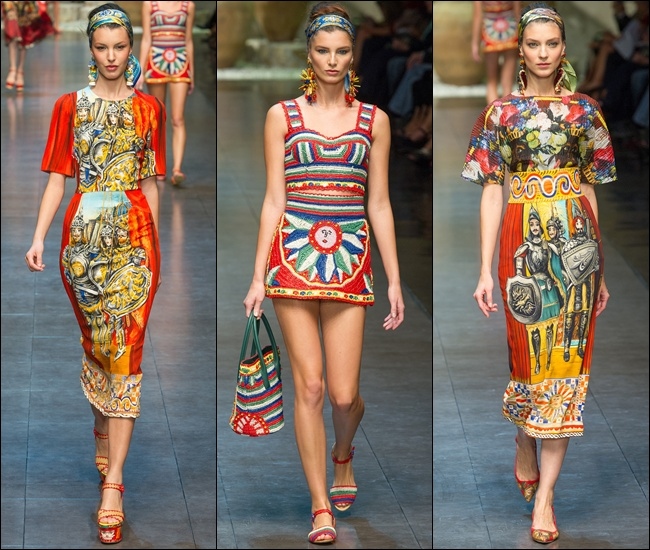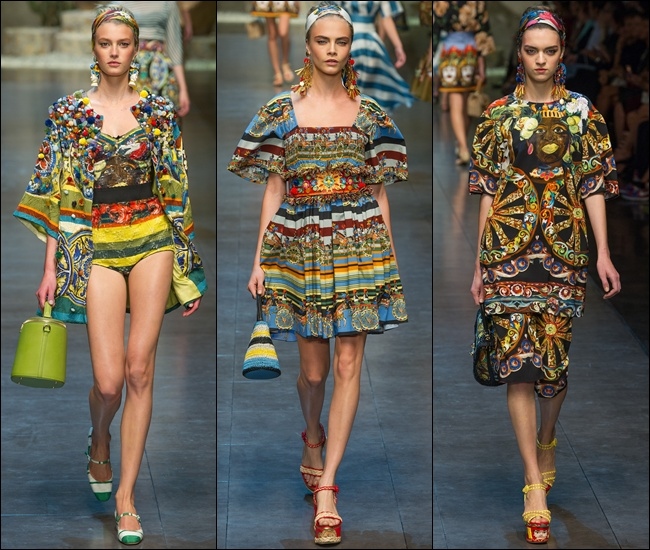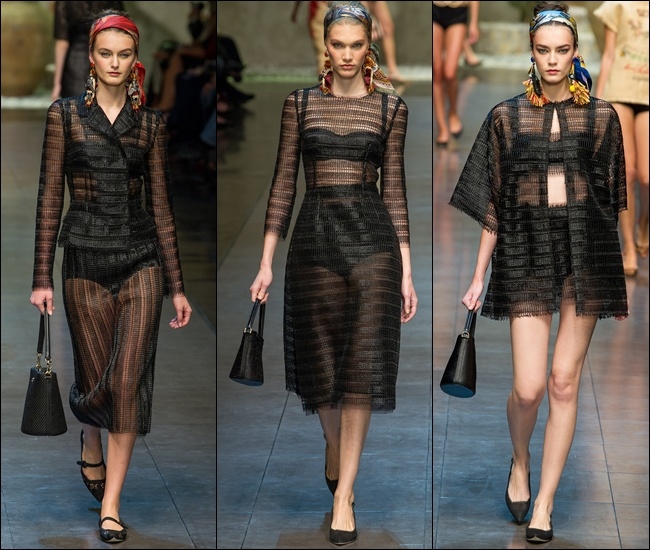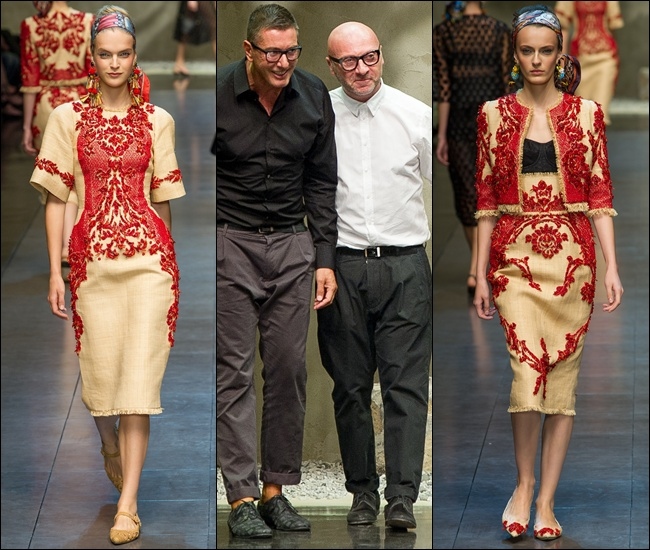 Among the cheerful historical-prints and colorful selections, there were also refined craftsmanship of raffia woven tops and flared skirts, straw dresses with coral embroideries, as well as intricate wicker bustiers with sculptural effect that confirmed both designers' uniqueness and originality, while exquisite accessories such as printed scarves as headband, big earrings, sculpture sandals, multicolor buckets and straw bags added the summer festive atmosphere presented throughout the runway.
Behind the tune of 'Wonderful' by Domenico Modugno and through the scene that Domenico Dolce and Stefano Gabanna created with clothes so richly crafted and optimistically color-drenched, Dolce & Gabbana lifted the audience back into their own happy place, as they celebrated the joy of life, color, and fun, and above all the craftsmanship and popular culture.