Among the new Dolce & Gabbana Fall Winter 2013 offerings, Catholicism, and perhaps even more specific the Papacy, served as an inspiration to the collection. Staying true to the Sicilian inspiration that has guided their collections for the past few seasons, the duo designers, Domenico Dolce and Stefano Gabbana, had turned back time to the golden mosaic artworks that adorn the religion's breathtaking Cathedral of Monreale, filled with golden royal atmosphere of the Byzantine empress.
From rich colors such as gold, blues, and of course the reds that created a regal vibe, to styles that come with crowns and heavy jewels, different time periods and different women are evoked throughout the runway. Firstly, number selections including sheaths, maxi and midi dresses, along with a few blouses, shorts and skirts are meticulously crafted out of mosaic beading and festooned with crystal gems that looked like a sartorial carbon copy of the real thing. As if they actually came to life, those beading and gilded details depicted these mosaics beautifully, filled with rich color of old vintage yellow.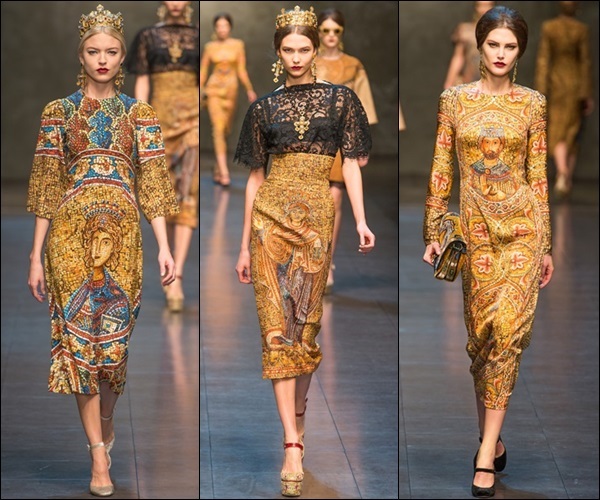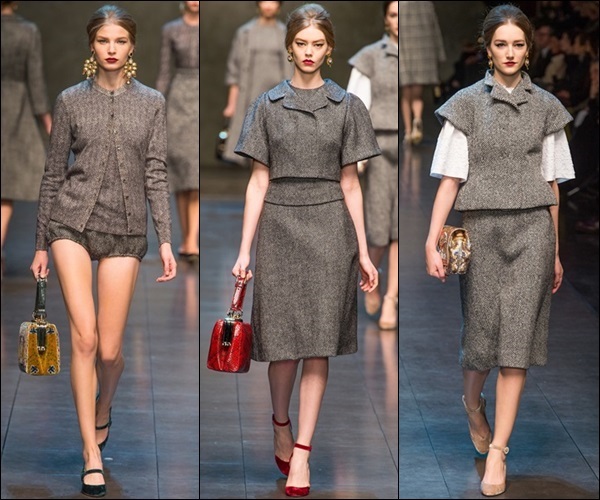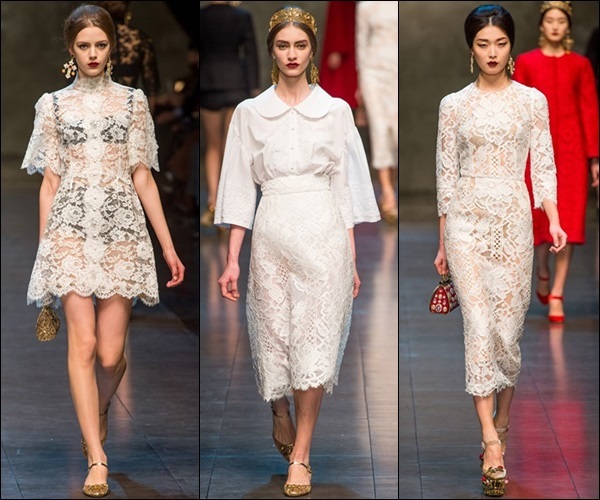 Then, this was followed by a number of silk print versions of the images on dresses in a myriad of flattering feminine silhouettes, which sometimes also applied with fine lace on collars or pockets. Dark grey of swing jackets and tweed suits in voluptuous shapes continued, which looked like they belong in the 1950s and 1960s rather than 2013. The 50s vibe was, in fact, clearly apparent on the catwalk, from the mural print dresses through a series of salt and pepper expertly tailored tweed designs and the "to be expected" black and white lace numbers.
Finally, this religious-inspiring moment went to the finale when the elegant models dressed in red storm – some with sparks and beads –, along with a festive period that came with lamed gold and blue fabrics and still with the religious patterns. All in all, yes there were many sleeves and long dresses offered among the pieces – mainly the variety of them – which actually made the collection not kitschy and more wearable. From ballooning sleeves to slender cut ones to sleeveless numbers, Dolce & Gabbana managed to make one forget about the bloomers and lust after sleeves. A job very well done and almost unimaginably possible.