From season to season, Dolce & Gabbana has always been an expert in translating the characters of local Sicilians' lifestyle, expanding the love of religious small communities, while presenting a portrait of reality, innocence and elegance through fashion garment proposals. And here, Dolce & Gabbana Spring Summer 2013 ad campaign speaks the tradition very well, taking us to an exotic location where warmth and joy blend together with brightness and exquisite bohemians here and there.
Captured by the designers themselves, Domenico Dolce and Stefano Gabbana, everyone who looks at the campaign could have a deeper understanding of the core appreciation of the designers, who are taking care of their original Sicilian family root, and paying every attribute to cherish the south Italy fashion history and lifestyle. Throughout these images, everybody is transported to experience a tropical Spanish Riviera beach, surrounded by friends and family, living effortlessly in a boho bubble.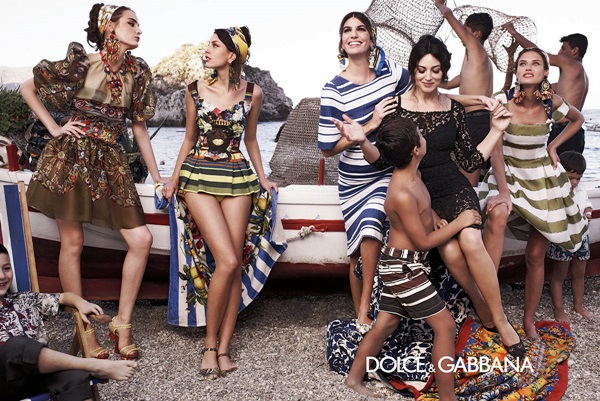 Starred by the world class Italian models and artists like Bianca Balti, Bianca Brandolini, and Monica Bellucci, the campaign truly evokes something original but historical, something belongs to Sicilian home, something that Dolce & Gabbana are proud of to promote. While alongside the top Italian beauties, supermodels Kate King and Zuzanna Bijoch complete the entire aura of the campaign to perfection.
Among the outstanding proposal for woman featuring vibrant shades and patterns, number of sheaths, black lace outfits, mini-dresses and tops made of burlap fabrics, straws, and raffia woven, there are also lots of prints depicted the famous puppets of Sicilian street theatres, the island's traditional ceramic vases and cartwheels. While the images for menswear selections focuses on the fashion casualwear line, and business formalwear line. There are a lot of combinations of horizontal stripes with variety of colors and fabrics to bring up a relaxed seashore Sicilian taste. The collection also features plenty of bold graphic tees and patterned jerseys, accompanying a range of patterned swimwear and accessories. The whole collection is now available from stores worldwide.
Dolce and Gabbana Menswear Spring Summer 2013 Ad Campaign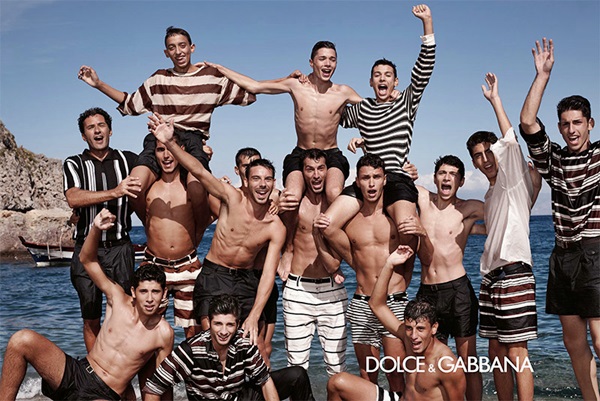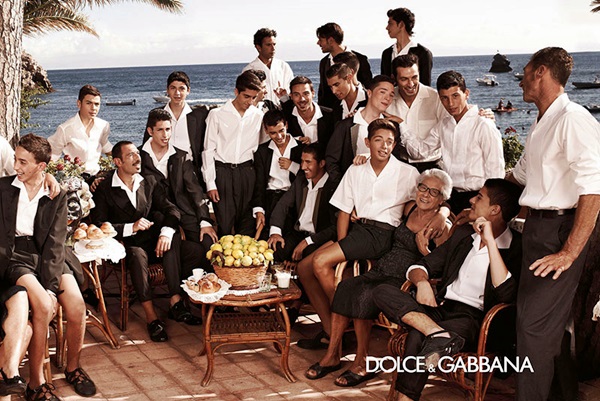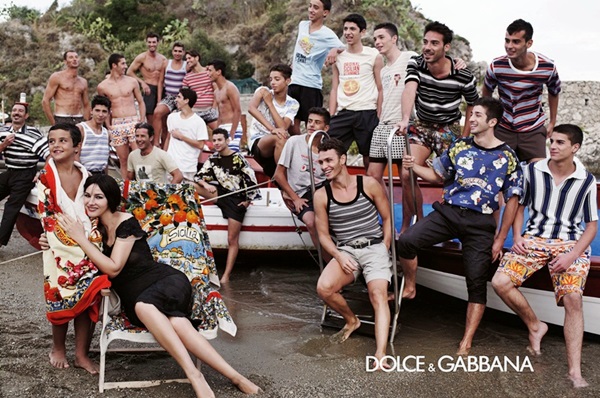 Dolce and Gabbana Eyewear Spring Summer 2013 Ad Campaign