Staying true to the iconic ladylike Dior silhouettes, Raf Simons described his new Christian Dior Fall Winter 2013 collection as a fusion of reality and fantasy, as he imagined classic femininity and elegance in a modern version. With a softer side and a silhouette that more like 1920s than 50s, the designer seems to be having more fun with its codes, as he showcased a combination of fluid shift dresses, bold bar suits, contemporary coat dresses, and a bit of peplum and baggy pants.
Calm. Classic. Elegant. Innovative, we can see how Raf Simons seems to be getting comfortable handling the house of Christian Dior. With outfits reminiscent of the New Look silhouette, the accentuated waists and ample skirts were shown reinvented in black leather, while number of navy and white crochet knit ensembles came out among the graphic standout pieces. As were the classic, time-defying, glossy black and white houndstooth bustier top cocktail dresses that finished in silk asymmetrical skirts.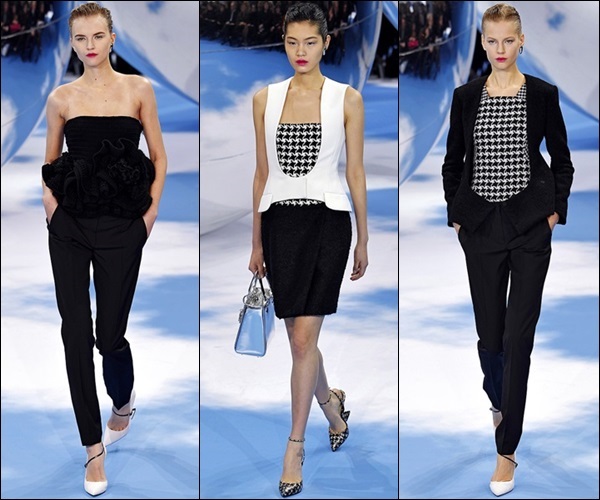 The peplum waists were sculpted out of soft wool, the Bar suit came cut in midnight blue denim with wide leg, baggy trousers and an easy hourglass shaped jacket or a classic Dior coat dress showed up cut in pitch black leather. Not to mention, the models also showcased number of tailored outerwear, including gray cashmere pea-coat dresses, black mink coats, crocheted suits, powder pink capelet style swing jackets, luscious red coats with a sash tie etc.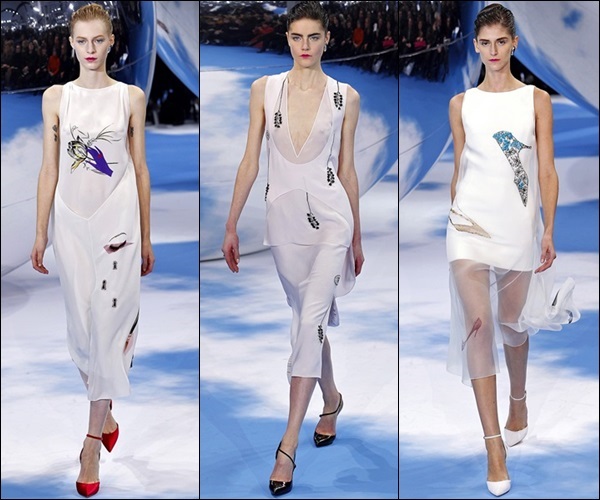 But obviously, what many will remember most about this show by Christian Dior were a series of outfits with graphic patterns – embroidered or printed – featuring early colorful Andy Warhol's sketches of ladies shoes, bouquets of flowers and line drawing profiles of elegant women. And this combination of modern art and classic silhouette of Dior serves perfectly those who look to be identified with the brand in a heartbeat and those who just look for timelessly feminine and elegant pieces.