Although there are no absolute rules when it comes to finding what works for your body shape, the one main thing that a petite person always needs to watch out for is to not look heavy and overpowered by too much fabric. Keep the entire outfit simple and elegant, including on how to find a winter coat. Whether you are looking winter coats for petite with longer length or jackets – including blazers, make sure the coats are designed with the smaller woman in mind, rather than just being smaller versions of a regular coat.
If you're short in stature or have a slight frame – 5'3″ or under – then you're officially petite. From there petites can come in all shapes and sizes, including slender, curvy, plus size, top-heavy, long body with shorter legs, short body with longer legs and therefore these tips are a guide only. Generally, longer coats work best on longer people, shorter coats on shorter people. This means that shopping for a great garment doesn't have to take a lot of time if you know what to look for.
Winter Coats for Petite Ladies
Here are five easy tips to consider for coat hunting to get the most flattering fit for your petite frame :
1. Look for Brand with Petite Lines
Nowadays, many fashion brands and retailers have petite lines where you can find coats designed with smaller proportions in mind. With special petite sizes offered in the sections, this help you to define and flatter your figure, with better fitting armholes, shorter hemlines, belts at the correct waist level, and abbreviated sleeves to create proportion. Don't forget, it is best to try on an item like an overcoat before you commit to it. Before you let that return window end, make sure your new coat:
– Will fit over your layers
– Won't pull under the arms
– Has sleeves that fall below the wrist bone
– Won't ride up when you sit down
Coats with Decorative Belt or Detail that Highlights the Waist
2. Accentuate Your Waist
Basically, styles that hug your silhouette will keep you looking your tallest. So any styles of coat with a decorative belt or other feature that highlights the waist will lend to a sleek and streamlined silhouette. Look for styles that fit close to the body instead of flaring out—these will keep you looking your tallest.
Coat with Appropriate Length Both for Sleeve and Hem
3. Length Matters
When it comes to sleeve hemline, make sure the sleeves hit at an appropriate length. The tops of the sleeves should sit perfectly at the bony tops of your shoulders and make sure the seams hit exactly at your wrist.
Coats with Knee-Length or Shorter Hemline
As for the hemline, coats with short hemline are great for petites. A knee length or shorter will be your most flattering silhouette, while anything longer can (sometimes) overwhelm your frame.
How to Wear Long Coat for Petite Ladies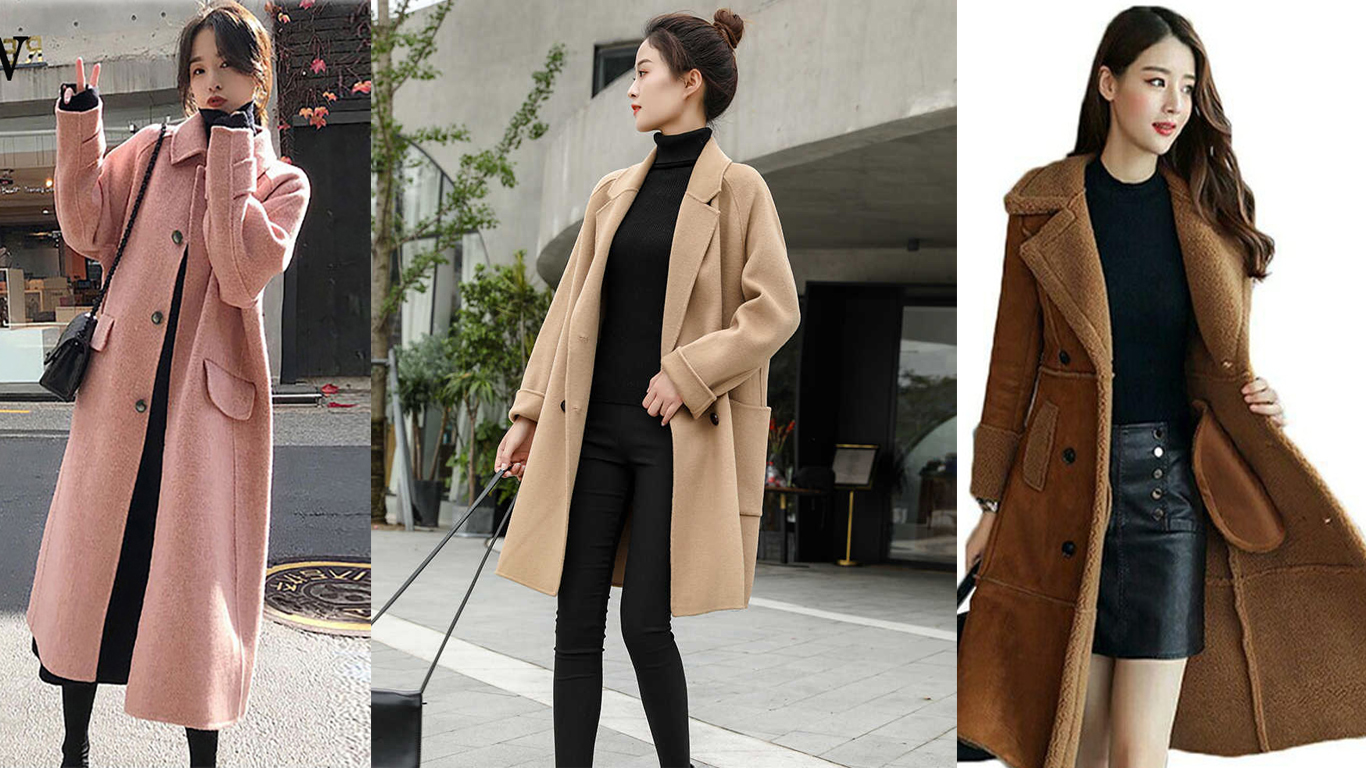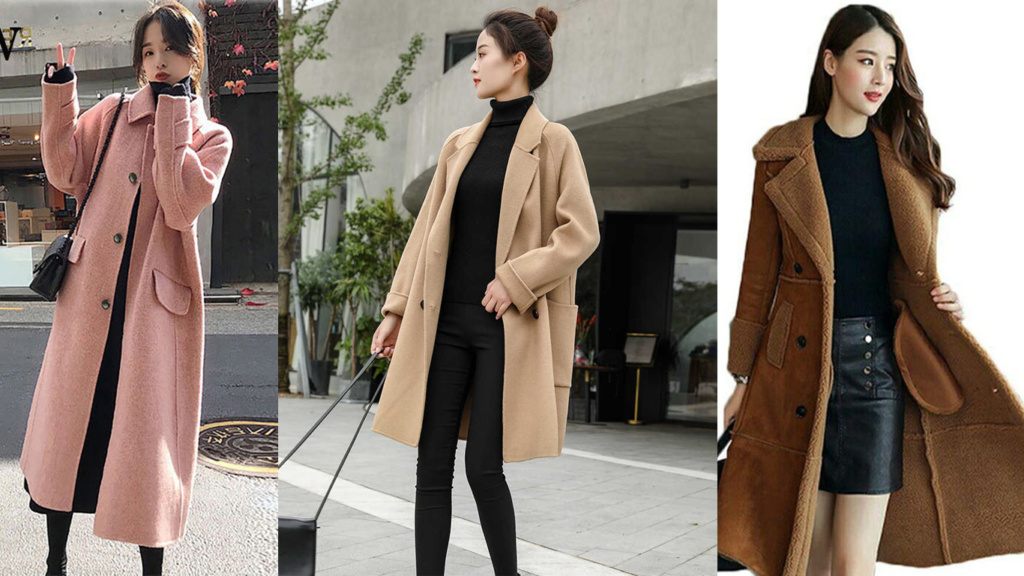 In this case, if you insist of wearing this coat this winter, you do have to think about proportions. Look for one that falls at your calf or above the ankle, and consider on what you wear underneath. Stick with well-fitted pieces such as skinny jeans and light-weighted top, since loose-fitting, bulky or boxy apparel will overwhelm your frame.
Additionally, long doesn't necessarily mean oversized, so invest in long pieces that perfectly fit your frames with less detail like buttons, piping or large print patterns. Here are best examples:
Sleeveless coats – the sleeveless options can rid you of bulky arms,
Longline blazers – blazers that hit right at the hip will automatically cut the body in half, so a longer silhouette leads the eye downward, extending the length of the torso and making you appear slimmer,
Tailored floor length duster cardigans – this silhouette can also elongate a petite figure and create a lean line, much like a longline blazer. Grab a belted option for added structure and instant come-hither curves
4. Sleek and Simple Cuts
Not only that well fitted staples are best for petite ladies, sleek and simple cuts that aren't too boxy or voluminous are also the most flattering for the figure. Look for cropped style jackets that rest on your waistline or hips, or you may also pick a tapered jacket or coat with narrow lapels to give a longer line.
Cropped Jacket and Coat for Petite WomenFur Coat Fashion LooksHow to Wear Winter Coat with Volume for Petite Ladies
Fur or faux fur coats that add a bit of volume are fine if you are small and petite, as long as they fit well and aren't too long. And this goes the same with puffy coats like parkas or trapeze style coats, which even though they can add weight and could slightly overwhelm your figure, thick and heavy coats are fine as long as they are well fitted and with simple details.
Empire Waist Coat for Women with Large Bust
For big-busted petites, or ladies with short figure but fuller, look for accents that add flair without adding bulk, like a fur collar or fur trimmed sleeves. Coat and jacket with empire waists are also great since they nip you in beneath the bustline. Or you may try wearing a fitted combo underneath to balance out your outer layer, without sacrificing shape.
Plus Size Petite Winter Fashion Coat
Additionally, try to avoid jackets and coats with too much detail like buttons, piping and large print patterns, since wearing simple coats that have minimal embellishment and scaled-down details can help create the illusion of length
5. Bright and Neutral Colors
Whether you want to go for neutral shades or bright colors, petite winter coat in various colors are great for ladies with petite or short frame. Note that wearing monochromatic look or a single color from head to toe will add the most height – especially for those in neutral hues. Meaning, coats in neutral basic colors, such as black, brown, cream, navy, grey or white go perfectly with similar shades of pants, skirts, hosiery and shoes to create a longer silhouette.
Petite Winter Coat in Neutral Beige and Cream Colors
As for the bright, these vibrant colors help petites stand out in a crowd. Hues such as yellow or red help make the most of your small stature by bringing your figure to the fore while adding a pop to more neutral outfits underneath. You may also pair coats with statement necklaces or bright scarves that lead the eye up, taking the focus off your lack of height by highlighting your face.