Inspired by the romantic beauty blooms of springtime gardens in Paris, the new CHANEL Spring 2015 Rêverie Parisienne makeup collection is all about sophistication and fresh feminine looks, featuring great selections in captivating colors from vibrant corals to satiny shades of pink, ranging from nail lacquer to bright lipstick, from eyeshadow palette to lovely blush. All exquisitely colorful proposals are delivered to celebrate the new season, evoking an enchanting spectrum of shades that range from delicate to deep
The focus of the collection is a glowing complexion, iridescent cheeks, sparkling eyes and color burst lips, with a star product a gorgeous blush with floral motives. It's not a huge collection, but the lineup is beautiful that everybody will definitely find something to fall in love with. Here are a few of the standout shades; see the full collection at chanel.com.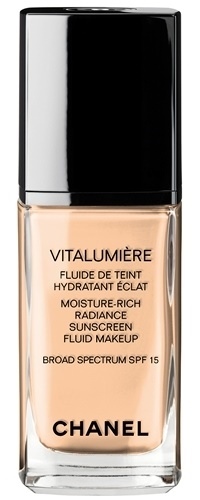 Vitalumiere is a moisturizing foundation that instantly revitalizes the complexion, softens skin and covers redness. The formulation is a bit thinner, not quite as rich feeling and seems to give a bit less coverage, but still gives a similar dewy look. For those with very dry skin looking for dewiness, this is absolutely worth a try.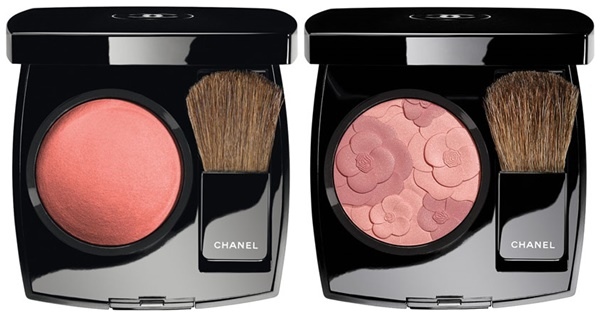 Joues Contraste Powder Blush – $45.00
Angelique (190) – natural, light coral
Joues Contraste in Angelique is a unique powder blusher that offers buildable coverage, and is housed in the regular Joues Contraste blush packaging. This refreshing, silky coral shade builds a beautiful glow on cheekbones with remarkably silky texture to ensure easy application of seamless color. This blush shade looks no less sensual and beautiful and can be a great alternative for all those, who don't find Jardin de Chanel a flattering blush shade for their skin tone.
Jardin de Chanel Powder Blush – $55.00
Camelia Rose (Limited Edition) – tender rose hue with intense pink highlights
Jardin de Chanel is a romantic 3D Flower blush in Camelia Rose with a lovely scent. It's breathtakingly embossed with a beautiful floral print that makes it almost too beautiful to use – although that would be a pity, because the product itself is a stunner, blending two finely milled shades of rose and pink in a powder formula with a soft, fine and silky texture for a pretty, radiant glow. The contrast of tender rose with intense pastel pink highlights gives cheekbones the most angelic glow
Les 4 Ombres Multi-Effect Quadra Eyeshadow – $61.00
Tisse Fantaisie (236) Limited Edition – coral-rose, sea green with iridescent gold highlights, satin white, deep brown with copper highlights
Tisse Paris (238) – Slate gray, delicate and intense rose, sheer ivory
For the spring-ready eye makeup, two shade varieties of eye shadow palettes are coming, each featuring four coordinating shades that can be easily mixed and matched for creating harmonious looks, which are smooth and creamy with a vibrant, pigment-rich formula. Each easy-to-wear compact offers endless possibilities, with two medium tones of rosewood and pink coral to color and contour, a deep shadow to intensify, and a light shade to highlight.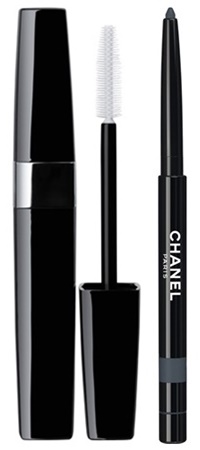 Inimitable Intense Mascara – $32.00
Noir (10) – black
Stylo Yeux Waterproof – $32.00
Ardoise (912) – intense gray with hints of green
More products for the eyes are the Inimitable Intense Mascara and Stylo Yeux Eyeliner that beautifully create an intense neutral shade defining an enticing eye look. With its unique brush, the black Inimitable Intense Mascara delivers dramatic effects for a more intense lash look, while the limited edition Chanel Reverie Parisienne Stylo Yeux Waterproof Eyeliner is the right gateway for the spring to create a delicate eye look with its gentle, soft, and silicone-enriched formula.

Le Crayon Levres Lip Definer – $31.00
Rose Delicat (91) – fresh light red
Capucine (92) – flattering coral
As for the lips, Chanel Reverie Parisienne beauty collection presents a multiple lip products – from lip liners to lipsticks to lip glosses – with two beautiful colors in each product. To create the illusion of fuller lips, Le Crayon Levres Lip Definer – in rose and coral shade – enhances the shape of the lips and gives them perfect definition with this creamy-textured pencil. It has a long-lasting, full-coverage color with a semi-matte finish glides on to soften and soothe lips, and to ensure lipstick stays in place while extending its wear.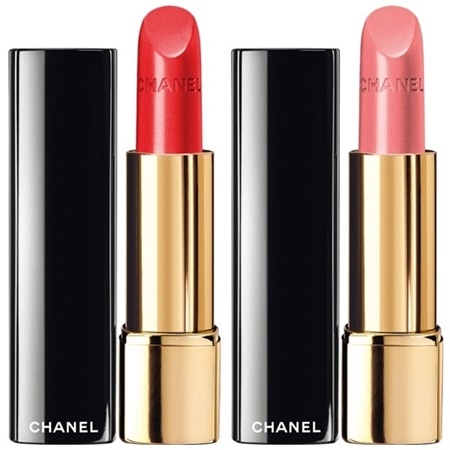 Rouge Allure Intense Long-Wear Lip Color – $36.00
Insaisissable (152) – bright strawberry red
Badine (154) Limited Edition – light rosy pink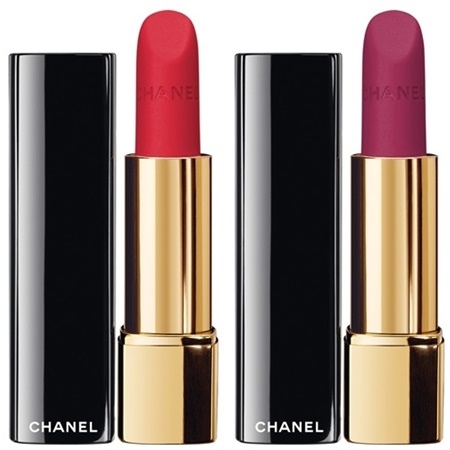 Rouge Allure Velvet Intense Long-Wear Lip Color – $36.00
La Petillante (49) Limited Edition – intense, sensual coral red
La Romanesque (50) – elegant plummy magenta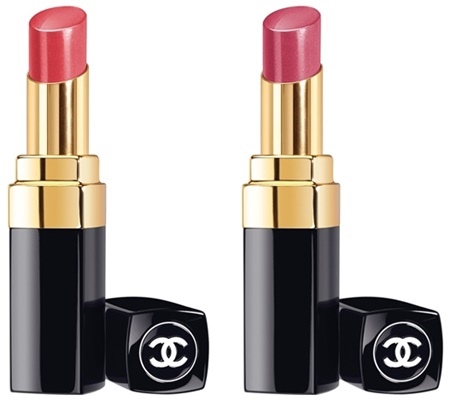 Rouge Coco Shine Hydrating Sheer Lipshine – $36.00
Desinvolte (97) – vibrant red
Etourdie (98) – berry fuchsia
Three varieties lipsticks are presented whether you prefer sheeny or matte. The limited edition Rouge Allure Lipstick is a new formula with concentrated, ultra-thin pigments that offers radically intense, long-wearing color with full coverage and a satin finish, while Rouge Allure Velvet Lipstick (also limited edition) is non-drying matte lipstick that glides on lips with intensely rich, long-wearing color and a sumptuously soft, perfect velvety, matte finish. Hydrating Rouge Coco Shine is an innovative formula with intensified pigments to take color and sheen to a new level of vibrancy, softens and plumps lips for a healthier, fuller appearance.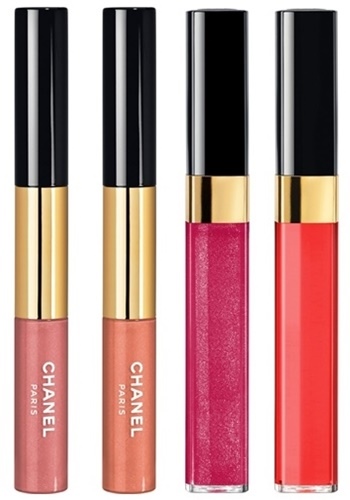 CHANEL Reverie Parisienne Lip Gloss
Rouge Double Intensite – $36.00
Darling Pink (57) – soft pink
Coral Dream (58) – shoft coral red
For the selections of lip gloss, Rouge Double Intensite and Levres Scintillantes Glossimer are offered promising high-shine gloss that delivers full-coverage color that lasts all day. Coming in two iconic spring shades in soft pink and coral, Rouge Double Intensite comes with glossy top coat imparting brilliant shine and superb hydration, with its innovative fluid texture of the base color coat to create smooth, comfortable lips.
Levres Scintillantes Glossimer – $30.00
Crazy Fuchsia (194) – intensive magenta
Fleur d'Eau (192) Limited Edition – natural coral
As for Levres Scintillantes Glossimer, it's an intense lip-gloss with gorgeous shimmer and a high-shine glow to give lots of drama to your overall look.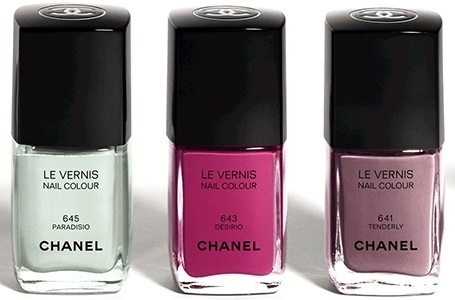 Le Vernis Nail Colour – $27.00
Paradisio (645) Limited Edition – pearly pale green
Desirio (643) Limited Edition – deep pinkish purple
Tenderly (641) Limited Edition – gentle violet
When it comes down to the fingertips, the collection comes with three alluring tones that are so about spring. All are Limited Edition consisting three shades of shimmery, pearlescent light green, pinkish red, and light mauve. The Chanel Le Vernis has an exclusive formula that strengthens and moisturizes nails as it delivers high-shine color.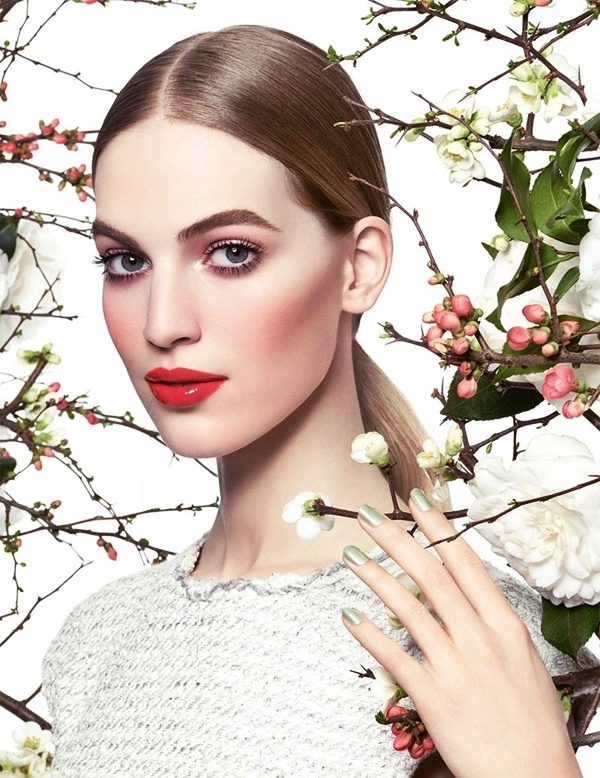 CHANEL Spring 2015 Reverie Parisienne Makeup Collection