Always amazing, as simple as that. Designer Karl Lagerfeld, the Creative Director of Chanel, presented his stunning Chanel Fall Winter 2013 collection in a fashion show at the Grand Palais for Paris Fashion Week on March 5, 2013 in Paris, France, which basically gave us all the inspiration for the next fall winter wardrobe. With pieces that boast motorcycle, rocker chic looks mixed with a little Chanel elegance, this collection from Lagerfeld is unlike anything we've seen from him in quite some time.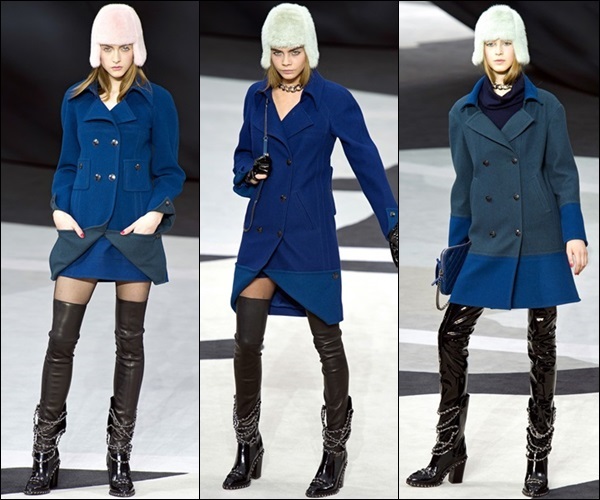 Among the selections, there's a variation on prints and predominant black that incorporate charcoal, navy and a punch of blues, pinks and white, such as the pretty top and skirt set, that is topped off with a navy blue cardigan. Apart from the flash of thigh between leather stocking and the hem of a coat or a pleated mini skirt, the models seemed protected by their layers – all covered up, as heavy coats and coat dresses combined with lots of layers.
Not to mention the expected well-rendered Chanel suits and separates, along with tailored jackets and coats are to be teamed with thigh-high boots and gloves that are dressed up with plenty of heavy metal hardware. These look will totally get us in the mood for hot cocoa by the fireplace.
As for the statement pieces, there's one patent leather combo that was striped with white lace that had been trapped in place by its plastic veneer, while a standout pair of jeans patched with flowery explosions embroidered in those same wools, and a dramatic coat was made entirely from embroidered monochrome flowers and possibly feathers. From edgy to exquisite, surely there are plenty more surprises from Lagerfeld.