No one will ever question how amazingly gorgeous Candice Swanepoel is. Behind the lenses of Brazilian photographer, Eduardo Rezende, the sexy South African blonde stripped down for a sexy photo shoot on an exotic wonderland, fronting for the new Agua De Coco "Turkish Portrait" Summer 2013 campaign, as she flaunts the new season's collection varied from luxe swim designs to beachwear selections.
Isolated by remarkable background setting of white sands, clear blue water, and crystal ice, the campaign pictorials took place at the beautiful scenery of Pamukkale, Turkey, showcasing such an awesome, sexy, and fun campaign. As for the stunning Candice, as always, she looks lovely in a range of fresh and flattering pieces, highlighted by its fashion-forward designs, prints, colors, details, and accessories.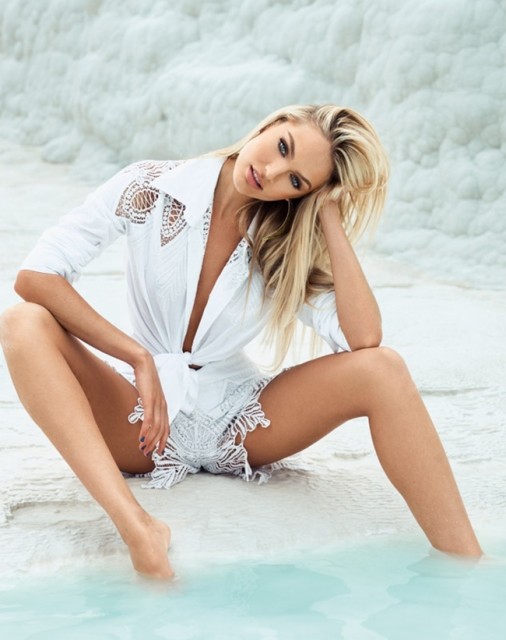 The new Agua De Coco Summer 2013 collection features several flirty swimwear including two-pieces with high-waisted bottoms and bandeau styles, halter-neck bodysuits and cut-out styled monokinis, while the lovely beach wear selections propose palazzos, shorts, kaftans, and cover-ups in busy prints. Along with the sizzling details including knots, twists, pleats, strings, braids, and golden buckles, there are also some knitted pieces which one of them comes in luxurious golden shade.
Prints and colors are proposed in more natural touch, started from saturated colors of maroon, green, and aquatic blue, to the neutral tones of white and grey, while the eclectic prints like fish motifs are featured among the entire solid colored lines.
Last but not least, among the neutral and neon shades presented throughout the campaign, Candice is also portrayed wearing statement golden pieces, including bold cuffs, earrings, or layered bracelets that glamorously create a sophisticated allure of gorgeousness, making the entire pieces really stand out for the next anticipated season. Already started dreaming of a new beach season? Count six months or head your way to a warm country!