Cozy. Chic. Pastel. Feminine. Monochrome. All are the perfect words to describe how warm the new Blumarine Fall Winter 2013 collection is, reminding us that cold weather outfits can be feminine just as well as warm, ferociously alluring with feminine charm and timeless chic. Staying true to the more-is-more aesthetic and never fails to bring on upbeat color and shine, designer Anna Molinari brought the new selections filled with whimsical sugary candy hues and feminine cozy-chic stylish looks.
Basically, monochromatic pastels were on the sugary winter menu for Blumarine this season. Presenting baby blues and powdery pinks as the primary colors for this sweater and jacket focused show, an ankle-length pink trench in buttery leather came out among the openers along with a short-and-sweet baby blue mohair jacket with baby pink joints masquerading as a sheepskin jacket.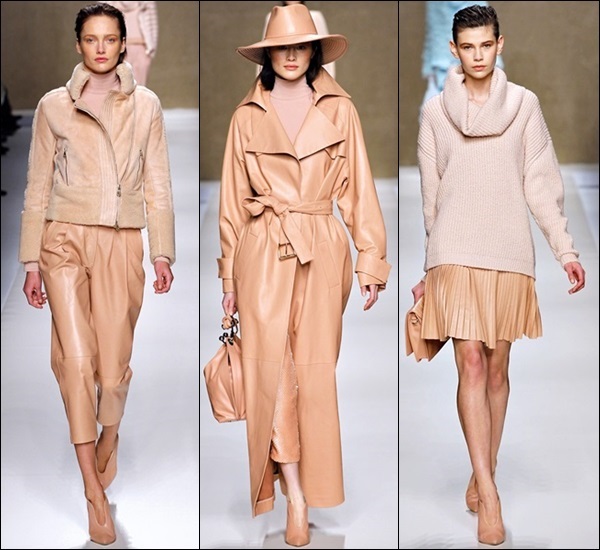 Lots of sweet candy tones appeared in various cozy designs including shearling biker jackets and cashmere or leather floor-length wrap coats, which all are offered in sweet powdered pastel shades layered in various ways to create extremely stylish looks. Jackets with combinations of baby pink or baby blue with beige also grace the fashion scene. Turtle neck sweaters and high necks blouses are another prominent running theme, as well as some fluffy, knitted sweaters with ample collars that add a bit of youthful fun to what is mostly a casual and elegant ensemble.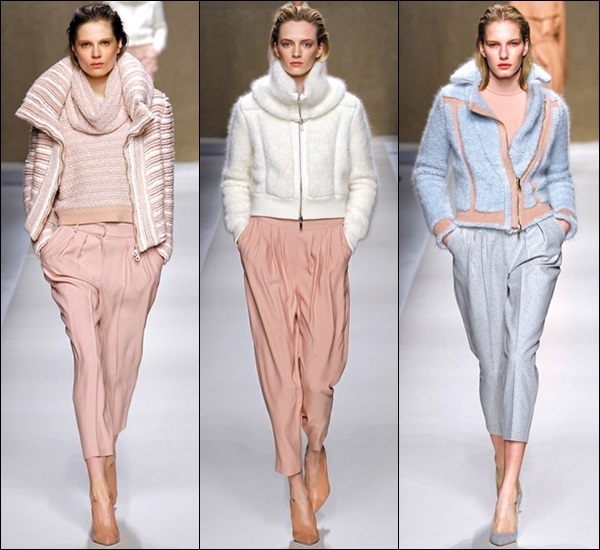 Among the selections, there are also skirts of shiny floral dresses that emulated the forms of a rose. Loose fitting and A-line, the trend is casual but classy showcasing a pale pink chiffon dress with a pleated skirt that flashed strips of tone-on-tone sequins, bridged the way to a couple of short retro knitted bodysuits in the spirit of those worn by ladies on the beach circa 1920, with matching jackets and coats in shaggy knits.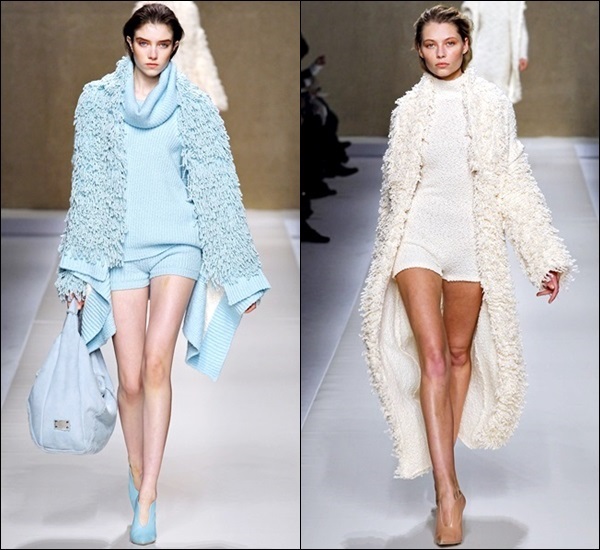 Lastly, the palette then darkened as more masculine acts entered the game, ranging from a lovely knitted black coat striped with hand-drawn fine white lines, to strong capes in revisited men's wear fabrics that felt a little disjointed. Also, the line did not forget to update one of fashion's classic staples, the LBD, featuring a few knee-length elegant black dresses that came out to finish off the light pastel show with a slightly darker, edgier look for the more serious and sophisticated dresser.