The first thought that popped into the mind upon seeing the set of Alexander McQueen Fall Winter 2014 show is the Elizabethan silhouettes that have become familiar to the brand under Sarah Burton. With no exception, adorning the runway of Paris Fashion Week with a super fresh and innovative flow of chic, the Alexander McQueen collection was perfectly accomplished by this fashion giant once more, and what we saw as a result can't be clearly described with one word.
There is something slightly eerie about the models twisted braids and pale painted faces juxtaposed with a black, white and purple palette. The Elizabethan look of the show was classic McQueen. As were the almost feral fur coats and the dramatic make up and skullcap braids of hair circling the head. The outing of wild fur coats, pleated A-line skirts and dresses embroidered with oversized crystals has a fairy tale element–a dark fairy tale that is.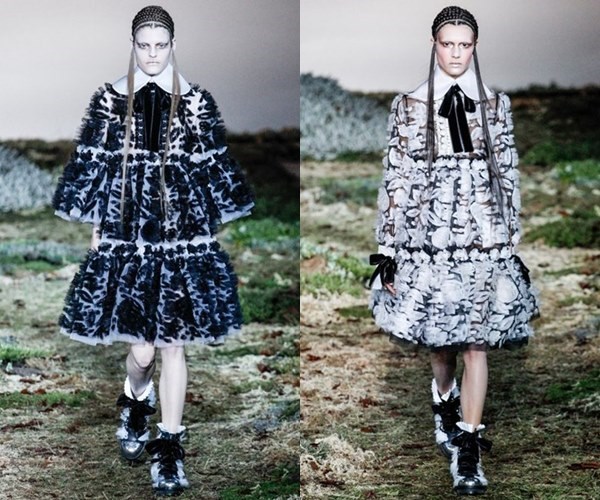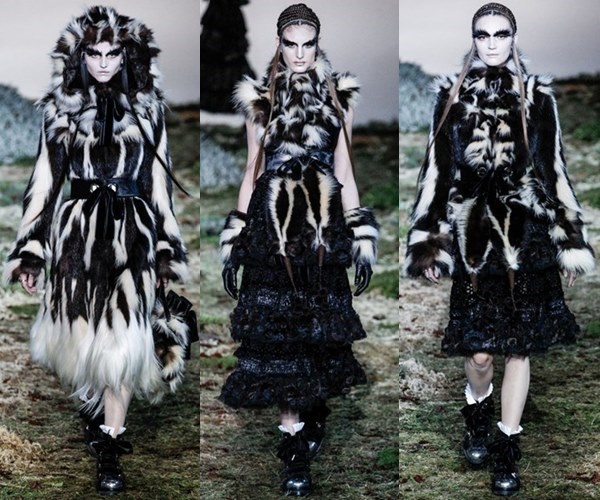 Going deeper into the details of the Alexander McQueen fall/winter 2014-2015 collection, we should start our scrutiny with a white dress, adorned with spectacular laser cuts and a black belt fastening the waist. Beautiful pristine white eyelet dresses were crafted with gentle a-line skirts that began high up with an empire waist. Another black and white interpretation can be found with the look coming right after, and for this option we have black for the jacket and the pants and white for the furry collar and the part around the hands.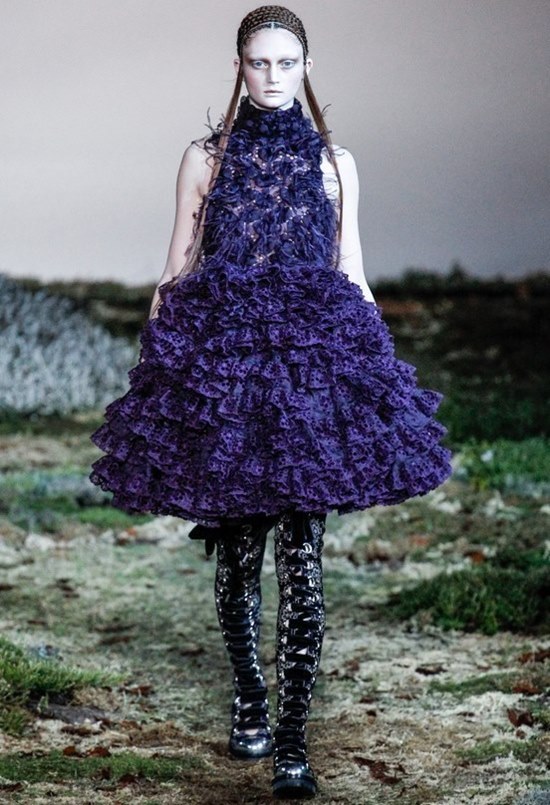 Stunning purple and green hand cut feather coats came with rounded shoulders and roomy silhouettes. The interesting makeup including some huge eyelashes and smokey eyes on the pale face completes these images like nothing else would. Even the footwear, flat lace up hiking boots finished off with a fur trim and metal tipped toes, were some of the most practical shoes to possibly ever walk on a McQueen catwalk.