Inspired by the hedonism of Parisian nightlife during the 1970s, Sarah Shotton, creative director at Agent Provocateur, presents the new campaign for the lingerie brand's Fall Winter 2014-2015 collection, titled 'Le Salon'. The campaign is modeled by Dioni Tabbers and Ashley Smith in a shoot by Christian Larson – as well as for the video campaign – showcasing the bombshell blonde duo clad in the lingerie brand's latest offerings, which range from Bond Girl-inspired slips to showgirl-appropriate corsets.
As Sarah Shotton returns to the silky opulence and champagne of the 70s glam, evoking a spirit of carefree style and languid luxury, the range of the collection is showcased by the four different personalities who frequent 'Le Salon', including The Starlette, La Demoiselle, Belle de Nuit, and The Showgirl.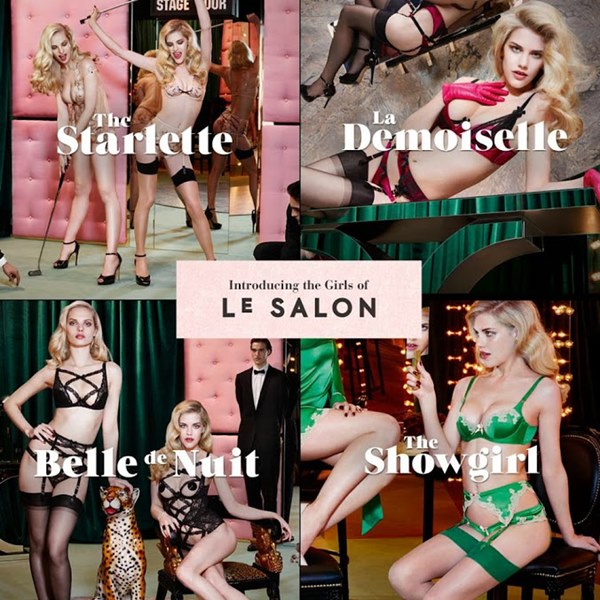 From sultry, mysterious Belle de Nuit to the flamboyant, firey Showgirl, while the star models in a seducing pose flaunt lace slip dresses, super sexy bras, micro knickers and suspenders that come in vibrant nuances, there's a personality showcased at Le Salon to suit all. And the results are (as expected) super-hot. Without any further ado, here are the girls of Le Salon
The Starlette
"Lavish luxury is her signature style, she lights up the night in gold lamé dresses, opulent jacquard sets and shimmering playsuits"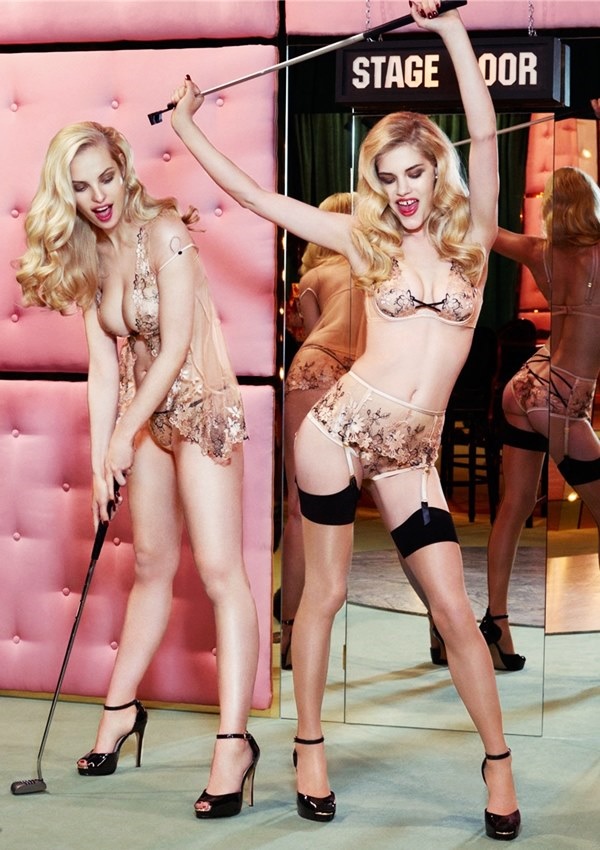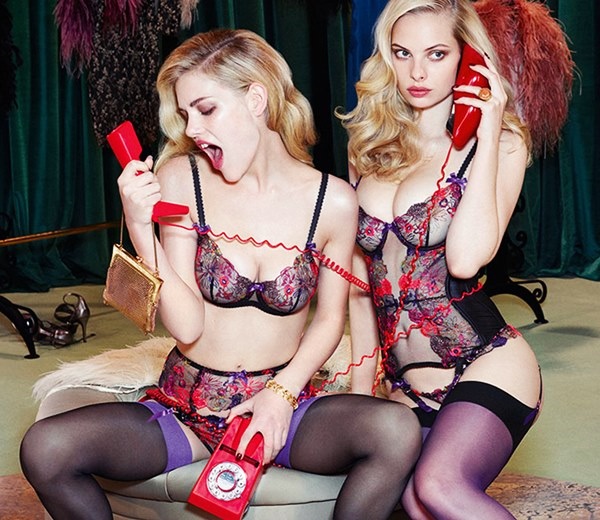 Filled with the sparks of shimmering lace, tulle, and silk, 'The Starlette' features alluring, intricate French floral embroidery in exuberant hues perfectly designed to inspire passion and ignite the imagination
La Demoiselee
"She sets temperatures soaring the moment she enters the room. With golden studs, thigh-high splits and rich black satin, her mission is one of pure seduction"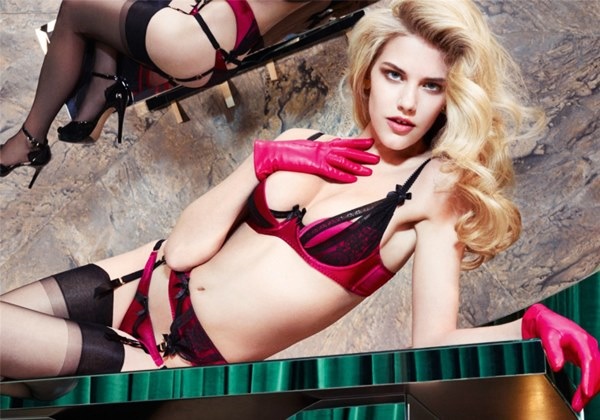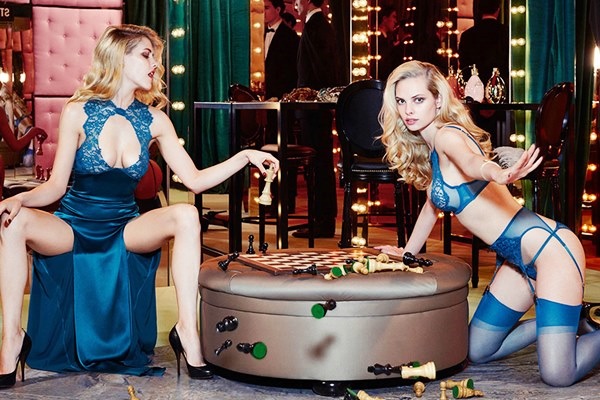 Contrasting to last season bright hues of pinks and dolly pastels, this season Agent Provocateur offers dark sensual tones of fuchsia, teal blue, and luxurious black laces represented by La Demoiselee, featuring range of delicate underwear (thong, brief, bra, a super-short skirt and suspender) and luxurious long sateen slip with two hip-high slits. Exclusively for Cassia Bra style in teal blue, the bra features a delicate opening that frames and highlights the décolletage, designed with lace that sweeps up from the cups and fans across the collarbone. .
Belle de Nuit
"This lady of the night casts an irresistible spell of intrigue in smouldering black lace, sheer tulle kimonos and slinky basques"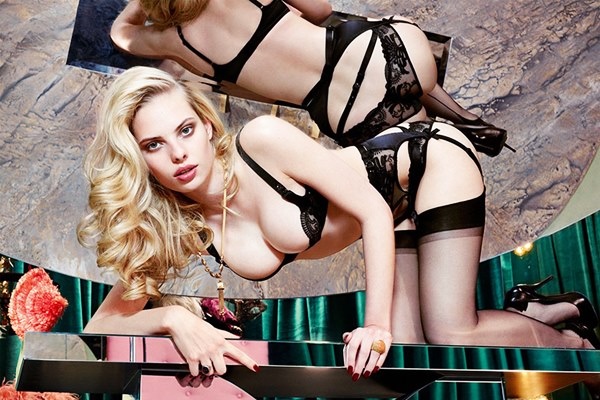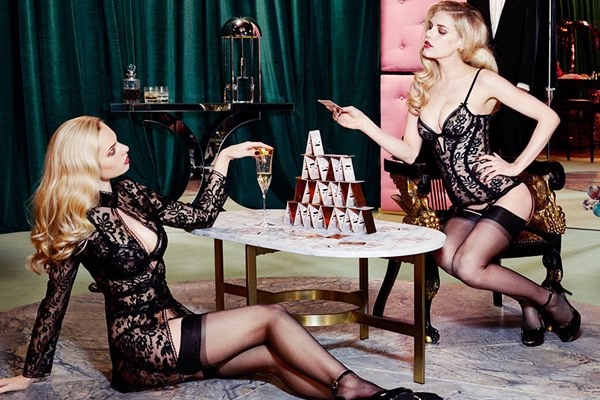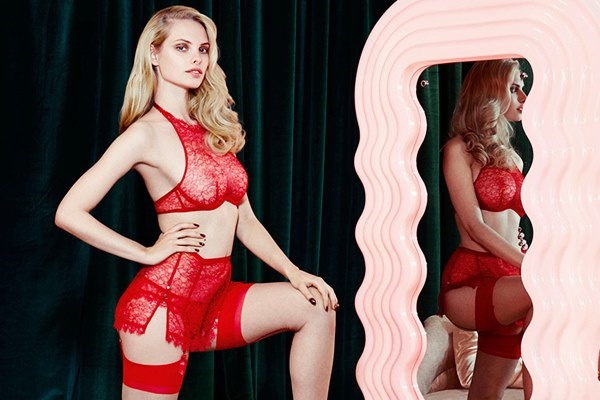 Belle de Nuit is a class and elegance of glamorous night represented by black irresistible laces, sheer tulle, and romantic floral embroidery. The range comes as underwear and lingerie selections including the stunning long-sleeved mini gown and beautiful Basque, which both are made all-lace. There's also a selection of Annoushka Bra – also comes in scarlet red – which is a bra with soft black leavers lace enveloping the breasts in a full darted cup, sweeping up to the collarbone in a '70s-style halterneck cut low at the sides.
The Showgirl
Here's a girl who lives for the limelight. She steals the show in satin gowns and lace babydolls drenched in eye-popping shades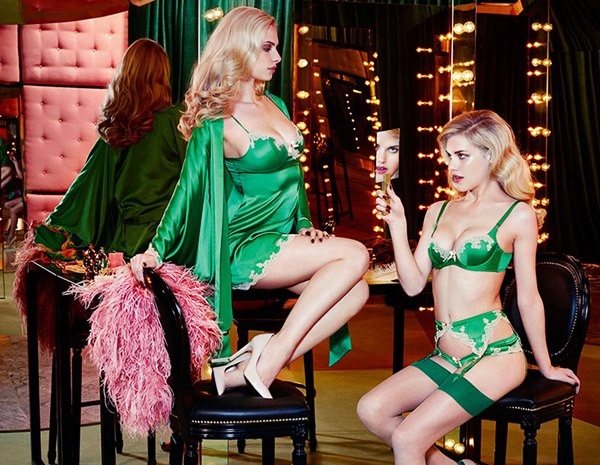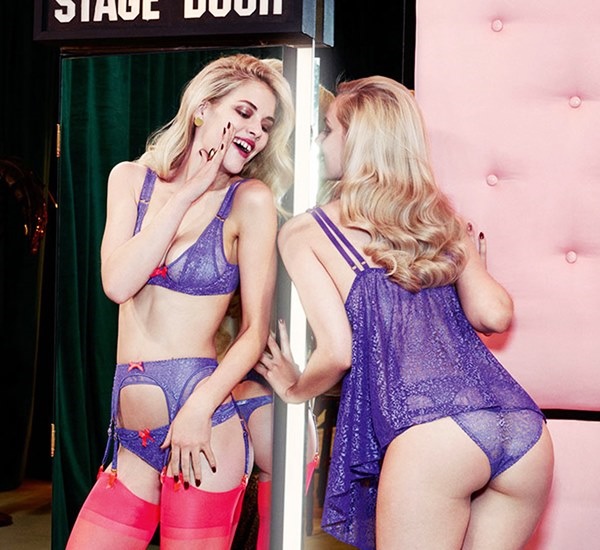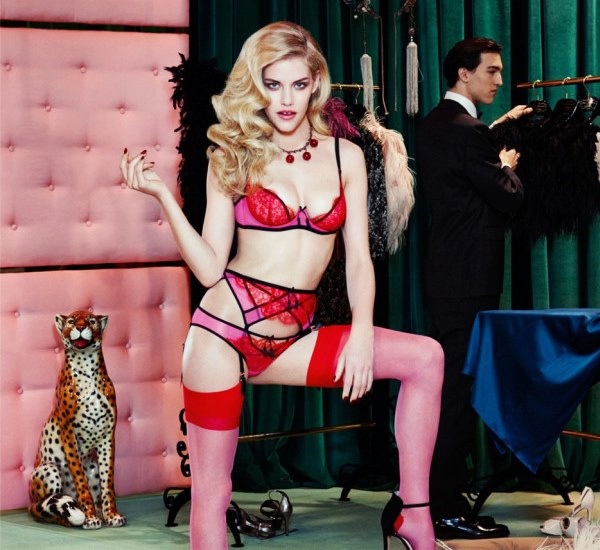 The Showgirl is all about playing with bright colors evoking the looks of lively, cheerful attitude, yet still passionately elegant. It comes with a range of underwear, lingerie, and night dress – including kimono, mini slip, and babydoll – in vivid colors such as emerald green, fabulous pink fuchsia, and juicy violet.
Check out the whole collection that draws its inspiration to this theme: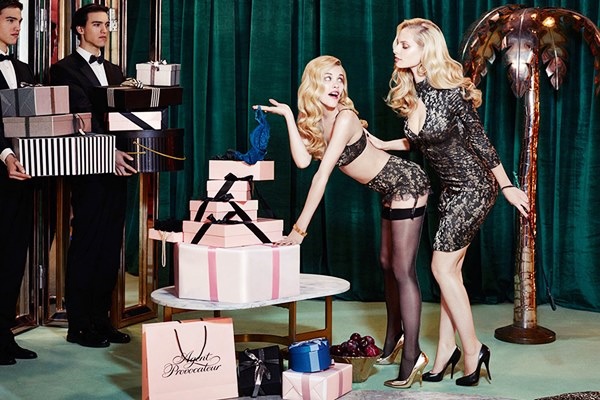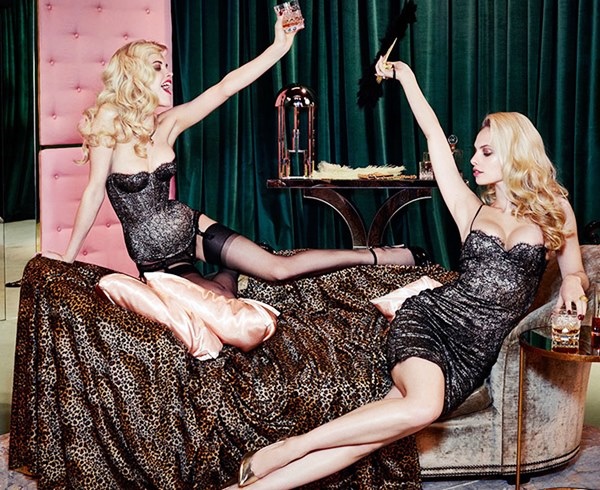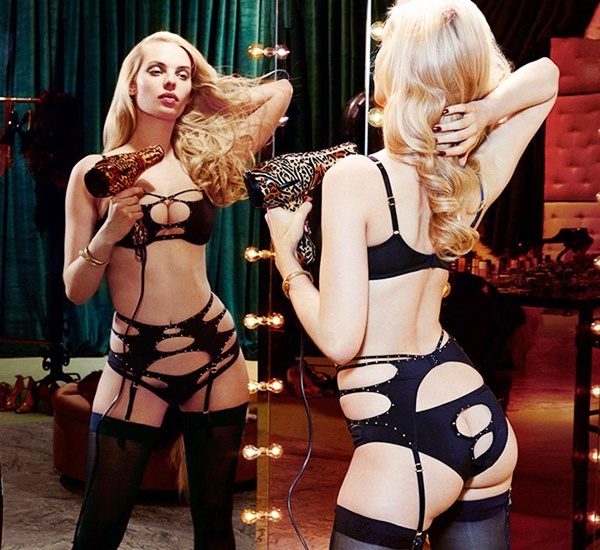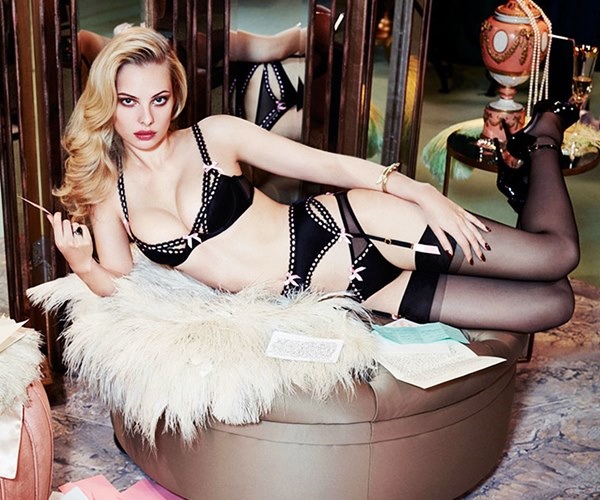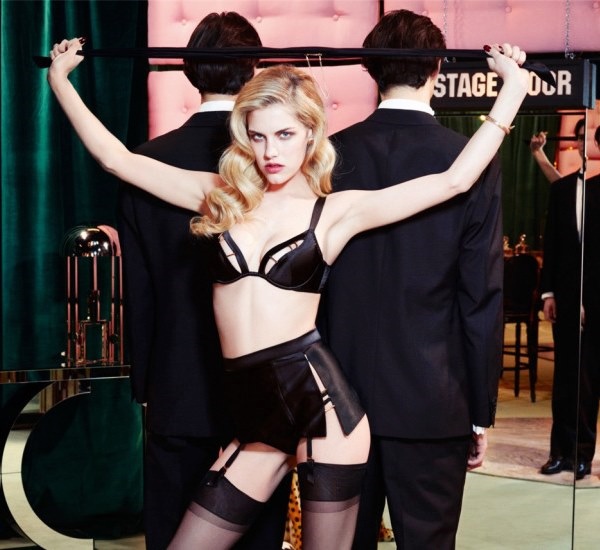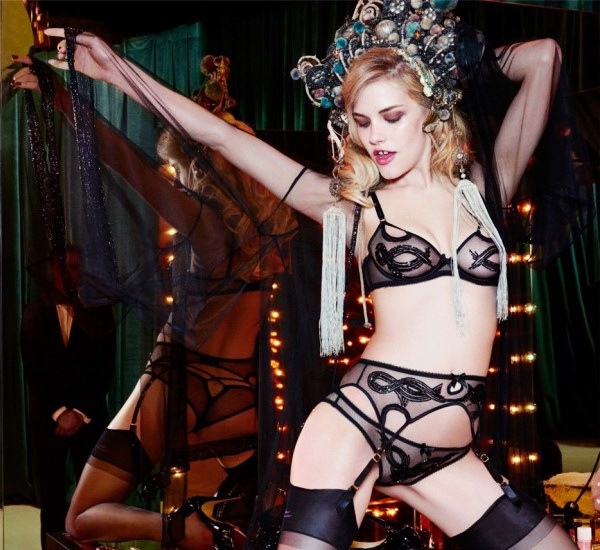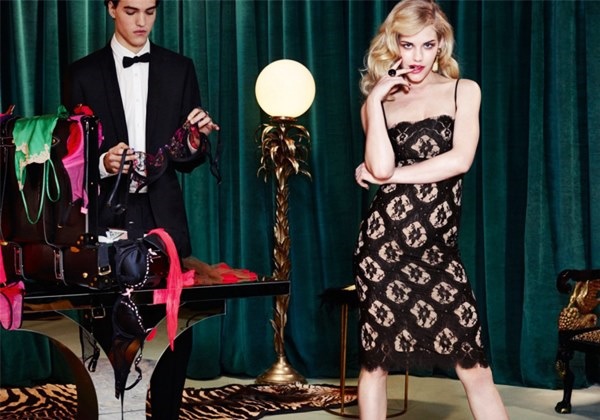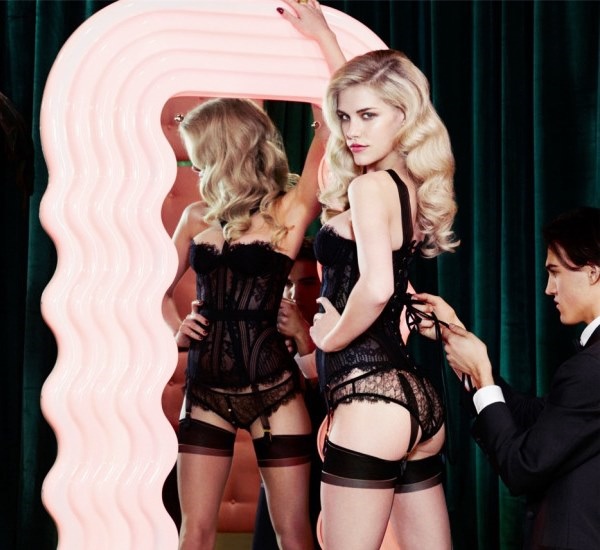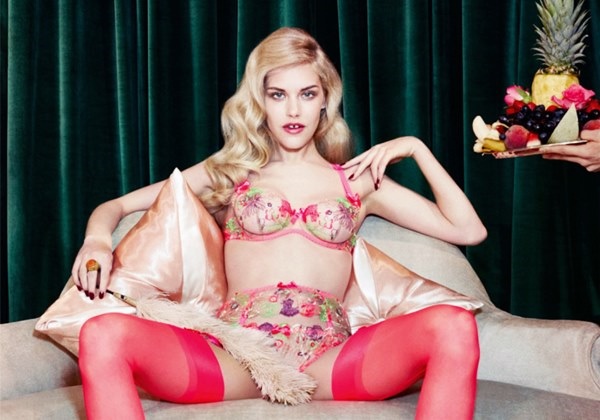 Fall Winter 2014-2015 Campaign featuring Missy Rayder
Coming up with another Agent Provocateur Fall Winter 2014-2015 ad campaign with American model Missy Rayder as the star, Sarah Shotton and Christian Larson continue to emulate a "spirit of languid vice and carefree luxury," as Rayder is perfectly captured in dark and moody photo shoots with a whimsical '70s backstage lounge standing beside a large clam-shaped bed, golden cranes and cheetah statue.
While Rayder enjoys a bottle of champagne, plays with a deck of cards and putts golf balls all the while relaxing in the well-liked, dramatic ensembles, she showcases the new collection that is filled with rich laces, jewel-tones and strappy sets, perfect for adding to your wish list this holiday season.