Christmas party season along with the shimmering event of New Year's Eve are the time of year we've all been waiting for. Whether you are going to put together a sparkly ensemble with accessories overload, or working on those simple, classic pieces to enhance your elegant look, take a twirl in one of the 13 great combinations that look stylish and modern for each special party. Here in this post, I've got it covered featuring five lovely sets for the Christmas Day, and eight party looks for New Year's Eve.
For the Christmas Day, there are five sets showcasing one of them is a classic red-and-black Christmas attire, the beautiful pastel frosty look of lace dress, casually chic party outfits with pants, as well as a glamour look of subtle sequined dress for a little touch of sparks during the evening. Hope you will like them. Enjoy 
Outfits For Christmas Party 2014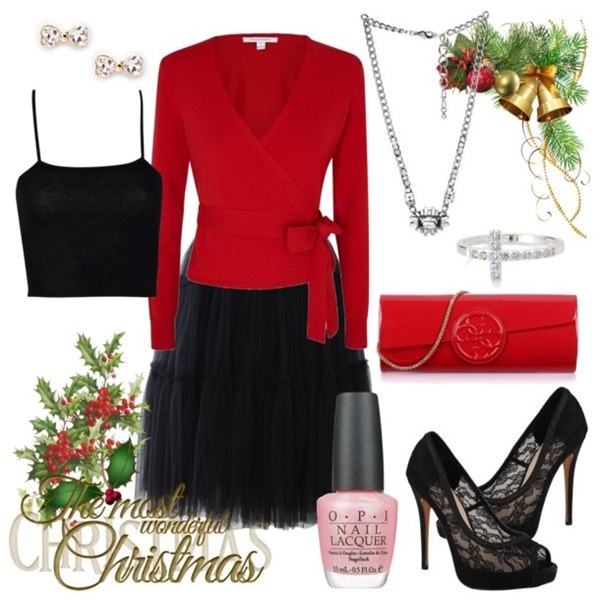 The Most Wonderful Christmas: I think it looks super cute to pair a classic wrap top from Diane von Furstenberg with tutu-inspired tulle midi skirt. Added with beautiful lacy pumps and stylish clutch will make the outfit looks even more stunning. You may remove the necklace if it makes the outfit overboard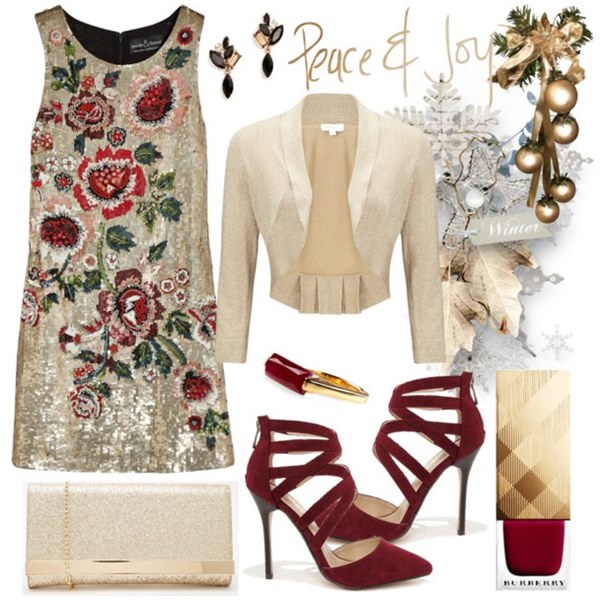 Peace and Joy: If you're looking for a delicate glam of sequins for the Christmas dinner, a beautiful light gold sheath dress in subtle sequin will make a great combination with a dressy crop jacket (or bolero) in matching color. Add a pop of color accordingly matched with one color of the dress to give a bit of festive vibe to the outfit
NOEL: For semi-casual look with pants during the Christmas dinner, a classic wide-leg trousers with casual knit shirt are a great combination. You may add a tailored print vest to create a bit of mannish look, or just leave the vest and go casually-chic with the pants and shirt. Top it off with a dressy coat to create a cozy look, which is perfect for winter both in fashion and function. And let the accessories subtle in golden cream hue.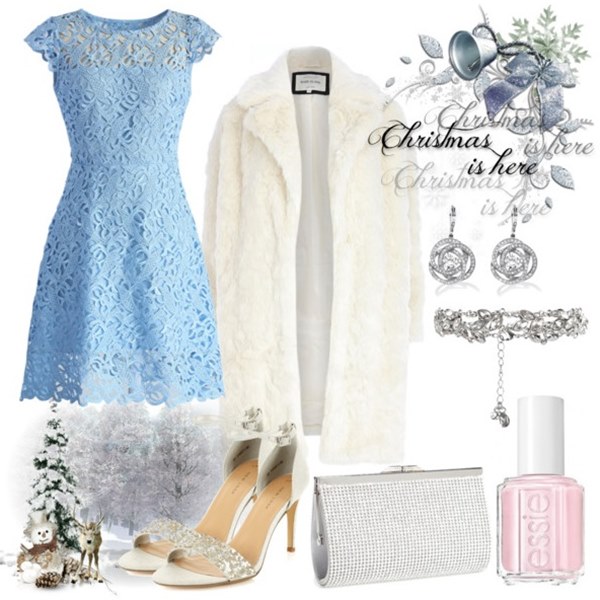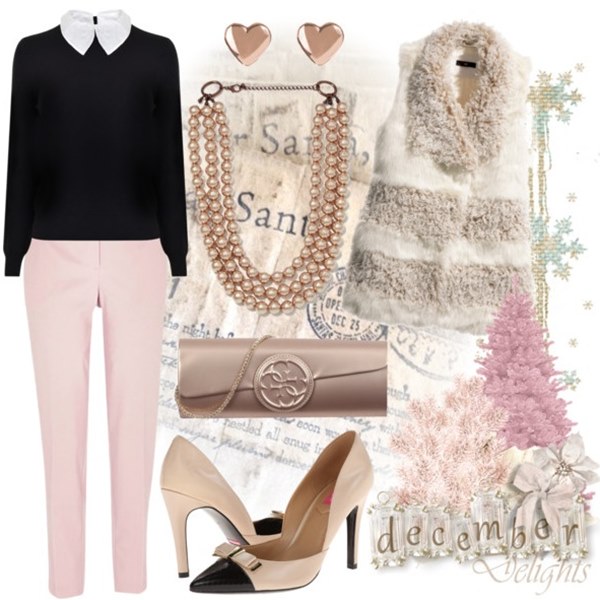 Christmas Is Here: Simple, adorable, and super pretty !!! While some people might still think wearing pastel for Christmas may not an obvious choice for a frosty day, this mind-set is no longer taken since the runway ruled winter catwalks with lots of pastels. It's always been a beautiful combination when you pair a pastel lace dress and a white fur coat, complemented with a little silvery sparks from the accessories. All are perfect for the Holly Jolly Christmas DayDecember Delights: Another sweet pastel outfit for a casual Christmas dressing, showcasing cropped pants in sweet candy pink and black collared jumper to make a lovely contrast. While the subtle shaded accessories complement the softness of the look, a chic fur embellished vest adds such fresh, casual look to the outfit
By the way, as I'm feeling very "crafty and artsy" this December, I put background and some decorations on each set. Sorry if some of them look super busy and overloaded.
Wishing you all the wonder and beauty of Christmas 
New Year's Eve is all about how to dress in eye-catching manner. It's basically the best time to excuse all year to dress up, try something new and get downright creative with your look. Whether you want to go for super dazzling, glittery way, or stay with the classic LBD or long red dress, or try something modern with black-and-white tuxedo-inspired combo. There are five sets I specially created for the NYE, while other sets are taken from polyvore contents I participated.
Not to mention, check out tags "New Year's Eve" consisting tips and style ideas for the NYE.
Outfits For New Year's Eve 2015
New Year's Be Dazzling: For a sparkling party such as NYE, you definitely can take some large, flashy jewelry putting into your ensemble. Let's be dazzling for once in a year by sporting two bold jewelries such as statement necklace and earrings in matching design. Combine between metallic bodycon dress and sequined cardigan for a more striking look, then add a pair of ultra-trendy strappy gladiator booties for a finished glam touch.
Since the jewelries are already bold, keep everything in matching color palette by opting only two or three color combination through the entire look. Let the jewelries take the center stage by choosing makeup that matches and blends the colors of your outfit. New Year's Eve Tux: If you're looking for a way to switch up your usual New Year's Eve ensemble of a party dress and skirts, borrow an elegant mannish style and show your tux love in black-and-white combination of sharp jacket, tailored crop pants, and chic bow necktie. It's easy and simple yet looking polished, and super-trendy. Add girly touch such as glittered pointy shoes and fur clutch, as well as a pop of colors with bold lip and eye colors. Make sure to keep the jewelries subtle and minimum to embrace the masculine vibe. Dance Party: When it comes to NYE, you can never go wrong with the glamour and luxury of classic golden dress. Make your show-stopping gold dress to be the focus point and keep the rest of the outfit simple and easy. I really love this cute skater (pleated gold lurex) dress from Topshop with plunge front and cut-out back.
For a sweet fresh styling of a fancy dancer, I pair the dress with low-heel lace shoes and quilted box clutch, along with a pair of chic fringe drop earrings that features a bundle of sparkling crystals and hanging chain-fringe detail. Clash the metallic effect of the dress with vibrant gold glittery eyes to make you looking totally stand out on the dance floor. When in Doubt Wear Red: Nothing rings in the New Year like a timeless evening red dress – whether it's a gown or little red dress. The red color – along with black and gold – has always been forever classic and elegant for a festive party, including Christmas and New Year's Eve.
Wearing a red dress or gown is an art. You can up the glam factor by pairing red with gold accessories. Don't be afraid to match this bright color with all-gold accessories – including fur cape, box clutch, strap heels, and simple stud earrings – especially for the New Year's Eve, making you look like a true Hollywood starlet. Don't forget to pick accessories that come only in simple designs, and avoid heavy jewelry. Plus, wear subtle, non-brightly make-up to avoid looking overloaded.
I love the LBD: A classic little black dress is always an elegant choice for almost any fancy occasion – from casual to cocktail. Add a fun retro sequined jacket for your dynamic look since black and sparks will always be a perfect choice for a festive night. You can go either totally bold with lots of sparks, or stay subtle by adding just a little pop of glitz.
Check out more outfit ideas through gallery:
Polyvore Contest
Finally are sets I created to participate several contests at polyvore.com. Two outfits are "Do You Dare with GUESS Dare" showcasing two stunning mini dresses whether you're spending New Year's Eve sipping champagne at a cocktail party or celebrating casual NYE at home with your closest friends. If you're spending New Year's Eve in Times Square or at any other outdoor party, a cozy fur coat, tights, and tall boots will look chic and keep you warm.
As for the last outfit, it's taken from "Ugly Christmas Sweater" featuring edgy style of Ugly Christmas sweater dress along with other pieces that guarantee comfort and fun dressing.
More additional sets are the four sets I created as I joined another Polyvore contest from Miss Patina, Macy's, and Polyvore. I think all of them are cute and chic enough to bring you cheerful, adorable look to this holiday month.