Both fringes and sequins are always eye-catcher. About fringes, for example, whether it's on the sleeves of a leather jacket or subtly accenting a skirt or a shift dress, the long strands dance with every gentle breeze, making such interesting statement to the outfit. As for sequins, while you might usually keep your shiny sequin numbers for the evening, be a bit daring and take them out during the day. Check out 10 outfit ideas to don fringes or sequined (metallic) pieces without looking too overboard.
If you're going to go for all elements – metallic, sequins, and fringes – in one outfit, make sure all colors chosen stay subtle, neutral, and less sparkling. Avoid all sparkling, fringy pieces head-to-toe which only makes you looking like a Christmas tree. Or, you can pick one of the elements and do a nice balance with simpler articles of clothing or neutral colors.
Additionally, not only that these style ideas are ideal for casual and formal dressing: relaxed, effortlessly cool, and incredibly fun. You can also have them in super affordable price which all sets cost less than $300 – all together. Enjoy!
CASUAL CHIC AND EDGY
Whether you want to go for fringes, metallic, or sequins, all of these elements of clothing can be totally fun and easy to recreate for your daywear attire. Check out some affordable set ideas below:
Get your striking ombre fur coat for an edgy look with: a black tassel top + a pair of classic crop pants. Compliment the entire look with chic accessories like lace handbag, earcuff, and metallic loafers.  ($289 for all pieces)Go a bit crazy by rocking your basic white top and boyfriend jeans with a complete winter accessories including striking pink embellished cardigan + fringed shoulder bag + subtle sequined boots, along with optional accessories like beanie, scarf and jewelries ($280 for all pieces)
Abuse a bohemian-mixed-modern look with fringed leather jacket and fringed backpack. Pair it with a pair of white sexy jumpsuit + strappy heels + boho-inspired jewelries. ($297 for all pieces)Rock the sparkling, yet sporty sequined bomber jacket with head-to-toe black ensemble of jumpsuit + loafers + pastel crossbody bag for a touch of soft color. ($289 for all pieces)For an urban look of black coated skinny pants and oxblood jumper, make the look even more polished with feminine red bow pumps + metallic crop jacket + large hobo bag. ($260 for all pieces)
DRESSY AND FORMAL ELEGANCE
For a more special occasions such as cocktail, office party, and evening outs, bring a little festive touch to the outfit. While for a formal look such as office wear, depending on your work place, make sure the sequins or fringes are appropriate for the environment.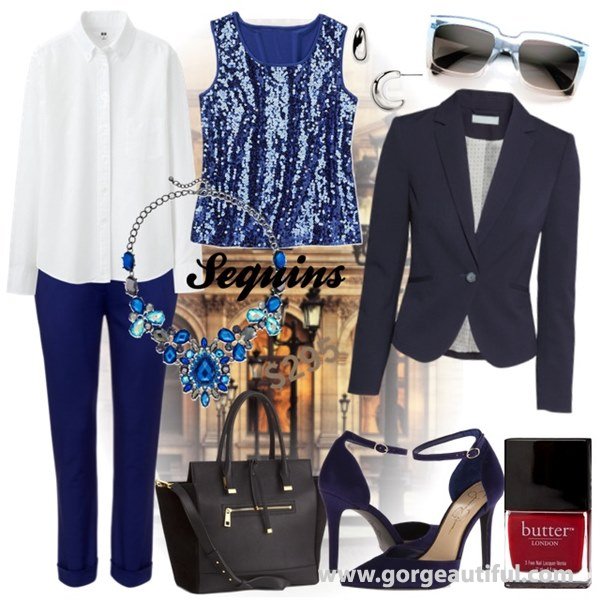 Create elegant office look with a simple sequined cami underneath tailored blazer + crop trousers. Add heels in similar color and statement necklace (optional) then let other pieces stay subtle. ($295 for all pieces)
Note: If this set isn't appropriate to wear as your daily office look, remove the statement necklace and let the sequin cami acts as a splash of sparks. Make sure you know your office dress code. Learn "Office Wear Fashion Tips" for ideas and inspirations
Get your night out ensemble rocky and chic by pairing a simple lace top + fringed skirt, and top it off with dark shaded metallic jacket + black knee boots + clutch. ($241 for all pieces)
Add a touch of retro glamour to your party ensemble with a fringed flapper dress. To dress down the look for a bit of casual style, pair the dress with a girly biker jacket + strappy ankle booties + cute glittery box clutch.  ($275 for all pieces)For a more party dressing where you need to style brightly and more festive, a pair of gold quilted crop top + wide leg trousers in dark olive will do great. Finish the look with bright feminine accessories like soft glittery clutch + metallic shoes. ($241 for all pieces)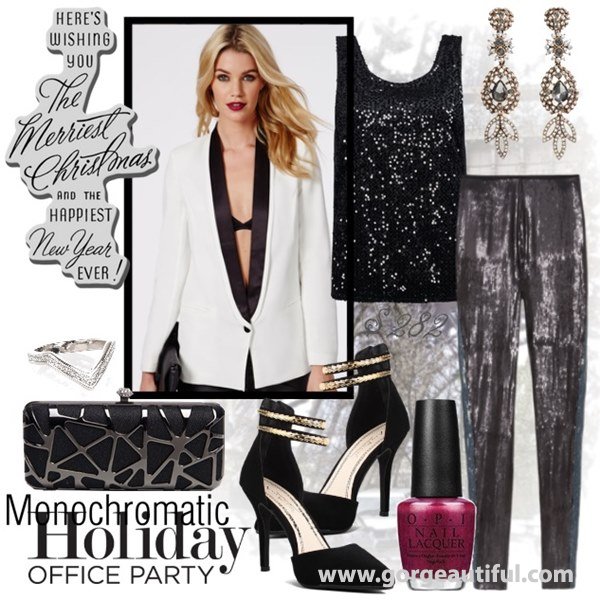 Finally is for an end-of-year office party. Take the advantage of a cool pair of black sequined legging and tank top thrown underneath white tux blazer to get that irresistible black-and-white monochromatic look. Finish the look with statement pieces including bold earrings, chic clutch, and striking strappy heels. ($282 for all pieces)