With references to the Maasai culture, Emilio Pucci revealed a sporty hip hop, sexy and cool Spring Summer 2014 collection shown during the fourth day of Milan Fashion Week. Showcasing breathtaking prints combination between Maasai patterns and Pucci's, these two worlds marry like a dream to deliver onto the runway jackets decorated with pearls, embroidered bustier dresses and printed jogging trousers, presented in mixing colorful palette of black, electric blue, orange, yellow, and white.
The ingredients to make the entire lines a success were all there and Peter Dundas, the creative director of maison Emilio Pucci, was indeed well aware with fashion the youngs are wearing right now and so that's why it was only natural to do it, as he played a new sensuality and femininity mixed with youthful, optimistic spirit to create a spectacular collection. There were two contrasting silhouettes throughout the show, featuring straight and bodycon or oversized mini dresses with Maasai embroideries coexist with oversized parkas, as well as bustier dresses with loose jumpsuits in tech materials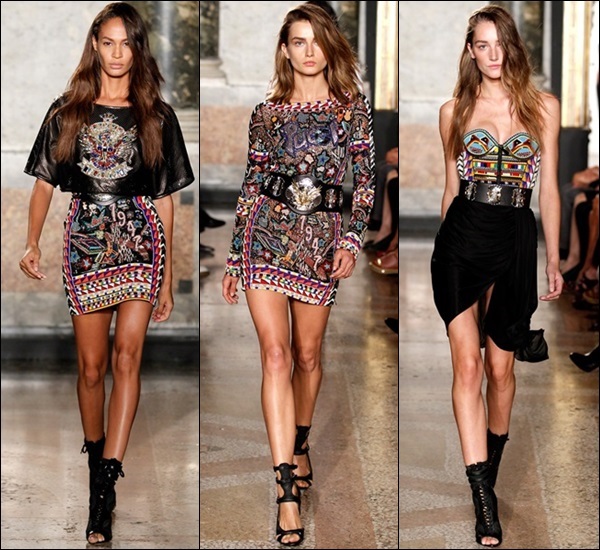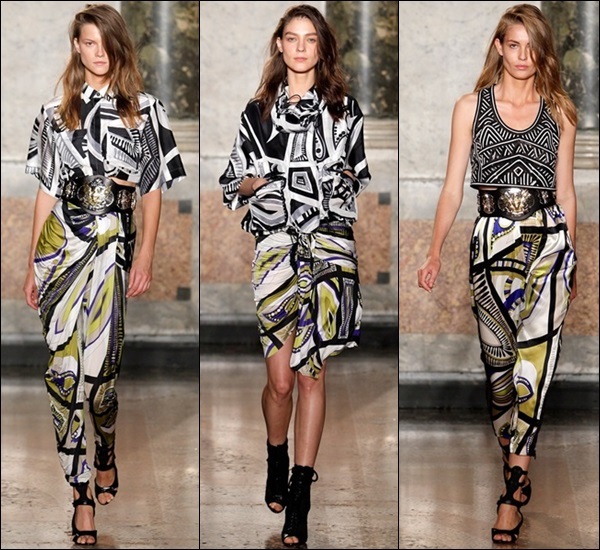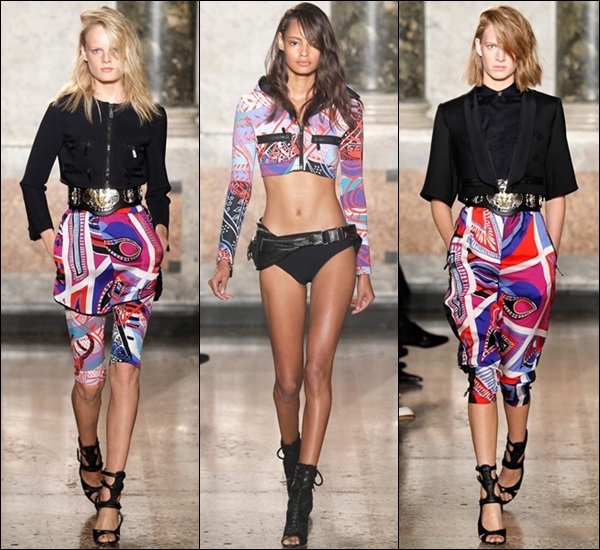 The world of sport was the next on the runway, proposing boxing short shorts and enormous medallion belts with the fashion house's symbol, followed by the tangerine-colored jumpsuit made from a canvas parachute emphasizes this sporting theme. It's a bit mannish though, the Pucci woman kept her signature sex appeal with an outing of surfer inspired color-blocking, glitzy hooded jackets and figure-hugging briefs worn beneath a dress and neoprene blouses.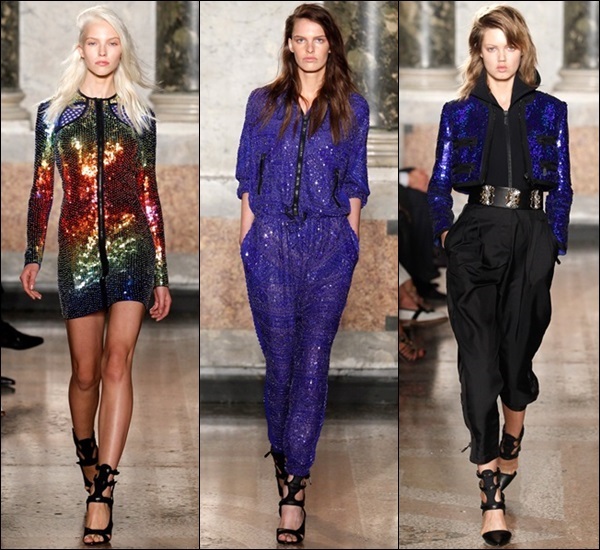 The Pucci woman also embraced rock 'n' roll chic featuring color blocking, cutouts, ruffles, fringes, and heavy embellishments. As for the evening, the show exposed flattering skirts, corset-inspired tops, floor-length gowns decorated with peekaboo cutout details, along with an embroidered mesh wrap-around dress covered a short petticoat. Featuring sportswear themes like scuba divers, parachutists, motocross, basketball, and swimming, all pieces played well the sparky mix sporty influence combined with wild and eccentric prints from the Maasai.